What Happens At The U.N.? General Assembly 2017's Most Awkward Encounters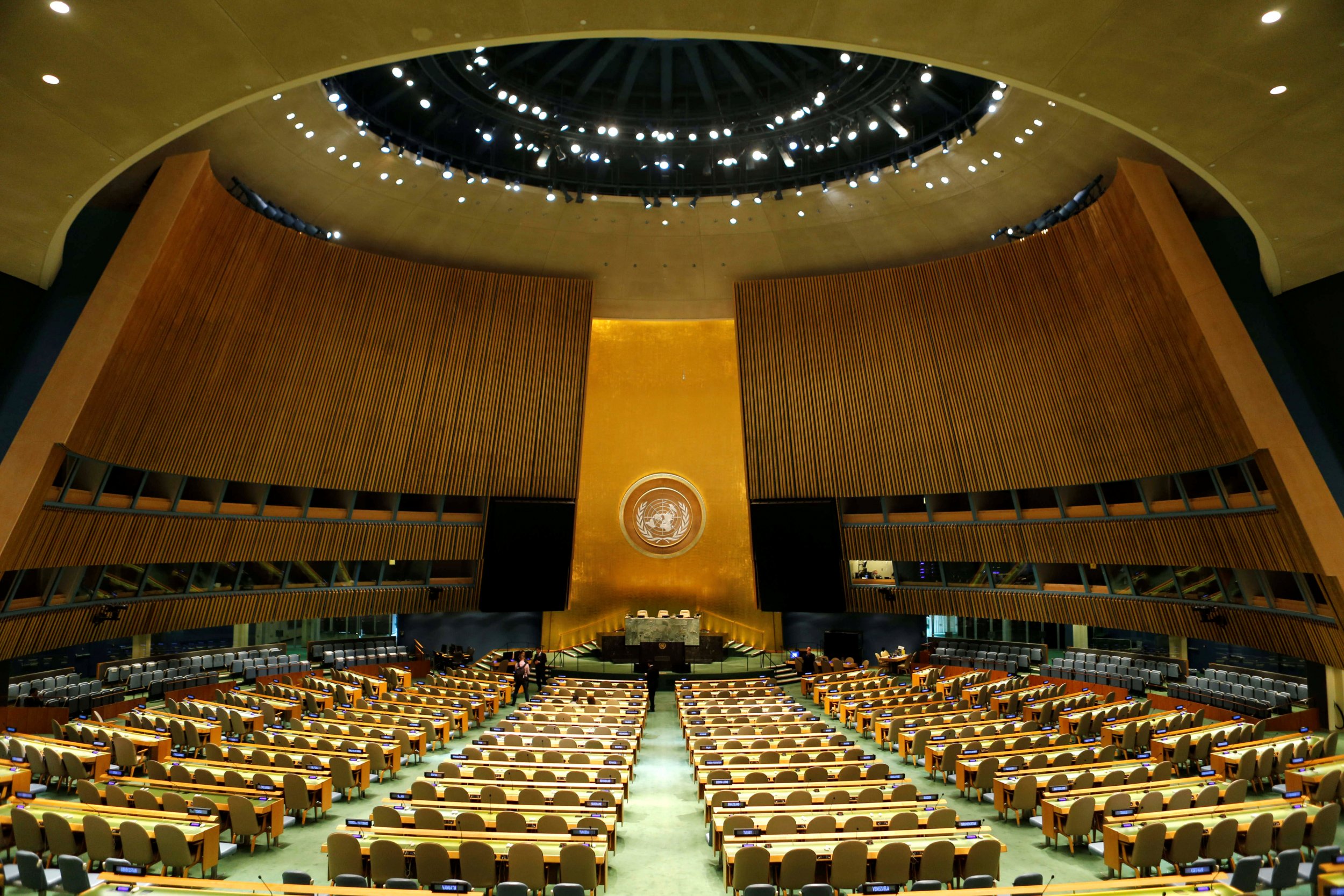 More than 100 world leaders are gathering in New York this week for the United Nations General Assembly (UNGA) for days of meetings and speeches, and at a time when global tensions are running high, there's potential for some tricky encounters.
Here's six of the most awkward meet-ups and thorniest issues on the agenda.
Donald Trump and Emmanuel Macron
It's the on-off bromance that has kept the world of global politics talking for months. U.S. President Donald Trump and French President Emmanuel Macron initially hit it off badly. The first time they met, they spent long seconds locked in a competitive and frankly quite weird white-knuckle handshake.
But when Trump visited Paris in early July, the two appeared much warmer; Macron described them as "friends," and they dined together at the top of the Eiffel Tower.
At UNGA 2017, both men will loom large. Each is making his debut at the annual event. Observers will be waiting to see how they interact.
This year's assembly comes close on the heels of a series of severe natural disasters in locations spanning Texas, Florida and the Caribbean to Bangladesh, Nepal, Sierra Leone and India. That means climate change is sure to figure high on the talking point list.
That's the topic where Trump and Macron least agree. Macron has said he hopes Trump will change his mind about withdrawing America from the Paris climate accord. On his Paris visit, Trump appeared to suggest that was a possibility, but since then he's not moved.
Will Macron risk his hard-won truce with Trump by bringing up the deal he values so highly?
Donald Trump and Iran
This is more of an awkward non-encounter; neither Trump nor his Secretary of State Rex Tillerson is expected to meet their Iranian counterparts, with whom President Barack Obama hammered out an all-important nuclear deal, signed in 2015.
Trump and his U.N. ambassador, Nikki Haley, have tried to paint Iran as a state sponsor of terrorism, and while Trump has for the time being appeared to grudgingly accept the existence of the nuclear deal, he has been a vocal critic of it in the past.
Iran is likely to be a key theme of Trump's speech, slated for Tuesday, and the world will be watching closely for any movement in his position on the deal. Meanwhile, Iranian President Hassan Rouhani is expected to give a news conference on Wednesday; expect a strong comeback to any Trump-led criticism.
Donald Trump and… basically everyone
Trump has frequently made clear his desire for the U.N. to "reform;" code for "use less American money."
He is hosting a meeting on Monday to spell out his views on the topic. Attendees and observers will be keen to see how far he'll go; will he demand more from other members? Will he announce any new withdrawal of support by the U.S.?
In particular, it will be fascinating to see how he treats U.N. Secretary General António Guterres. Guterres has told journalists he is attempting to build a "constructive relationship" with Trump.
But, with Trump still politically embattled at home, will he decide it's more valuable for him to lash out at the kind of supranational organization his base despises?
North Korea; the nuclear-armed elephant not in the room
North Korean leader Kim Jong Un is not expected to attend the assembly, and there is no formal meeting scheduled on his country's growing nuclear capabilities.
But the country's series of provocative missile tests in recent months are top of the priority list for many of the leaders attending and will likely cut across a range of issues. Guterres has called the issue "the most dangerous crisis that we face today."
Kim has repeatedly defied U.N. Security Council resolutions in his pursuit of nuclear strength. The question is whether China, Japan, the U.S. and other interested parties can co-ordinate and agree on more effective diplomatic responses, or whether Trump will continue to threaten "fire and fury;" or even turn those threats into action.
No-show for Suu Kyi
Aung San Suu Kyi, the Myanmar leader, was once awarded a Nobel Peace prize for her resistance to military dictatorship. But she has seen her image suffer in the international community amid a crackdown by her country's military on the Rohingya Muslim minority that the U.N.'s top human rights official has called a "textbook example" of ethnic cleansing.
With the chorus of disapproval growing over her failure to stop the military action, Suu Kyi has doubled down, saying she won't attend UNGA this year and attacked a "huge iceberg of misinformation" that she said criticism of her is based upon.
British Foreign Secretary Boris Johnson is leading a meeting Monday on the issue, and some focus may end up on China, Myanmar's main patron, which so far has failed to issue a statement on the crisis.
British government battles itself
It's a pretty minor war when laid against the existential threat of nuclear conflict, but an internal government fight launched late last week in Westminster, and now it's set to spill over into the UNGA corridors.
Johnson last week wrote a 4,000 word newspaper article seen as a shot at Prime Minister Theresa May's Brexit strategy, appearing to contradict her positions on issues including the type of "transitional deal" Britain should seek to ease its departure from the bloc.
After a weekend of frantic maneuvering, during which Johnson was rebuked for misuse of figures by the U.K.'s top statistics official and accused of "backseat driving" by a fellow cabinet minister, the foreign secretary has been left isolated, though for now he has kept his job.
But there might be harsh words when Johnson and May meet on the sidelines of UNGA this week. Both sides are insistent it isn't a showdown, but that cordiality might break down behind closed doors.