Migrant Caravan: Trump Administration Border Response is 'Violation of Human Rights' and Needs U.N Inspectors, Congresswoman Argues
Democratic Congresswoman Barbara Lee of California called for United Nations inspectors to be sent to the U.S.-Mexico border to monitor as American agents fired tear gas at women and children trying to cross.
"The tear-gassing of women and children at the border is an atrocity. It's a violation of human rights. And it is a grotesque betrayal of our founding promise, as a nation built by immigrants," Lee tweeted on Monday. "I've called for @UN inspectors on the border, and I reiterate that call today."
President Do nald Trump has ramped up his opposition to allowing asylum seekers and refugees from Central America to cross the border into the U.S. from Mexico. He has even struck a deal with Mexico that would completely revamp U.S. asylum policy by forcing migrants to wait in Mexico while their claims are processed. Previously, they would be allowed to enter the U.S. temporarily to have their claims processed.
Over the weekend, some Central American migrants attempted to rush across the San Ysidro Port of Entry near San Diego, California. Some of the migrants repeated chants that they are "not criminals" but rather are "international workers."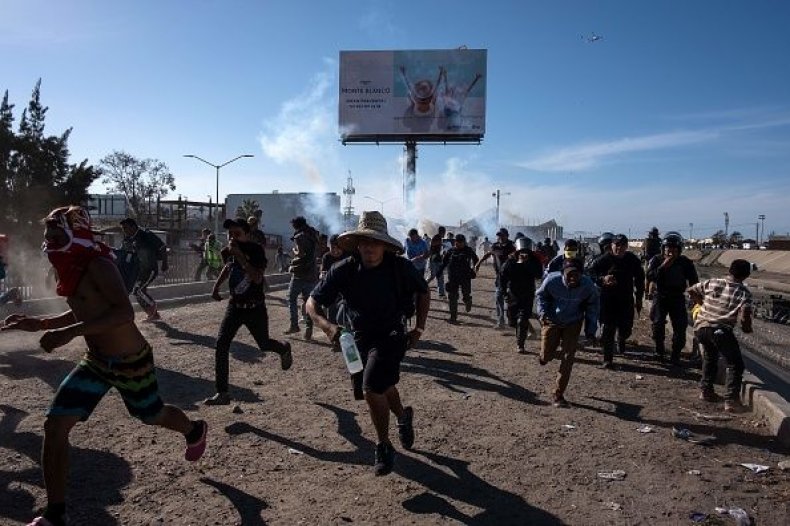 But the images of women and young children in diapers running from the tear gas did not appear to soften the president's stance. Trump has said that many of the Central Americans trying to enter the country are "stone cold criminals" and he threatened to close the border completely if people continue to arrive.
There is not currently a plan to deploy United Nations human rights observers to the border. But during a U.N. Human Rights Council meeting in Switzerland in June, officials slammed Trump's policies as inhumane. In particular, officials criticized the Trump administration's policy of separating migrant children from their parents in order to deter other migrants from attempting to enter the country with their children.
"The thought that any state would seek to deter parents by inflicting such abuse on children is unconscionable," said Zeid Ra'ad al-Hussein, the United Nations High Commissioner for Human Rights, at the time. The U.S. pulled out of the U.N. Human Rights Council in late June.
On Monday, Trump claimed that the Obama administration had also separated migrant children from their parents. Although some children were separated from their parents previously, experts noted that there was no stated policy of separating migrant children from their parents under the Obama administration or under any other previous administration. The Trump administration ended its child separation policy after a widespread public backlash last summer.
The number of asylum applications increased by around 35 percent last year, according to the Southern Poverty Law Center. The increase, spurred by an uptick in violence in Central America, has caused a backlog in immigration courts.