Donald Trump Is a Danger to the World, Says U.N. Human Rights Chief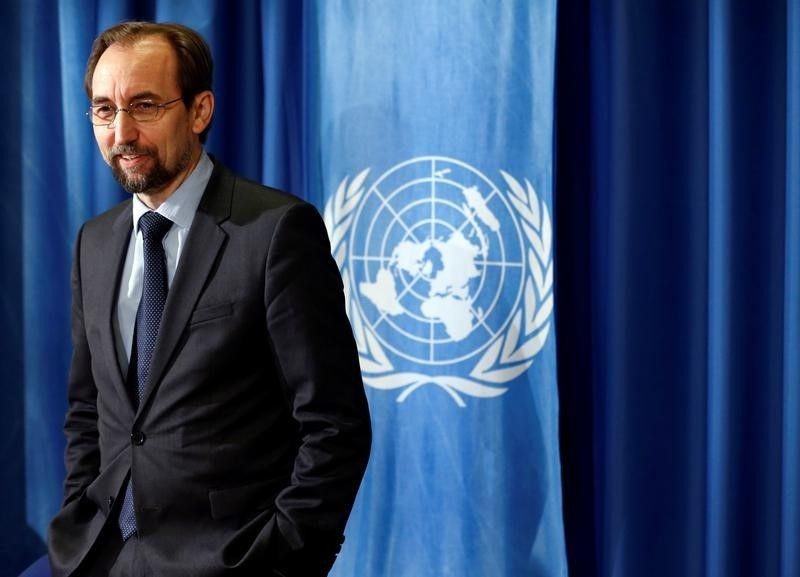 Donald Trump's "deeply unsettling and disturbing" views make him a danger to the world, according to the United Nations human rights chief.
Speaking during a news briefing in Geneva on Wednesday, Zeid Ra'ad al-Hussein, the U.N. high commissioner for human rights, said: "If Donald Trump is elected on the basis of what he has said already—and unless that changes—I think it is without any doubt that he would be dangerous from an international point of view."
Barely a day has passed in recent weeks without a controversial comment or statement emerging from the campaign of the Republican presidential nominee. Last week, a leaked audio tape from 2005 featured Trump making sexually predatory comments about women, and it resulted in a number of Republicans, including House Speaker Paul Ryan, backing away from supporting him in various ways. On Tuesday, Trump tweeted that he's now free from the "shackles" of establishment Republicans. On Wednesday, BuzzFeed News reported allegations by four former teenage beauty pageant contestants that Trump walked into dressing rooms while contestants were changing.
Hussein said on Wednesday that while he was "not keen or intent on interfering in any political campaign within any particular country," comments Trump has made about the use of torture and his views toward some "vulnerable communities" mean human rights could be at stake if he were to win.
Trump has said that "torture works" and that he doesn't think waterboarding, a now-banned U.S. interrogation method, is "tough enough." He said he would immediately re-instate the practice if he were elected president. Last year, Trump called for a ban on Muslims entering the U.S., and he has repeatedly called for a wall to be built along the U.S.-Mexico border. Trump has also been critical of the U.N., saying the body "is not a friend of democracy" or the U.S.
Hussein's comments came hours after President Barack Obama was critical of Trump during a campaign rally for Democratic presidential nominee Hillary Clinton, saying: "The guy says stuff that nobody would find tolerable if they were applying for a job at 7-Eleven."
The U.N. chief's remarks also follow a gaffe made by Trump during a campaign stop in North Carolina: He stated the date of the general election as November 28. It is, in fact, on November 8.
It's not the first time Hussein has criticized Trump. He has accused the candidate of disseminating "humiliating racial and religious prejudice" and has also compared Trump to the Islamic State (ISIS) militant group; Nigel Farage, the leader of the United Kingdom Independence Party (UKIP); and other divisive right-wing political figures.
"All seek in varying degrees to recover a past, halcyon and so pure in form, where sunlit fields are settled by peoples united by ethnicity or religion–living peacefully in isolation, pilots of their fate, free of crime, foreign influence and war," said Hussein. "A past that most certainly, in reality, did not exist anywhere, ever."