U.N. International Day of Yoga 2018: Mass Sessions Around the World to Salute the Summer Solstice Sun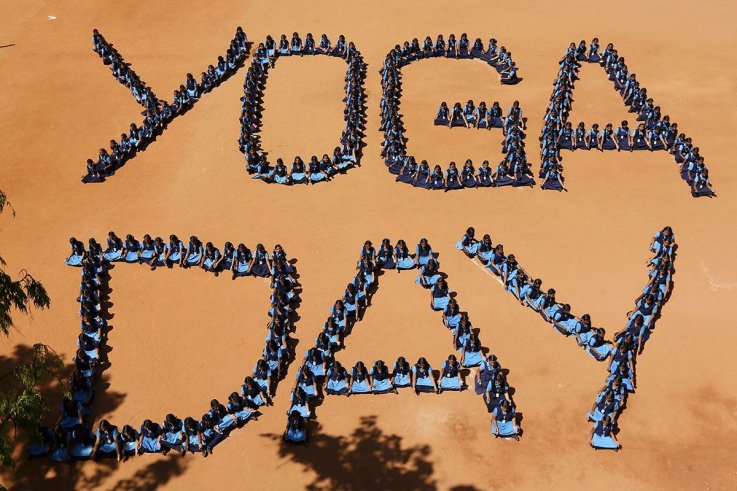 "Yoga is an invaluable gift of India's ancient tradition," Prime Minister of India Narendra Modi told the UN General Assembly in 2014. "It embodies unity of mind and body; thought and action; restraint and fulfillment; harmony between man and nature; a holistic approach to health and well-being… Let us work towards adopting an International Yoga Day."
The UN agreed, and the first International Day of Yoga took place the following year. A gathering of almost 40,000 people in New Delhi broke the Guinness world record for the largest yoga class ever, as well as the record for the number of different nationalities participating.
The celebration has become increasingly popular. Last year in New York, thousands of people gathered in Times Square to practice the ancient discipline, which was developed in India in the fifth century BCE. This year celebrations are once again taking place across the world, from Bangkok to Paris.
Yoga was spread to the West by the Indian monk Swami Vivekananda, who wrote the book Raja Yoga in Manhattan in 1896. Since then, 2 billion people have come to practice yoga worldwide. Indra Devi, a Russian yoga teacher, opened the first Western yoga studio in Hollywood, California, in 1947.
According to a 2016 Yoga Journal report, 36.7 million people practice yoga in the US, up from 20.4 million in 2012. Yoga practice has benefits for both physical and mental health. Experts believe that it can help conditions such as depression and PTSD.
Yet yoga's increasing popularity means that some feel that the practice is becoming commercialized, with luxury yoga brands such as Lululemon selling prayer beads for $108. The yoga market is now worth $16bn (£12bn) in the U.S.
The International Day of Yoga is a good reminder that the practice is free and communal, bringing people together from across the world. Here are the best pictures from this year's celebrations.