U.N. North Korea Expert Urges Security Council to Reconsider Sanctions as Food Shortages, Malnutrition Worsen
A United Nations expert raised fears of North Korea food shortages "deepening" on Tuesday as he urged the U.N. Security Council to reconsider its sanctions against the Democratic People's Republic of Korea.
The U.N. Special Rapporteur on human rights in North Korea, Tomás Ojea Quintana, warned that the growth of food insecurity in North Korea was "alarming" as its border with China remained closed amid wider sanctions.
Quintana also said that there were reports of North Korean families starving as many were eating just twice a day, or subsisting solely on corn amid a collapse in trade with China.
In a statement published on Tuesday morning, the special rapporteur said: "Under the pervasive discrimination in the public distribution system, ordinary citizens, including farmers, do not receive rations.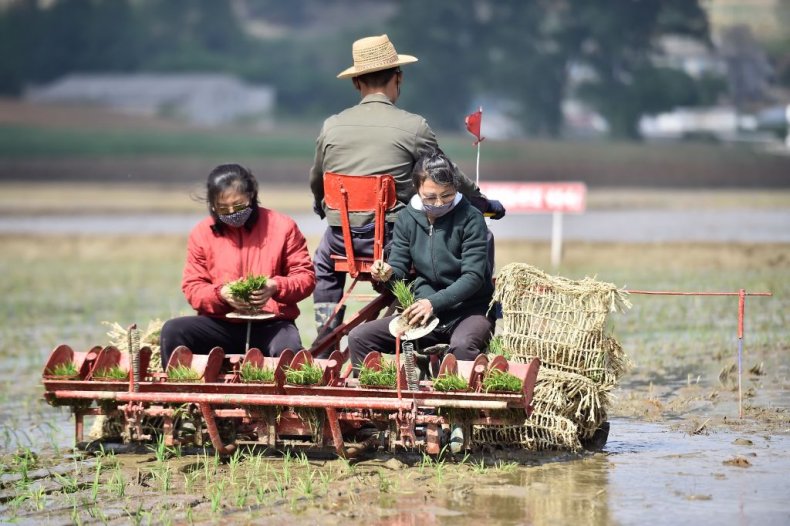 "Lack of food had a devastating impact in the DPRK in the 1990s, and prospects of a further deepening of food shortages and widespread food insecurity are alarming.
"The Government must take swift action on this matter by prioritising allocations of financial resources and allowing humanitarian aid to be delivered on the ground without restrictions."
He added that the coronavirus pandemic and related shutdowns had caused "drastic economic hardship" in the DPRK, before calling on U.N. Security Council members to reconsider sanctions levied against the country "in light of the impact on the livelihoods of people and the Government's capacity to respond."
U.N. World Food Programme spokeswoman Elisabeth Byrs also described North Korea's malnutrition situation as "persistent and widespread" at a news conference, according to Reuters.
North Korea blocked all travel in and out of the country in late January as the coronavirus outbreak picked up in China. Trade between the countries has since slowed to a crawl, collapsing by more than 90 percent in March and April of this year.
According to the U.N., the slump in trade between North Korea and its most important economic partner has led to many people living along the border losing income.
"There have been reports of an increase of homeless people, including kotjebi (street children), in large cities," Quintana said on Tuesday, adding that further reports spoke of soaring medicine prices.
The U.N. issued its warning on North Korean food shortages a day after the country announced that it would be cutting off communications with South Korea.
The state-run Korean Central News Agency reported that relations between the two countries were a "catastrophe," before adding that Kim Yong Chol and North Korean dictator Kim Jong Un's sister Kim Yo Jong had "discussed phased plans for the work against the enemy in order to make the betrayers and riff-raff pay for their crimes."
A spokesperson for the South Korean Unification Ministry said the country would continue to work toward "peace and prosperity" with North Korea, but confirmed that DPRK officials in the inter-Korean liaison office had not answered a phone call on Monday.