U.N. Paints Bleak Portrait of Life for Jordan's Syrian Refugees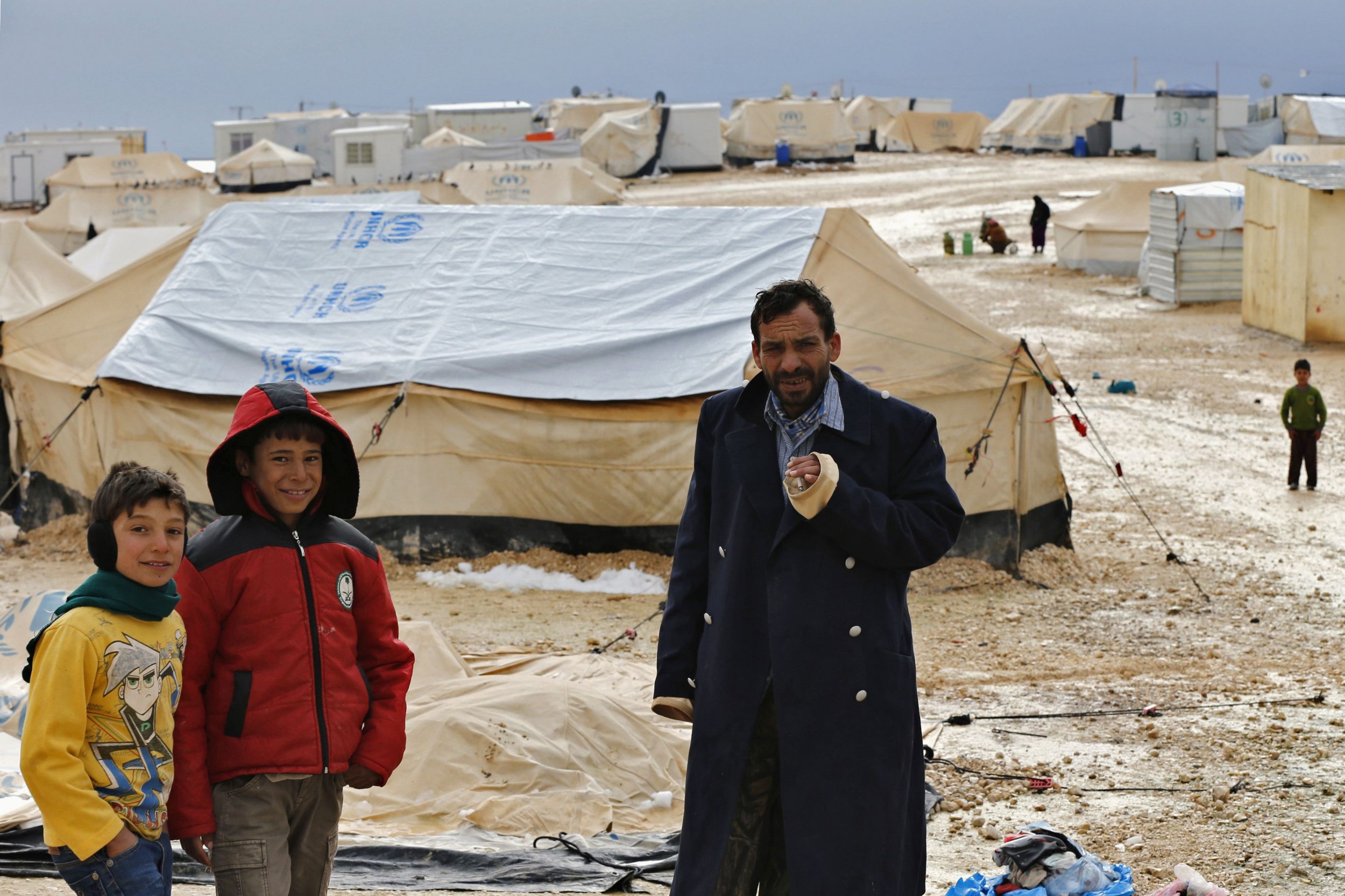 Syria's refugees may have escaped the years-long conflict that forced them from their homes, but many now face a life of abject poverty and desperate living conditions, the United Nations said today.
Two-thirds of the Syrian refugees in Jordan are living below poverty line, according to a new report published Wednesday by the United Nations High Commissioner for Refugees (UNHCR). One in six is living in abject poverty, defined as those living with less than $36.90 a month. For female-headed households, the number increases to one in five.
The report, Living in the Shadows, is based on a questionnaire conducted over six months in early 2014 and given to 150,000 of Jordan's 620,000 registered Syrian refugees. The new results show a "clear deterioration" for refugees compared to a few months earlier. For comparison, just over 14 percent of Jordanian citizens live below the poverty line.
"Life as a Syrian refugee in Jordan is like being in quicksand; whenever I move, I sink a little bit further," Mohammad, a father of four children, told UNHCR.
Jordan has set up two refugee camps, named Zaatari and Azraq, but the report found around 84 percent refugees live outside of these camps, largely on the outskirts of city centers where rent in cheaper. However, this makes it more difficult to access essential services like education and health care, the report says.
"The basic issue is not enough funding, not enough international support. Frankly, that's the main issue," Brian Hansford, spokesman for UNHCR, said Wednesday. "This report highlights the shocking, sad reality."
More than 3.2 million people have left Syria which is mired in a civil war now entering its fifth year and complicated by the introduction into the conflict of militants from ISIS, the Islamic State extremist group. 7.6 million internally displaced people are still inside Syria.
Winter storms, which have already taken the lives of at least seven refugees in the region, are making the lives of refugees worse, Hansford said, especially for the 46 percent of refugee households in Jordan that have no heating and 25 percent with unreliable electricity.
Hansford described the journey refugees face as they attempt to reach a safe place.
Having moved within Syria numerous times as internally displaced people, "with what little savings they had left, they made the perilous journey to cross either into Jordan or Lebanon or Turkey," said Hansford.
There, unable to work, they quickly work through whatever money they have left, and struggle to find funds for food and other necessities.
"I don't have enough money to buy painkillers for my wife who can barely walk. The only food we have right now is a bag of bread that is three days old," Talaal, a refugee, told UNHCR.
Female-headed households and children are particularly at risk in Jordan, the report says. Although school enrollment levels have actually increased from 44 percent in 2013 to 53 percent in 2014, many children are losing out on education opportunities because they have to work and earn money to support their families.
"Sadly, schooling becomes a luxury. They're losing their childhood to become adults before their time," said Hansford.
Rental costs account for 57 percent of household expenditure, so families are forced to share accommodation in often substandard living conditions. Only 2 percent of living conditions were given the highest designation of "good"—including a kitchen, good ventilation and heating and reliable electricity—while 51 percent were deemed "livable"; 47 percent are either "bad" or "urgent/undignified condition," shelter that is a "tent, scrape house, clay house, warehouse or cave."
To improve the lives of refugees, Hansford said the generosity and funding from the Jordanian government has to be matched by the international community, who "need to step up their efforts." The local communities that are hosting the refugees also need to be supported as services like education, free access to health care, water, sanitation and electricity are stretched to their limit.
Jordan and neighboring countries Turkey, Iraq and Egypt host 95 percent of the Syrian refugee population. Lebanon implemented a visa system to staunch the flow of refugees, which started on January 5 and Egypt placed visa requirements on Syrians in 2013.
"We are concerned about the strains that the neighboring countries are under in hosting so many of the refugees," Hansford said. "It's a question of international solidarity. The international community needs to increase its support for refugees and refugee families and for the government of these countries."
Valerie Amos, who is stepping down from her position as U.N. under secretary for humanitarian affairs and emergency relief coordinator on March 31, said during a talk at the Council of Foreign Relations on Tuesday that the world has failed the people of Syria and it was the low point of her career.
"We have watched a country descend into war and conflict and we haven't been able to stop it. I think I, with everyone in a position of some authority, need to take some responsibility for that, whatever I have been able to do," she said.
Amos said a political solution in Syria was the only option to stop the conflict.
Secretary of State John Kerry put the blame for the situation in Syria squarely on the shoulders of president Bashar Assad Wednesday after meeting with Staffan de Mistura, the U.N. special envoy for Syria, in Geneva.
"It is time for President Assad [and his] regime to put their people first and to think about the consequences of their actions, which are attracting more and more terrorists to Syria," Kerry said.