U.N. Peacekeepers Seek More Troops, Better Weapons Against New Threats in Divided World
United Nations peacekeepers are seeking additional troops and improved equipment in order to tackle an array of new threats emerging from some of the most dangerous corners of the globe at a time of deep divisions among the international community.
In hopes of securing new pledges and political support, U.N. Peacekeeping launched on Tuesday a two-day virtual ministerial meeting hosted by South Korea.
"We have actually a significant number of needs in various areas," U.N. Under-Secretary-General for Peace Operations Jean-Pierre Lacroix told Newsweek.
Among the key fields in which Lacroix was hoping for support was replenishing a "relative shortage" of current infantry units, something he said has not yet affected mission performance but could be addressed by the gathering. Other core requests involved ways to better secure the well-being of the troops already on the front lines.
Lacroix said he hoped to do so through acquiring "a number of capacities but also training and some equipment" that could prove useful in guarding against not only regular attacks mounted by militants but also improvised explosive devices (IEDs) and unmanned aerial vehicles (UAVs).
He also highlighted a need for better "mobility," appealing for additional fast-moving assets such as helicopters and quick-reaction forces.
The need for such assets has been felt sorely on the ground in high-risk regions such as the Central African Republic, Democratic Republic of the Congo, Lebanon, Mali and Western Sahara. Out of the 12 missions in which U.N. peacekeepers are deployed on the ground, Lacroix said that "eight or nine have a deteriorated political and security environment" over the past two years.
For the U.N. Multidimensional Integrated Stabilization Mission in Mali (MINUSMA), convoys come under attack at a rate of around twice a month. One such assault occurred Friday, killing a civilian contractor and injuring another, followed over the weekend by several attacks against the Mission across northern Mali.
This deadly incident, along with others preceding it "is carrying a lot of pressure for us," El-Ghassim Wane, the head of MINUSMA and a special representative of the U.N. Secretary-General, told Newsweek.
"One of the biggest threats we are facing here is we are operating in an asymmetrical environment where our convoys, our camps, our troops are attacked on a regular basis," Wane said.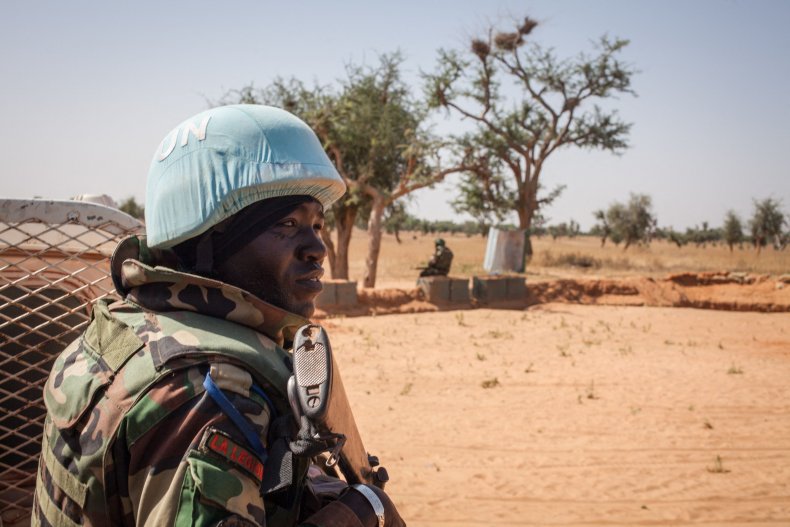 IEDs present a particular obstacle and have impeded the mission through both bloodshed and impeding freedom of movement. Wane said that, since the 30th of September alone, there have been 63 IED incidents against MINUSMA personnel, killing six peacekeepers.
And he also raised the alarm on "suspicious UAV flights over our camps, for which, of course, we need to take precautions."
To address these vulnerabilities, Wane said that "there is a whole list of gaps for which we are in need of pledges and we hoped that the ministerial meeting would make it possible to to to secure additional pages for the mission."
"We're in need of electronic countermeasures as part of our counter-ED measures given the extent of the threat are facing in terms of IEDs," Wane said.
Echoing Lacroix, Wane called for "a quick reaction force" and "surgical capabilities," new aircraft including "helicopters, definitely for medevac," as well as "armed attack helicopters, fixed-wing intelligence surveillance operations units" and "UAVs."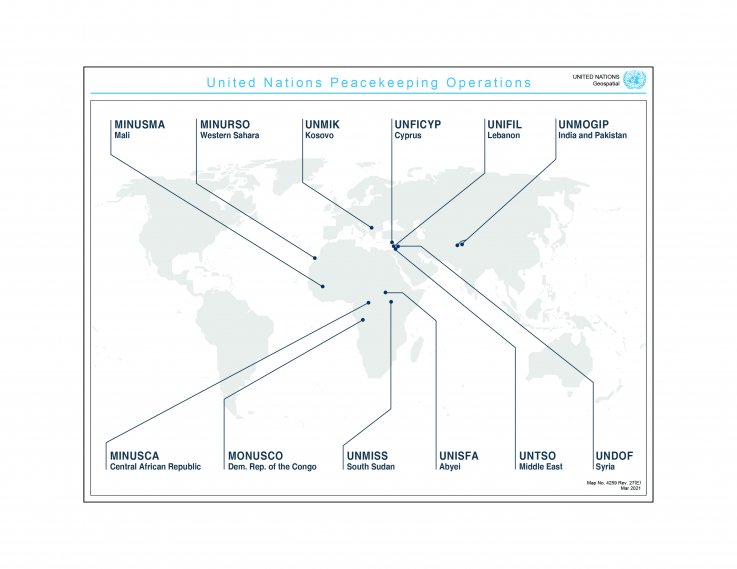 This map shows the 12 missions operated by U.N. Peacekeeping around the world as of March 2021. As of October, there are 86,021 U.N. Peacekeeping personnel from 121 nations, including 72,789 uniformed personnel consisting of 63,491 troops, 2,088 staff officers, 7,234 police, 2,088 staff officers and 1,089 military observers.
United Nations Geospatial
Ultimately, however, he said that the only way to truly address security shortcomings in the environment in which MINUSMA was working would be the successful implementation of the peace agreement reached by the government and Tuareg rebel fighters in 2015. Clashes have continued over the years in spite of this deal and instability has only been exacerbated by a growing Islamist insurgency and two coups over the past two years.
Though additional troops were also welcome here, he felt political action was at the heart of resolving the underlying issues plaguing Mali.
"Yes, we need additional personnel, there is no doubt about it, additional capabilities," Wane said. "But these have to go hand in hand with political efforts aimed at addressing the root causes of the security challenges confronting Mali."
And he hoped to see serious statements of political support emerge from member states at the ministerial.
Mali and other U.N. Peacekeeping missions continue to operate on the basis of backing by U.N. member states. Wane said that MINUSMA has been "quite fortunate to be a mission that enjoys strong political support of all the members of the Security Council and within the international community," but cracks have emerged in the global consensus that serves as the foundation for such activities around the world.
Lacroix said these fissures were becoming increasingly noticeable.
"There is a major impact of a divided international community and divided Security Council," he said. "Our Security Council is still united enough to extend the mandate of peacekeeping missions, even though I know that the votes for the extension of peacekeeping mission mandates are becoming less and less unanimous, which I believe is kind of a signal of an erosion of that kind of support."
He noted that, as in the case of MINUSMA, resolute political backing is needed in addition to financial and material assistance. But this solidarity was in scarce supply.
"What we would really need and we don't have is a much stronger support from our member states, other member states to these political efforts and a much stronger and more united commitment and involvement of these member states, particularly the most influential ones, to support those political efforts," Lacroix said.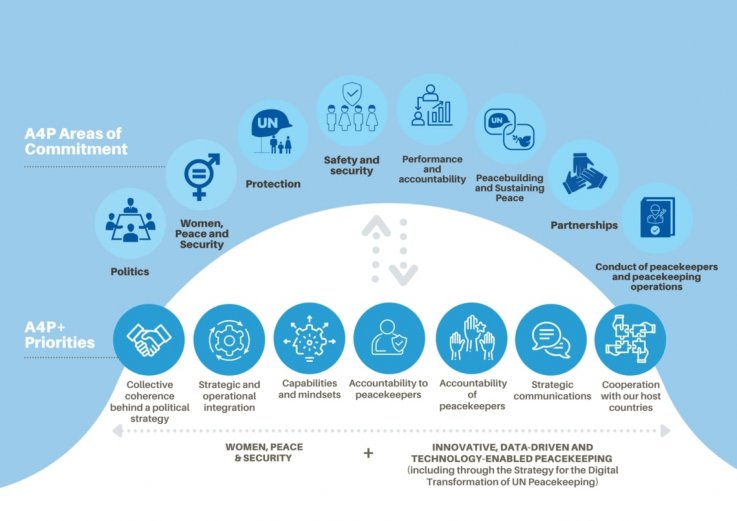 A graphic created for the U.N. Peacekeeping ministerial being hosted virtually in the South Korean capital of Seoul shows areas of commitment and priorities of the "Action for Peacekeeping" (A4P) plan being promoted at the December 7-8, 2021 event.
U.N. Peacekeeping
"Because if we don't have that, and unfortunately, we don't have that really in most situations we're involved," he added, "how can there be active engagement with the parties' active influence, even pressure? And I believe largely because of that we're not seeing progress in the political processes that are relevant to the situation in which we're involved and that is a major challenge."
Africa has particularly been subject to a tug-of-war among major powers, and today the U.S., China, Russia and European nations—some of them former colonial powers—have sought to expand their footprint on the rapidly growing continent of more than 1.2 billion people. It's also home to half of the U.N. Peacekeeping's dozen missions.
And while Lacroix said that U.N. Peacekeeping has seen success here in partnering with organizations such as the African Union, he acknowledged that divisions among key partners, "who could exert strong influences, really is a problem."
The result, he said, "is that our peacekeeping missions achieve a lot short-term and medium-term, they achieve preventing the resumption of hostilities or helping respect ceasefire, they protect many people, hundreds of thousands of people."
But "the ultimate success of peacekeeping," he argued, "would be a situation where we can gradually leave and leave behind us a more stable situation, a durable political solution."
"That seems to be out of reach for most of us our peacekeeping missions, if not all of our peacekeeping missions," Lacroix added, "largely because of that lack of strong and united support from other member states."