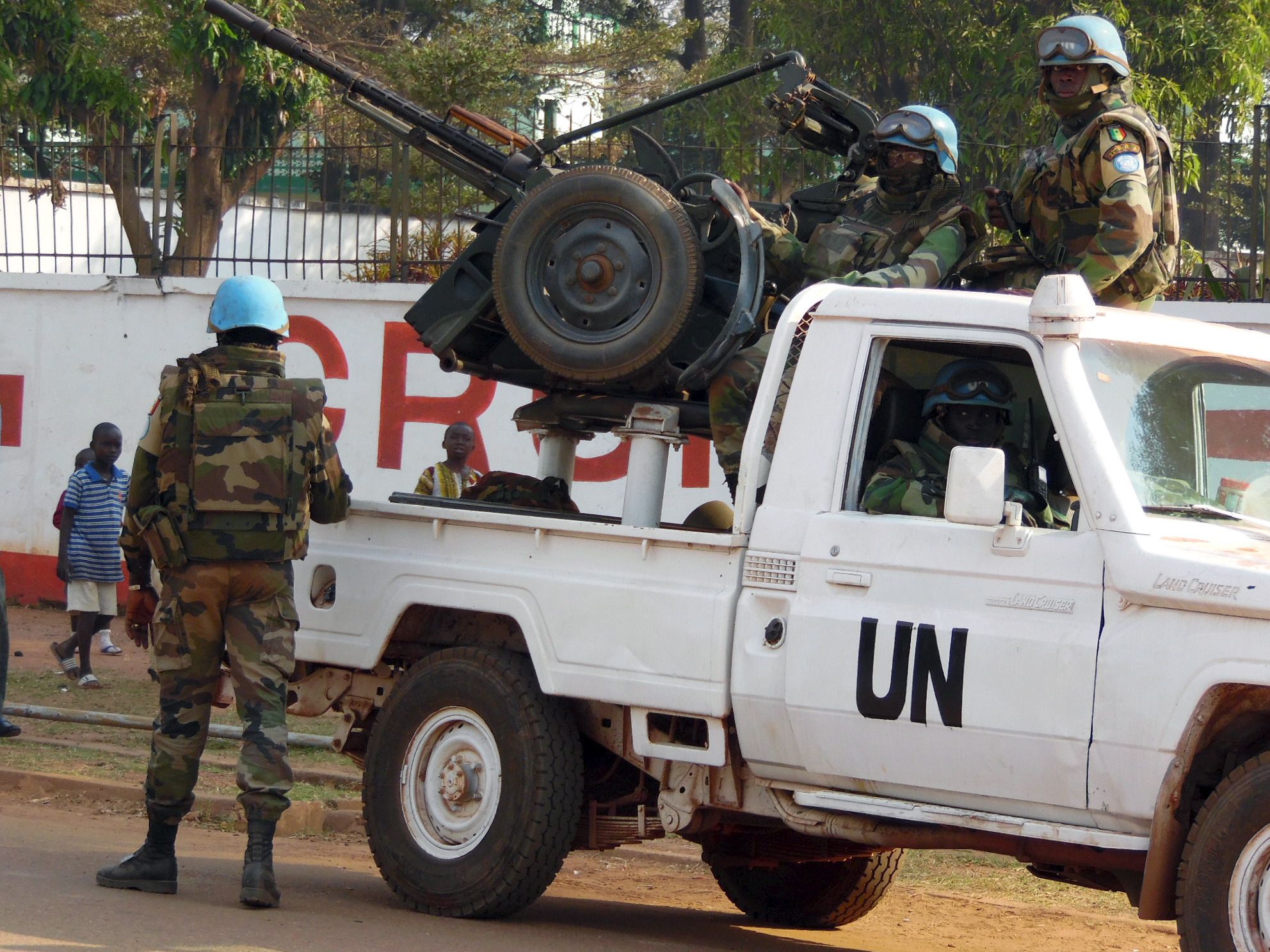 United Nations (U.N.) peacekeeping personnel must lose their status as "a privileged class," according to a former senior U.N. official, after fresh allegations of sexual abuse of minors by peacekeepers in Central African Republic (CAR) emerged.
The U.N. peacekeeping mission in CAR—known as MINUSCA— said on Tuesday that it was investigating allegations concerning sexual exploitation and abuse of minors, as well as other misconduct, by peacekeepers and international forces. The U.N. launched an investigation into its mission in CAR in June 2015 after allegations a peacekeeper sexually abused a young girl. Former colonial power France has also investigated claims of child abuse by its soldiers stationed in CAR .
MINUSCA said that staff from the U.N. Children's Fund (UNICEF) in the capital Bangui had paid four visits to four alleged child victims of abuse, who have been provided with medical treatment and psychosocial assessments. MINUSCA declined to specify which countries the accused peacekeepers came from or how many were involved in the allegations. Unnamed sources told AFP that the peacekeepers came from Gabon, Egypt and Morocco, and AFP reported that the allegations brings the total number of sexual abuse cases against U.N. peacekeepers in CAR to 26.
According to Paula Donovan, who served as a senior advisor to the U.N. Special Envoy for HIV/AIDS in Africa from 2003 to 2006, the latest allegations mean that the U.N.'s "sex abuse crisis is now more exposed than ever before, but there's no evidence that the U.N. has changed the way it's dealing with the problem." "The U.N. treats reports of sexual abuse by its personnel as administrative matters to be handled internally and in secret, rather than as serious violent crimes," says Donovan, who also worked for UNICEF throughout the 1990s and is the co-founder of AIDS-Free World, an international advocacy organization.
The U.N. currently deploys almost 11,000 peacekeeping personnel in CAR, which held presidential and parliamentary elections on December 30. The MINUSCA statement added that a fact-finding mission had been established into the current allegations and that the countries of the troops accused had been informed. "There is no place in U.N. peacekeeping for those who betray the trust of the people we are here to help," said Parfait Onanga-Anyanga, the U.N.'s most senior official in CAR.
A spokesperson for U.N. Peacekeeping's headquarters in New York—which oversees all U.N. peacekeeping operations, including MINUSCA—told Newsweek that Secretary General Ban Ki-moon has introduced a raft of measures to improve accountability and transparency in this regard. Measures include the unprecedented step of naming which members states the accused peacekeepers come from—which the Secretary General will do in his next report on the issue, to be published in early 2016—and suspending funding to members states whose individuals have been credibly accused of sexual abuse of minors.
The U.N. Peacekeeping spokesperson says the organization and the Secretary General remains committed to the U.N.'s zero tolerance policy, which means "zero complacency when confronted with serious allegations and zero impunity for offenders."
"We continue to work closely with our partners in troop contributing and police contributing country communities to ensure both greater accountability and greater transparency and we will continue in the months ahead to demand nothing less, including criminal prosecutions where warranted," the spokesperson says.
CAR has been mired in conflict since March 2013, when former president Francois Bozize was ousted by a mainly Muslim rebel faction called the Seleka. The move sparked the formation of largely Christian militias, called the anti-balaka, who have been engaged in tit-for-tat killings with the Seleka. More than 100 people were killed in sectarian violence in Bangui between late September and late November 2015, according to Human Rights Watch.