U.N. Warns America Against 'Excessive Force' as Portland Officers Seen Shoving Medics to the Ground
The United Nations, on Friday, urged America to avoid using excessive force against protesters and journalists, following a viral video that shows volunteer medics being shoved to the ground by police officers in Portland, Oregon.
"It is very important that people are able to protest peacefully, that people aren't subject to unnecessary, disproportionate or discriminatory use of force," Liz Throssell, U.N. human rights spokeswoman, said during a news briefing on Friday.
During the news briefing, Throssell also urged authorities to ensure that federal and local police were "clearly identified," after photos have shown officers covering their badge numbers when using excessive force against protesters.
"The authorities should ensure that federal and local security forces deployed are properly and clearly identified and would use force only when necessary, proportionately and in accordance with international standards. Any victims of unnecessary excessive use of force," have the right to a transparent investigation, she added.
She continued, "There have been reports that peaceful protesters have been detained by unidentified police officers," adding that this is a call for concern "because it may place those detained outside the protection of the law and may give rise to arbitrary detention and other human rights violations."
Throssell's comments come as protests continue to take place across the country, initially sparked by the death of George Floyd on May 25.
In Portland, protesters and police officers have continued to clash, and a recently viral video shows two volunteer medics being pushed to the ground by law enforcement officials during a protest.
While speaking to CNN, Christopher Durkee, a trained EMT, and Savannah Guest, a former emergency medical services volunteer, explained the recent incident they experienced that was captured on video. According to CNN, the two were called by protesters to help treat an injured man, as police officers trying to disperse crowds walked toward them.
"As officers approached, we began backing up as they were commanding us to do," Durkee told CNN, adding that he was then pushed to the ground by the officers. "My partner also fell to the ground, and my partner was hit with a baton repeatedly."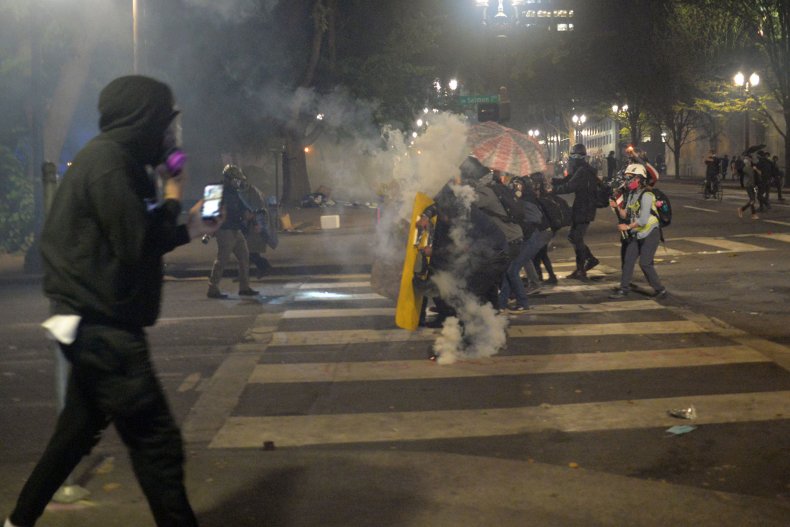 After the video went viral, the American Civil Liberties Union (ACLU) filed a lawsuit on their behalf, against the Department of Homeland Security, U.S. Marshals Service and the city of Portland, "for targeting and attacking them at Portland protests against police brutality."
"Volunteer medics should be celebrated, not attacked or arrested," said Jann Carson, interim executive director of the ACLU of Oregon, in a press release. "Our clients are volunteering day and night to provide aid to the injured and to create a safer environment for protesters and bystanders. These attacks are unconscionable as well as unconstitutional. This lawlessness must end."
Newsweek reached out to the U.N. for comment but did not receive a response in time for publication.