An Unabashed Hawk, Lindsey Graham Doubles Down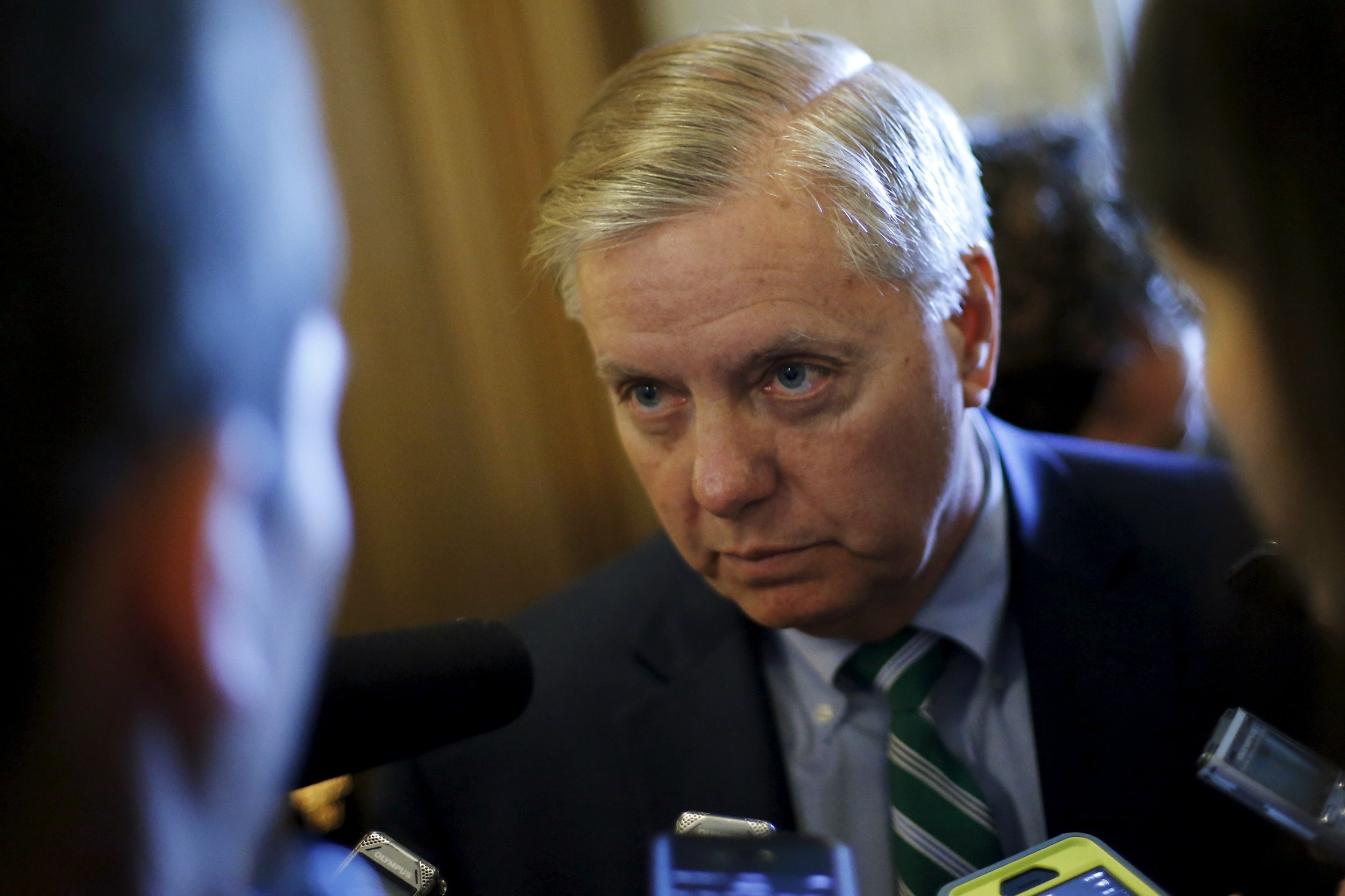 South Carolina Senator Lindsey Graham laid the choice plainly before 2016 voters Wednesday: "If you're too tired to defend this nation, if you're too war weary, don't vote for me." The rest of the Republican presidential candidates' remarks on foreign policy at the Atlantic Council in downtown Washington, D.C., were equally, if not more, direct.
Graham is polling in the low single digits nationally in the crowded Republican race for president, but the retired Air Force JAG is setting the bar for hawkish rhetoric. And given how high a priority Republican primary voters have put on national security, many in the GOP field are now following suit.
The garrulous South Carolina senator upped the ante even further Wednesday, promising that under a Graham presidency, at least 30,000 American troops would be stationed across the Muslim world to help counter radical Islam. That would include 10,000 troops in Iraq; another 10,000 in Syria as part of "a large regional army" he says is needed to kick out the terrorist group ISIS and embattled Syrian dictator Bashar Assad; and maintaining 9,500 troops in Afghanistan, rather than bringing them home as he worries President Obama plans to do. "If I thought we needed more [in Afghanistan], I would send them," Graham said.
He also said he'd undo a nuclear deal with Iran if he determined it was "a bad deal." And he'd be prepared to go to war if Tehran moves closer to building a nuclear weapon, which he called "the most existential threat to world order." World powers are currently scrambling to complete a nuclear agreement with Iran after pushing the deadline to Friday.
Asked about being labeled a warmonger, the 20-year congressional veteran didn't miss a beat. His support for such steps, he said, was "not because I like war, not because I want war, but because I want to defend our nation."
"I've learned a lot from [George W.] Bush's mistakes, from my mistakes and from Obama's mistakes," the 59-year-old continued.
One of those mistakes? Launching the American invasion of Iraq in the first place. One of the biggest cheerleaders for the Iraq War last decade, Graham said Wednesday, "If I knew then what I know now I wouldn't have invaded Iraq, but I still would have tried to push Saddam out," without involving ground troops. The bigger mistake he and other supporters of the war made, he added, was not being better prepared for the fallout and insurgency after the successful U.S. invasion. But Graham denied that the Iraq War was responsible for the rise of ISIS. Nor has his recognition of those past mistakes tempered his willingness to prosecute new ground wars in the region.
Those unwilling to take similar steps, Graham warned, were putting the country in danger. He even named names, dismissing Democratic front-runner and former Secretary of State Hillary Clinton as a continuation of Obama and castigating Texas Senator Ted Cruz, a fellow Republican presidential candidate, for thinking the winning formula in Syria was as simple as arming Kurdish forces there. But Graham saved his most scorching reproof for libertarian-leaning Senator Rand Paul, who has been critical of American drone policy and National Security Agency spying.
Paul "is the one voice in the Republican Party that I think has been weaker on national security than President Obama," said Graham. "I think everybody running [in the Republican primary] except Rand Paul could get a better deal with the Iranians."
While he staked out a hard line on national security, the third-term senator swung back to the center in discussing immigration, demonstrating the political (and verbal) nimbleness that continues to captivate the pundit class, even as it risks making him less palatable to primary voters. In the closing minutes of a Q-and-A session, Graham made the most emphatic denunciation yet by any Republican of real estate mogul Donald Trump and others in the party who villainize undocumented immigrants.
"You're right to point out a broken immigration system," he said of Trump, who's running a dark-horse but media-saturated campaign for the GOP nomination. "But you're wrong to say…that of the 11 million-plus illegal immigrants, most of them are rapists and drug dealers. Most of them are good, hard-working people cleaning our toilets, picking the crops that we all enjoy, changing the beds and working three or four jobs in the shadows to try and keep their family afloat." He then began to choke up when talking about separating families and his own tough childhood, punctuated by the loss of both parents in his early 20s.
"If it wasn't for family, friends and faith, I would not be sitting here," Graham said. "I am not going to engage in rhetoric or policies to destroy a family that's done nothing more than try to get a better life."