'Unacceptable': Wisconsin Election Officials Say Trump Observers Hindering Recount With Constant Interruptions, Questions
Wisconsin election officials called out President Donald Trump's ballot tabulation observers for hindering the recount, following his requests in Milwaukee and Dane County.
Milwaukee County Clerk George Christenson said in a report by the Associated Press on Saturday that in some cases, the observers were objecting to almost every ballot pulled for the count.
Christenson continued to note that the complaints were putting the recount behind schedule, and multiple observers were breaking rules by interrupting vote counters with questions and objections.
He called the behavior "unacceptable."
"It's not our job to train their observers on what they're observing," Christenson said during a media briefing on Saturday, as reported by the Milwaukee Journal Sentinel. "They clearly don't know what they're doing and so they keep asking questions.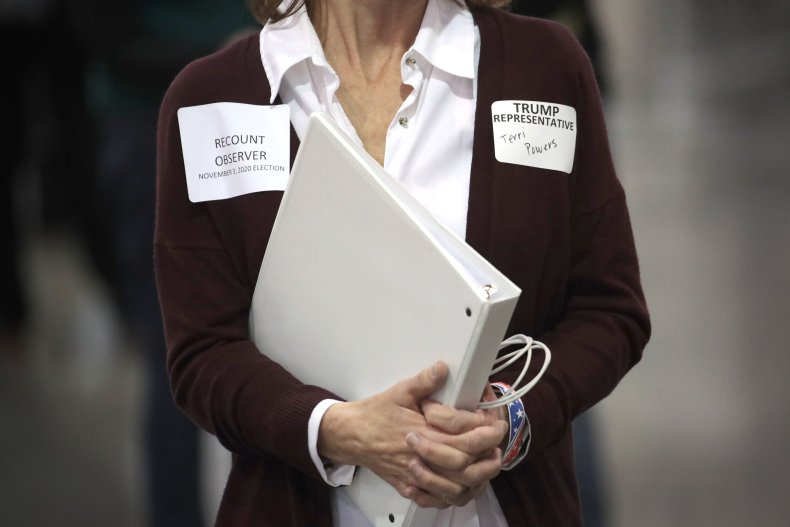 He continued: "And we've said to the Trump campaign, you need to tell your people what you're looking for here because they're objecting to every ballot."
Tim Posnanski, a county election commissioner, also claimed Trump's observers were violating rules, according to the AP.
Posnanski told fellow commissioners that there seemed to be two Trump representatives at tables where tabulators were counting ballots, even though county rules call for only one observer from each campaign to be at each table.
The commissioner said that some Trump representatives were posing as independents to bypass this rule. Posnanski called it "prima facie evidence of bad faith by the Trump campaign."
A lawyer for the Trump campaign denied the allegations that the observers were acting in bad faith.
"I want to get to the point of dialing everything down... and not yelling at each other," said lawyer, Joe Voiland, according to the AP.
The Trump campaign requested recounts in Milwaukee and Dane County, Wisconsin's two largest counties, earlier this week. The president's campaign paid the state $3 million to cover the cost of the recount.
Both Milwaukee and Dane County are historically Democratic-leaning areas. Hillary Clinton won the counties by more than 36 points in 2016, although Trump won Wisconsin as a whole by narrow margins.
Trump has yet to concede the presidential race, although several national media outlets called the election for President-elect Joe Biden on November 7.
The Trump campaign has since filed multiple lawsuits in several states after Election Day claiming without evidence that widespread voter fraud contributed to Biden's victory.
The AP called Wisconsin for Biden on November 4. The president-elect currently holds a lead of over 20,000 votes in the state.
Milwaukee County's Office and Trump's re-election campaign didn't respond to Newsweek's requests for comment in time for publication.