Unaccompanied Minors at Border Has Tripled In Two Weeks, Now Totals Over 3,200
The number of unaccompanied migrant children at the U.S.-Mexico border has soared in recent weeks, presenting President Joe Biden with his first major immigration challenge.
There are currently more than 3,250 minors being detained along the southern border—triple the amount that was being held just two weeks ago, according to a report from the New York Times.
Over 1,360 of the children have been detained longer than the 72 hours permitted by law before a minor must be transferred from Customs and Border Protection (CBP) to the Department of Health and Human Services (HHS).
The documents obtained by the Times showed that HHS shelters were near maximum capacity. The agency had space for only 838 more unaccompanied minors as of Sunday, as it had more than 8,100 unaccompanied minors in its care.
The growing wave of unaccompanied children at the border has been a trend for the past few months. More than 4,000 migrant minors were transferred to the Office of Refugee Resettlement (ORR) in January, according to the agency's data, which is nearly four times the number that arrived in October of last year.
In a statement, the office of communications for the HHS' Administration for Children and Families told Newsweek the ORR is "aggressively working with our interagency partners to ensure that unaccompanied migrant children are safe and unified with family members or other suitable sponsors as quickly and safely as possible."
The agency added that it will "utilize all available options to safely care for the children referred to us" by ensuring children don't spend more time in Border Patrol facilities than necessary moving toward a long-term goal of acquiring enough beds to "reduce the need for influx facilities."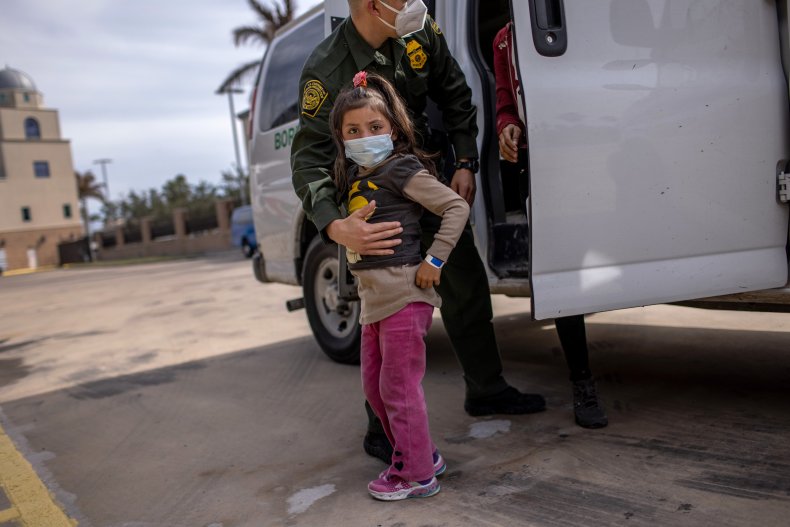 Biden has begun to reverse many of the hardline immigration policies put into place by former President Donald Trump's administration, including executive orders to curb deportations, freeze border wall construction and reunite families separated by Trump's "zero tolerance" policy in 2018.
At a press briefing last week, White House press secretary Jen Psaki emphasized that the new administration will take a different approach to the processing of migrant children.
"We're going to chart our own path forward," Psaki said. "And that includes treating children with humanity and respect and ensuring they're safe when they cross our borders."
Department of Homeland Security Secretary Alejandro Mayorkas has pointed the finger at the Trump administration for the rising number of unaccompanied minors held in U.S. custody after crossing the Mexico border.
"I learned that we did not have the facilities available or equipped to administer the humanitarian laws that our Congress passed years ago," Mayorkas said at a White House briefing earlier this month. "We did not have the personnel, policies, procedures or training to administer those laws. Quite frankly, the entire system was gutted."
At the time, Mayorkas described the situation at the southern border as a "challenge," not a crisis.
Newsweek has reached out to CBP for comment on the growing number of unaccompanied migrant children at the southern border.
Update: This story has been updated with a statement from HHS' Administration for Children and Families.