Unarmed Mother Fights Off Tiger Trying To Snatch Her Baby
An unarmed mother fought off a tiger that tried to snatch her baby in Rohania village in the central Indian state of Madhya Pradesh.
Archana Choudhary, 25, had taken her one-year-old son Raviraj outside her hut to relieve himself when the tiger jumped at them from the bushes, The Times of India reported.
The tiger started to attack the child, sinking its claws in the his head as Choudhary lunged for the big cat as it attempted to bite Raviraj.
Rohania village is close to the Bandhavgarh Tiger Reserve. Human and wildlife conflict in India is increasing because of habitat degradation.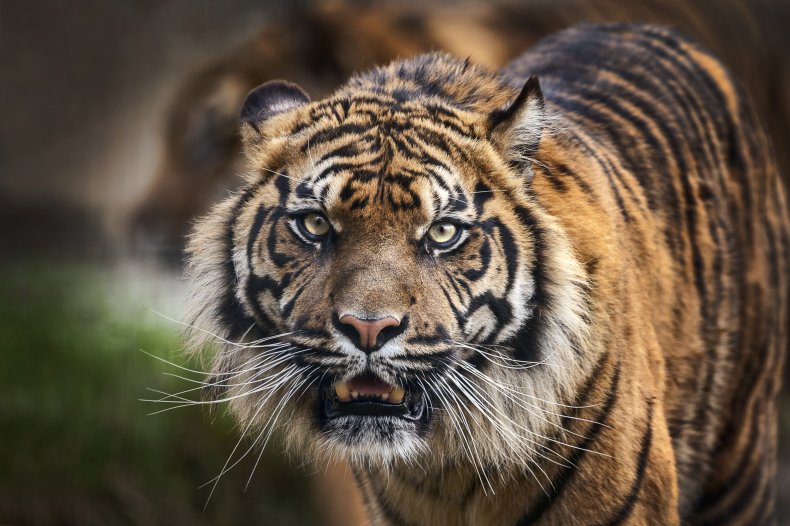 The tiger kept trying to swipe at the child as the mother used her bare hands to fight it off. She screamed for help as she continued to kick and punch the tiger but it sunk its claws into her puncturing a lung.
The fight continued for a few minutes before villagers came to her rescue. The tiger eventually retreated back into the bushes.
The mother and child were rushed to a medical facility with severe injuries. The child suffered large wounds on his head, while Choudhary was treated for deep wounds in her abdomen and a punctured lung.
"Sadly, the attack may have occurred because there is limited natural prey available, so the tiger has to search for alternative food sources, or the tiger had an ailment which prevented it from catching its natural prey," Tara Pirie, teaching fellow and big cat expert at the University of Surrey in the U.K., told Newsweek.
Medical staff were not sure Choudhary would make it at first, but mother and child are now expected to recover.
Authorities are now searching for the tiger, The Times of India reported. Once it is found, they will make sure it moves back into the jungle.
Habitat degradation is not the only reason for an increase in human-wildlife conflict in India. Climate change has increased competition for food and water. A lack of resources in tigers' natural habitats may force them to wander into populated areas.
Tigers are top predators. They have immense physical strength, and can be extremely dangerous. They usually avoid people but have been known to attack if they are provoked or feel their territory is threatened.
Attacks are rare but external factors such as habitat degradation can increase their likelihood.
The attack on Choudhary and her son is not the only one to occur recently. In July, a tiger in Northern India dragged a man into a jungle. Rescuers searched for the man but only found two hands.
Newsweek has contacted the Madhya Pradesh Forest Department for comment.