'Unbothered' Grandma's Interaction With Mama Bear 'Stressed Out' Viewers
A woman's video showing her grandmother refusing to come inside the house despite a mother bear seemingly lunging at them has gone viral on TikTok.
Posted by @valbruns last week, the video has so far amassed more than 6 million views as it showed the woman trying to persuade her grandmother to get inside the house from the deck, which is where they spotted the family of bears from.
The National Park Service published some tips on its website on how people can safely view bears while they are out in the wild.
People are encouraged to respect a bear's space and to keep their distance, and, if they find cubs, they should not approach them.
"Young animals that appear alone usually have a mother waiting nearby," the agency cautioned. "Never get between a mother and her cub."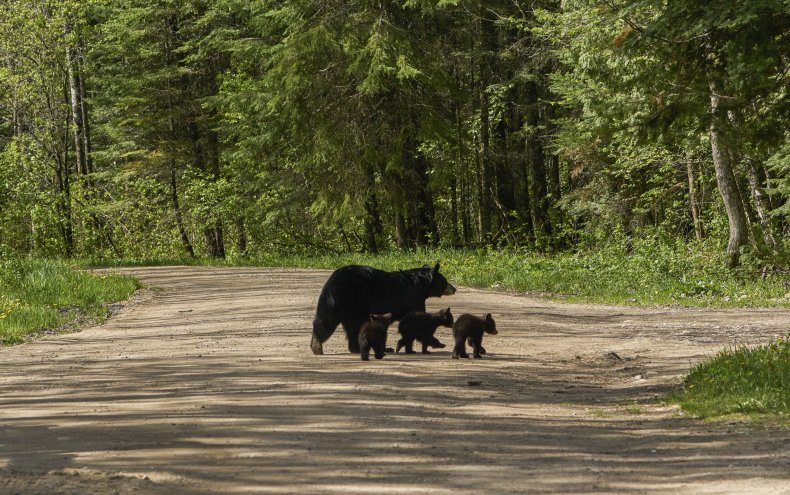 Grandma Gets Told to 'Get Ready to Sprint'
TikTok user @valbruns filmed the three cubs scurrying up a tree with their mother not far behind.
"The mom's looking at us," she said to her grandmother, who is seen in the corner of the video with her own phone out. "Grandma, you better get ready to sprint."
She warned her grandmother a second time to be ready to run inside the house before the bear suddenly whipped around and lunged toward the deck.
@valbruns immediately ran toward the house as she once again called for her grandmother to get inside with no success. Instead of getting inside the house, the grandmother laughed and insisted on staying outside on the deck.
"Grandma, the cubs are in the tree, the bear wants to get us," @valbruns said in an exasperated tone.
Before the video concluded, @valbruns walked into the house as she declared that her grandmother was "stressing her out."
TikTokers React
Viewers took to the comments section to express their own thoughts upon seeing the video.
"Grandma being unbothered has me crying," a TikTok user wrote.
"Bruh at that point grandma on her own," another commented.
"She just wanna show her Facebook friends," one viewer commented.
"It's her casually readjusting the furniture you flew through completely unbothered," wrote a viewer.
Some assured @valbruns that she was not the only one who was worried about her grandmother when she refused to come inside the house.
"She stressed me out too omg," a comment read.
Newsweek reached out to @valbruns for further comment.
Other Viral Moments Involving Bears
A video showing a black bear approaching a woman at a bus stop went viral last week, while another showed a bear climbing a tree to reach an eagle's nest.
In addition, one viral clip last month showed a house cat chasing a bear away from its owner's driveway.