UNC Donor Concerns On Nikole Hannah-Jones: 'Needless Controversy' Over 1619 Project
The University of North Carolina-Chapel Hill's Hussman School of Journalism and Media is touting the hiring of Nikole Hannah-Jones on its website, noting she is a recipient of both the Pulitzer Prize and MacArthur Genius Grant.
But when the school appointed the New York Times Magazine journalist—best known for her work on "The 1619 Project"—the prestigious Knight Chair in Race and Investigative Journalism, she was not offered tenure, even though previous Knight Chairs had been.
Now, it has been alleged that the journalism school's largest donor—whose name the school bears—had objected to Hannah-Jones even being hired.
Newspaper publisher Walter Hussman Jr. warned university officials that hiring Hannah-Jones would attract "needless controversy," The Assembly reported.
Hannah-Jones won a Pulitzer Prize for a commentary for her introductory essay to "The 1619 Project," which has attracted criticism from conservatives due to its reexamination of slavery in U.S. history.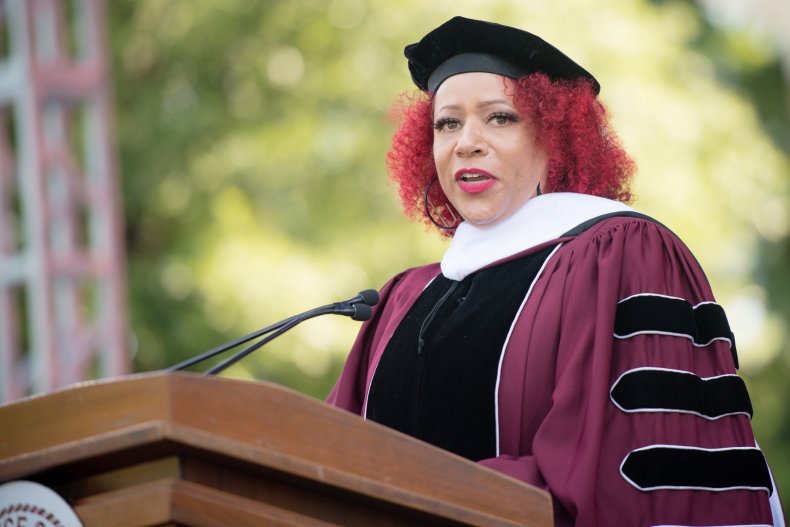 Hussman donated $25 million to the journalism school, his alma mater, in 2019. In return, it was named after him and his "statement of core values"—long published in his company's newspapers—is now on display at the college's entrance.
Last year, as the school began considering hiring Hannah-Jones, also an alumna of the journalism school, Hussman reportedly voiced concerns that having her on the faculty would distract from teaching the school's core values.
"I worry about the controversy of tying the UNC journalism school to the 1619 project," Hussman wrote in an email last December that was obtained by The Assembly.
In that email, he argued that he didn't see Hannah-Jones as "pushing to find the true historical facts." He added: "Based on her own words, many will conclude she is trying to push an agenda, and they will assume she is manipulating historical facts to support it."
Hussman also said his "hope and vision" for the journalism school was for it to be "the champion of objective, impartial reporting and separating news and opinion," but he feared "this possible and needless controversy will overshadow it."
He reportedly confirmed the substance of the emails when reached for comment by The Assembly. He also said his donation was not made to "influence university policy."
"We're trying to promote what we think is good journalism," he said.
Hannah-Jones's hiring as the Knight Chair was announced in April. But despite a faculty and administrative process recommending tenure, the university offered Hannah-Jones a five-year, fixed-term appointment.
Hundreds of academics and public figures expressed their support for Hannah-Jones and branded the board's denial of tenure "a failure of courage" in a letter in The Root on Tuesday.
In a statement on Thursday, Hannah-Jones said she had retained legal counsel to respond to the Board of Trustee's "failure to consider and approve my application for tenure—despite the recommendation of the faculty, dean, provost and chancellor."
"I had no desire to bring turmoil or a political firestorm to the university that I love, but I am obligated to fight back against a wave of anti-democratic suppression that seeks to prohibit the free exchange of ideas, silence Black voices and chill free speech," Hannah-Jones said in the statement on the NAACP's Legal Defense Fund website.
She added: "As a Black woman who has built a nearly two-decades long career in journalism, I believe Americans who research, study, and publish works that expose uncomfortable truths about the past and present manifestations of racism in our society should be able to follow these pursuits without risk to their civil and constitutional rights.
"I continue to be proud of my work through The Ida B. Wells Society for Investigative Reporting, The 1619 Project and my years of investigative reporting on the ways segregation and inequality is maintained through official action and policy."
Hussman and the university have been contacted for additional comment.