UNC to Launch Campus-Wide Mental Health Campaign Amid Suicide Investigations
The University of North Carolina at Chapel Hill (UNC) is planning to launch a campus-wide mental health campaign in the coming weeks as the school investigates a possible suicide that occurred over the weekend, as well as a suicide attempt.
In a note to the school community, Chancellor Kevin Guskiewicz announced that the school would launch a campaign called the Heels Care Network "to promote and support mental health awareness."
"Check in with your colleagues and students regarding how they are doing. If you are concerned about someone, let us know," Guskiewicz said in the Sunday letter. "We will have as part of the Heels Care Network a reporting mechanism for you to share information about someone you believe needs help. Look for more information about the Heels Care Network and the mental health summit soon."
Contacted by Newsweek, UNC did not provide any further details on the program.
The chancellor's announcement came after police logs revealed that a student was found dead in a residence hall on Saturday morning and that early the next day campus officials received a different call about an attempted suicide.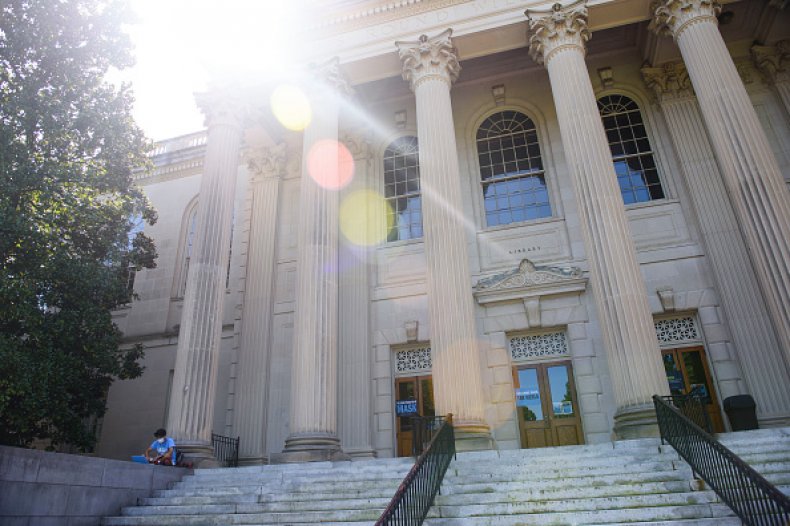 "Today, on World Mental Health Day, we are taking a moment to acknowledge and reflect on the seriousness of mental health illness and the challenges we face as we wrestle with the stress and pressures of our world today," Guskiewicz wrote, acknowledging Saturday's incident and another student death that took place in the past month.
"We are in the middle of a mental health crisis, both on our campus and across our nation, and we are aware that college-aged students carry an increased risk of suicide," he added.
The chancellor announced that classes would be canceled on Tuesday for a "Wellness Day" and that the school would convene for a mental health summit later in October.
Instead of attending classes, Guskiewicz encouraged students to check in with one another on Tuesday and "ask them, 'honestly, how are you doing?'"
Local media have reported that some UNC students are planning to protest the university's response to the matter on Wednesday.
On Thursday, parents will hold an on-campus rally to support students and raise awareness of suicide, which is the second leading cause of death among those 10 to 34 years old, according to the National Institute of Mental Health.
"At Carolina, we strive to put our students first in everything we do. We are living in a world that is constantly shifting and changing. We are facing major challenges and the ongoing toll this takes on our health cannot be underestimated," Guskiewicz said. "This cannot be solved by one person, or on one day, alone."
If you have thoughts of suicide, confidential help is available for free at the National Suicide Prevention Lifeline. Call 1-800-273-8255. The line is available 24 hours every day.