UNC Shows It Is Ready to Make Next Step and Challenge Clemson in The ACC
A quick glance at the University of North Carolina's football results may not mean much to a lot of folks. But for Tar Heels faithful and coach Mack Brown, there's a ton of positives that can be found in their 7-6 record that culminated with their 55-13 thumping of Temple on Friday in the Military Bowl.
First of all, this was Mack Brown's first year in his second stint at UNC. The Tar Heels went 2-9 in 2018 and 3-9 in 2017—a total of 5-18 over the previous two seasons with their wins over Old Dominion and twice each over Western Carolina and Pittsburgh.
Brown's team qualified for a bowl game in 2019, which is way better than how Brown started his first year at North Carolina in 1988. His first two teams at Chapel Hill each went 1-9, and they didn't have a winning season until they went 6-4-1 in 1990. He gradually built a program into a contender each year in the Atlantic Coast Conference—trying to keep up with a Florida State powerhouse teams in the 1990's.
By 1992, the Tar Heels had turned the corner with a 9-3 record and Peach Bowl appearance. Brown guided UNC to top 10 finishes in 1996 and 1997, including an 11-1 mark in 1997 with their only loss (20-3) against No. 3 Florida State.
Meanwhile in Austin, Texas, the Longhorns of the University of Texas in 1997 went 4-7 with an embarrassing 66-3 loss at home to an unranked UCLA team, and losses to Baylor, Texas Tech and Texas A&M. The Longhorns wins that year were against Rutgers, Rice, Oklahoma and Kansas. Texas fired John Mackovic and hired Brown away from North Carolina.
Brown quickly turned the program around and had Texas back in national prominence. In 1998, Texas went 9-3, they beat Nebraska, Oklahoma and Texas A&M, they had a Heisman Trophy winner in Ricky Williams and they beat Mississippi State in the Cotton Bowl.
The next year, Texas was in the Big 12 Championship, where they lost to No. 3 Nebraska.
Brown guided the Longhorns to 10 wins or more in nine-consecutive years (2001-09). Texas won the national championship in 2005, and played for another in 2009.
Brown left the program after the 2013 season and spent the next five years analyzing college football for ESPN, both from the studio and the occasional press box.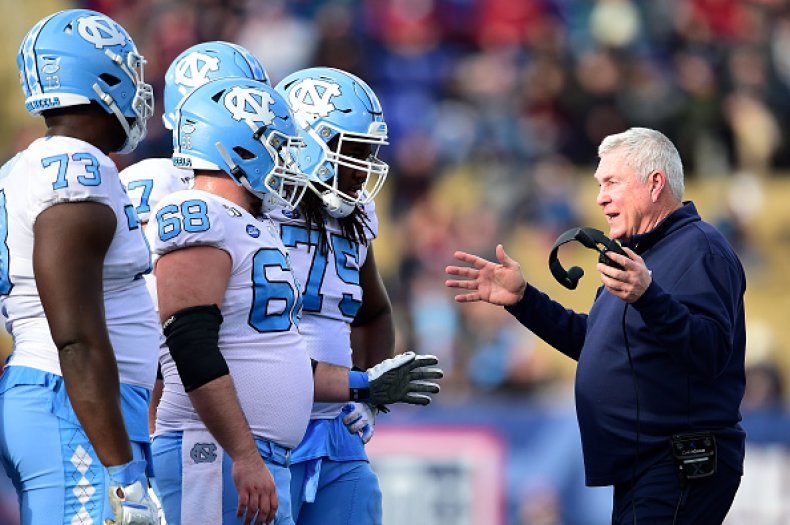 After North Carolina fired Larry Fedora following the 2018 season, Mack Brown went back to the ACC. He's more rejuvenated, he's still a good recruiter and he's gone back to a CEO style of coaching. Those are what made him successful at Texas and previously at North Carolina.
A top priority when getting back to Chapel Hill was getting a top quarterback, and he successfully recruited Sam Howell, the No. 3-rated pro-style quarterback in the country, and local North Carolina kid, who came in and led the team to a win in the season opener against South Carolina from the SEC.
The Tar Heels defeated the Miami Hurricanes in the second game before back-to-back losses against Wake Forest and Appalachian State, two teams that had stellar seasons and both ranked late in the season.
North Carolina hosted No. 1 Clemson on September 28, and the Tar Heels missed on a two-point conversion attempt at the end of the game that would have given them a colossal upset. Instead of being a huge chink in the armor of Clemson, last year's national champion who is back in the playoff, the close call in Chapel Hill was a small dent in Clemson, which eventually tumbled to third in the rankings, largely because of UNC.
UNC went 4-6 in its first 10 games during the 2019, and the score in each game was decided by one possession. They lost to Virginia Tech in a game that took six overtimes.
In game 11, UNC throttled Mercer, 56-7, and then whipped N.C. State, 41-10, the next week to win its sixth game and qualify for a bowl game.
Brown told the press he knew his team was better now than in August and September.
"We weren't ready to win those games early in the year," Brown said in the Charlotte Observer. "We're ready to win those games now."
Brown told reporters during his time in Austin that freshmen players advance more during three weeks of bowl preparation than any other time in their careers. That certainly looked the case for Howell on Friday, as he looked like a leader while directing the Tar Heels offense. He passed for 294 yards and three touchdowns, and he caught a touchdown pass off a reverse pass—the Carolina Special.
The Tar Heels took control of the bowl game in the second quarter and then stomped on the gas in the second half to pull away for the win.
"The last three weeks we've been a really good football team," Brown said on ESPN. "It's fun. Now these guys coming back have something to build on. Seven (wins) is not enough anymore. You want to go to a bowl every year and get a streak of wins."
Brown has a knack of turning programs around, and his young team at Carolina looks to be turning the corner to start competing for ACC Coastal Division titles and perhaps be the next team up to challenge Clemson, which has won the last five conference championships—the last three by blowout.
Mack Brown is having fun again on the sidelines of college football. If history is any indication, then other teams might want to take notice.