UNC Suspends Athletic Activities One Day While COVID-19 Sweeps its Campus
The flagship campus for University of North Carolina announced Wednesday that it will suspend all athletic activities for a 24-hour period. This comes during a week in which the Chapel Hill campus reported so many new cases that it went to online classes, and when only four quarantine dorm rooms remained available.
Despite the school saying Monday it would move to online classes after 135 new cases were reported that day, the Tar Heels athletic department said it would maintain business as usual in getting ready for the fall 2020 sports schedule, including football.
They backtracked on Wednesday, at least for one day.
"After consulting with our health experts and University leadership, we are taking this action to protect our students, coaches and staff,'' North Carolina Director of Athletics Bubba Cunningham said in a statement. "We want to make sure we continue to do everything we can to ensure that that our teams, campus and community remain healthy.''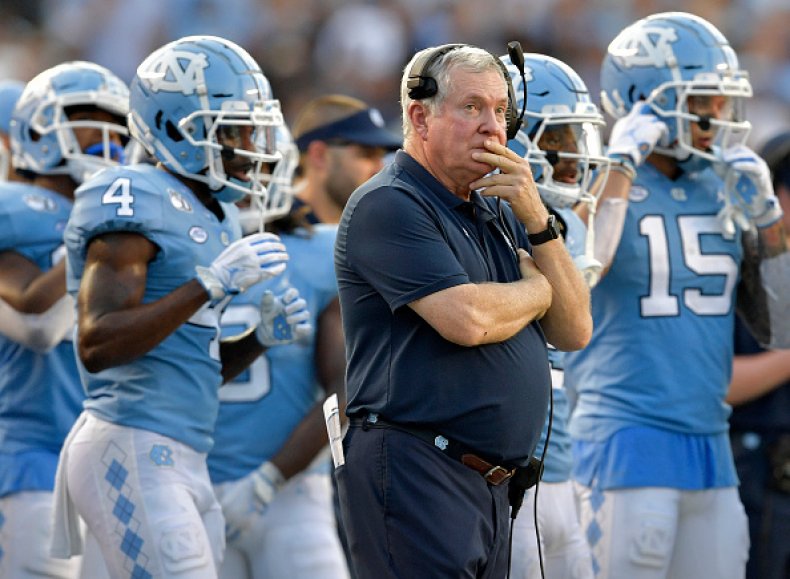 Though all activities for sports teams have been canceled through at least 5 p.m. on Thursday, athletes will still have access to training facilities, medical care, nutrition, academic support and student-athlete development.
On Monday, the UNC administration asked that students who lived in on-campus housing and dorms to move back home and take classes online. International students, student-athletes, ROTC students and students with hardships are allowed to stay on campus, if they choose, and the libraries and dining halls will remain open on campus, but with limited capacity.
The athletes were given permission to still get ready for the 2020 season. North Carolina competes in the Atlantic Coast Conference, which is one of three Power 5 conferences that has insisted it will continue moving forward to play this fall despite the pandemic.
The Big Ten and Pac-12 conferences have already declared they will postpone all fall sports until the spring. The SEC is moving forward with a 10-game, conference-only schedule, and the ACC and Big 12 have announced schedules against conference opponents and one non-conference opponent.
North Carolina is scheduled to begin its season Sept. 12 at home against Syracuse, followed by a home game Sept. 19 with its only non-conference tilt, which is against in-state team Charlotte.
The University of Notre Dame, which will be able to compete for an ACC title this year, has also moved to online classes this week after clusters of positive COVID tests. The school saw a surge in COVID cases after off-campus parties and in-person classes, and the Fighting Irish football paused its fall practice for a day.
Notre Dame opens its season Sept. 12 at home against ACC foe Duke, and then hosts Western Michigan the following week.