'Unconscionable': Seven House Republicans Introduce Resolution to Censure Trump
Seven GOP members of the House called for an official censure of President Donald Trump on Tuesday, citing his attempts to overturn the results of the presidential election and his statements which may have helped inspire a riot at the U.S. Capitol.
The resolution to censure Trump, spearheaded by Pennsylvania Republican Representative Brian Fitzpatrick, comes as lawmakers consider removing Trump from office before the end of his term. Lawmakers have called on Vice President Mike Pence to invoke the 25th Amendment against Trump, labeling Trump unfit for office. Pence stated Tuesday he did not support that action. On Wednesday, House Democrats are expected to consider articles of impeachment against Trump. In a Tuesday statement, Fitzpatrick criticized Trump for his actions.
"President Trump's attempts to undermine the outcome of the 2020 election have been unconscionable," Fitzpatrick wrote in a Tuesday statement. "The combination of a false information campaign coupled with inflammatory rhetoric led to the devastation that I was a personal witness to on the House Floor on Jan. 6. His actions threatened the integrity of our democracy, Congress, and his own vice president. For months, President Trump has been lying to the American people with false information, and giving his supporters false expectations."
Michigan Representative Fred Upton said that the Capitol riots almost "destroyed" the process of the peaceful transfer of power between presidential administrations. "President Donald Trump must be held accountable for his actions, and a censure is appropriate," Upton wrote.
Censure, described by the United States Senate website as a "formal statement of disapproval," would not remove Trump from office or prevent him from making further statements. However, censuring Trump would serve as an official condemnation of Trump's actions in connection with the Capitol riots in January.
Newsweek reached out to the White House for comment.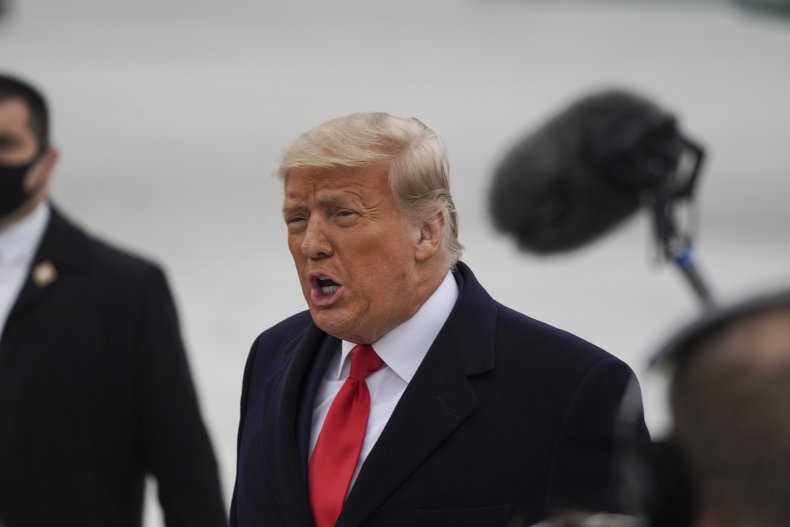 Fitzpatrick and Upton were joined by Republican New York Representative Tom Reed, California Representative Young Kim, Wisconsin Representative Mike Gallagher, Utah Representative John Curtis and Michigan Representative Peter Meijer in introducing the censure proposal.
Although the House was expected to vote Tuesday on calling on Trump to invoke the 25th Amendment, Pence issued a statement on Tuesday explaining that he was not in favor of the suggestion.
"I do not believe that such a course of action is in the best interest of the Nation or consistent with our Constitution," Pence wrote. "Last week, I did not yield to pressure to exert power beyond my constitutional authority to determine the outcome of the election, and I will not now yield to efforts in the House of Representatives to play political games at a time so serious in the life of our Nation."
On Wednesday, House Democrats are expected to vote on articles of impeachment against Trump. According to the impeachment articles, Trump allegedly committed "high Crimes and Misdemeanors by inciting violence against the Government of the United States."
Before the riot in January, Trump gave a speech to his supporters during a Washington, D.C. Stop the Steal rally. During his remarks, Trump called on those in attendance to march on the Capitol as members of Congress counted the Electoral College votes in order to certify the victory of President-elect Joe Biden. Some Republicans, in support of Trump's baseless claims of widespread voter fraud, had stated they would issue objections to the vote count in an attempt to reverse Biden's win.
"You'll never take back our country with weakness," Trump told the crowd. "You have to show strength and you have to be strong." Trump then exhorted his supporters to "walk down to the Capitol," claiming that he would join them.
Rioters were able to breach the Capitol building, forcing lawmakers into hiding. Five people lost their lives in the riot, including Capitol police officer Brian Sicknick.
On Tuesday, Trump told reporters that he had been told by others that his speech was "totally appropriate."