'Uncut Gems' Netflix Release Date: When Will the Adam Sandler Movie Be Streaming in the U.S.?
Uncut Gems is currently one of the most watched films on Netflix across the world⁠—at time of writing, for example, the Adam Sandler movie is currently the number two most viewed of the day on the U.K. version of the streaming service. But U.S. viewers are missing out, as the film is not available to stream in America until later in the year, with production company A24 and directors Josh and Benny Safdie opting for a cinematic release in their native country. The Safdies, however, have recently spoken about when viewers will be able to watch the critically acclaimed movie on streaming services in the U.S.
When will Uncut Gems be streaming in the U.S.?
So far, all we know is that the movie is coming to a streamer in America in summer 2020, although it has not been revealed whether that streaming service will be Netflix or Amazon Prime Video, and there is evidence that it could be either.
The summer release date was revealed by the Safdies on their shared Twitter account. On January 30, the day before the international Netflix release date of Uncut Gems, the Good Time directors wrote, "Excited for the international release of Uncut Gems on Netflix tomorrow. Can't wait for 'this is how I win' in 50 different languages. Those of you in the US, the only way to see it is big and loud in theaters... won't be streaming here till the summer."
The assumption made by many is that when the movie does start streaming in the U.S. it will be on Netflix, its streaming home in every other country. This seemed to be confirmed by a swiftly deleted tweet by Netflix, which said they would be carrying the movie in America "soon." The fact that this tweet was deleted may have been because this was not confirmed or, as PopCulture.com speculated, because A24 wanted to focus on the cinema release before announcing when viewers could watch it in their homes.
Usually, A24 films go to Amazon Prime Video before coming to Netflix up to two years later. The Safdie Brothers' previous film Good Time, for example, is only coming to Netflix in February 2020, two years and two months after its cinematic release.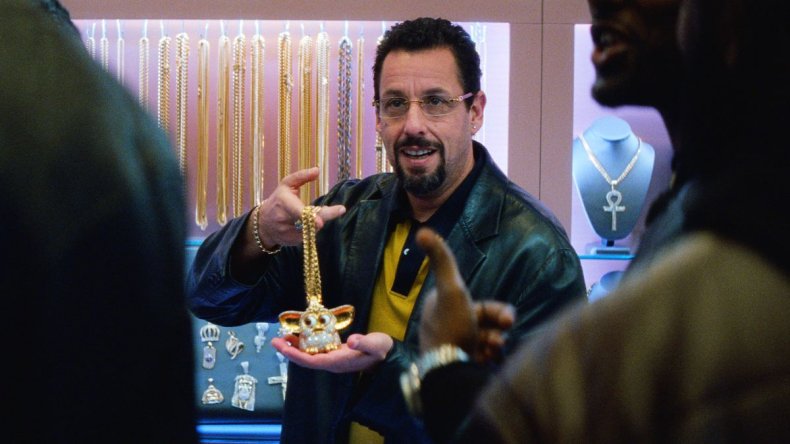 Generally, Amazon Prime Video gets A24 movies between six and seven months after they are released in cinemas, which would fit the Safdie brothers' statement that Uncut Gems will be streaming in summer 2020. July 2019 A24 titles like Midsommar and The Farewell, for example, start streaming on Amazon on January 10 and February 12, 2020 respectively.
Therefore, if Amazon Prime Video is streaming Uncut Gems in the U.S., fans should expect it in June or July 2020, and if the movie does come to Netflix it is likely to be released within a similar window.
Newsweek has reached out to Netflix for comment and will update this article when we receive a response.