Undecided Florida Voters Starting to Favor Trump, But Biden Still Leads in New Poll
Undecided voters in Florida are leaning towards casting their votes for President Donald Trump in the 2020 election, according to poll findings released Tuesday. However, voters who have made up their minds gave Democratic presidential nominee Joe Biden a slight edge over President Trump.
Long regarded as a battleground state, Florida voters handed Trump a victory in the 2016 election. Democrats gained a victory in 2012 when incumbent President Barack Obama won re-election. Polling numbers in Florida this year are close, meaning undecided Florida voters might hold the key to a second consecutive Republican victory.
Data from a Florida Atlantic University College of Business poll of likely voters found Biden and Trump less than three percentage points away from each other. If the election were held today, 48.8 of likely voters would choose Biden while 45.9 percent of those polled would vote for President Trump. When the opinions of 5 percent of undecided voters were factored in, Trump and Biden were in a statistical dead heat with each candidate receiving 50 percent.
Out of those who declared themselves undecided, 4 percent said they were leaning toward for Trump leaving 1 percent to consider voting for Biden.
A majority of voters who have already picked a presidential candidate have no intention of changing their minds. While 9.2 percent of those polled said they may be swayed to vote for another candidate, 90.8 of those surveyed said they would definitely cast their votes for the candidate they had already chosen.
Biden's lead in Florida expanded slightly according to a Tuesday Monmouth University poll. Registered voters chose Biden by 50 percent while putting President Trump five points behind with 45 percent.
Newsweek reached out to the Biden campaign and President Trump's reelection campaign for comment.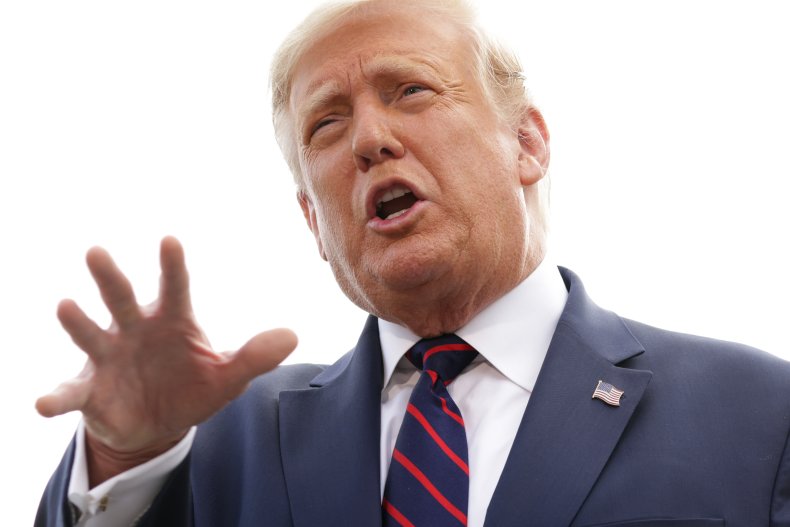 The poll from Florida Atlantic University was conducted among a pool of 631 likely voters and carried a margin of error of plus or minus 3.8 percentage points. Monmouth University's poll was conducted from a random sample of 428 registered voters and carried a maximum margin of error of plus or minus 4.7 percentage points.
Recent controversy surrounding derogatory remarks allegedly said about the U.S. military President Trump may have affected his Monmouth University poll rankings in one category. When asked how much they perceive Trump to be respectful of both the military and veterans, 40 percent of registered Florida voters said he showed a "great deal" of respect. Those surveyed said Biden respected the military a "great deal" by 48 percent, a full eight points ahead of Trump.
According to a September article published in The Atlantic, Trump allegedly referred to soldiers killed in battle as "losers" and "suckers." Trump also reportedly said he chose not to attend a 2018 ceremony to mark the end of World War I at a cemetery near Paris, France. "Why should I go to that cemetery?" Trump allegedly asked. "It's filled with losers."
The White House denied the claims in the article, which was based on interviews with anonymous sources. "This report is false," White House spokeswoman Alyssa Farah said in September. "President Trump holds the military in the highest regard."
Trump also personally denied making the statements, telling reporters in Washington that he "would be willing to swear on anything that I never said that about our fallen heroes. There is nobody that respects them more."
During a Tuesday campaign visit to Florida, Biden said President Trump's attitude toward the military made his "blood boil."
"President Trump has proven his unfitness to hold the office of the presidency time and again," Biden said at a veterans roundtable in Tampa. "But nowhere are his faults more glaring, more offensive, than when it comes to his denigration of our service members, veterans, wounded warriors and the fallen."
"It makes my blood boil," Biden added, "the way he gets in front of a camera and crows about how much he's done for our vets and then turns around and insults our service members and fallen heroes when the cameras are off."