Last Remaining Undecided Voters May Break For Trump
The number of undecided voters is dwindling nearer the election, with polling showing around five percent of voters having not picked either President Donald Trump or Joe Biden yet.
While small in number, these late choosers have impacted results in tight races before—with their support assisting Trump in unexpected victories in states which helped him secure the White House over Hillary Clinton in 2016.
This year the number is lower than it was last time out, while early voting has also impacted how many there will be on Election Day itself.
According to Chris Jackson, head of Ipsos Polling in the United States, the amount of voters not yet opting to support Biden or Trump is less than five percent.
With this number slimming, a factor may be early and mail-in voting, Jackson said—suggesting those who have gone down this route appear more likely to have chosen Biden while those left undecided voting on Election Day may be more likely Trump-leaning.
"It is slimming down, less than five percent depending on the specific polling. We are seeing that as the undecideds get smaller as a group, they are starting to lean a bit towards Trump," he told Newsweek.
Jackson said his interpretation of this would be that those undecided who were Biden-leaning have already opted for him and voted prior to Election Day, leaving those leaning to Trump to vote on November 3.
"Essentially, some of the undecideds have already voted early, and those appear to be going for Biden. The ones that are left are increasingly the ones that would support Trump," he said.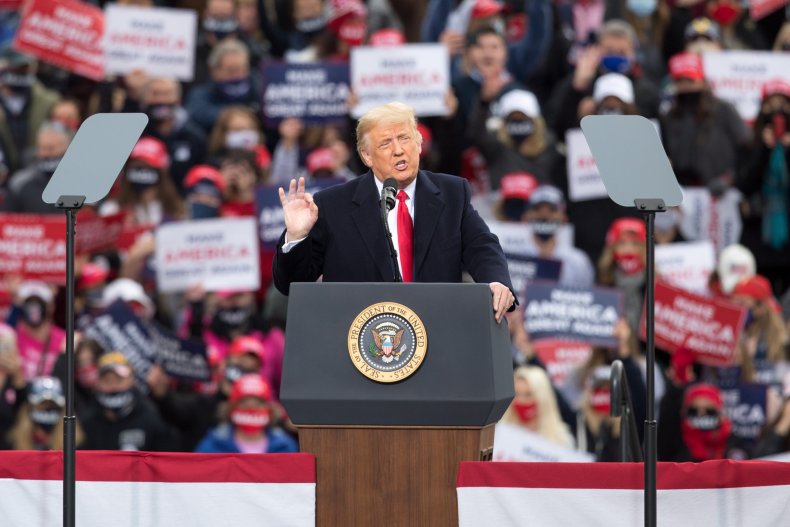 This coincides with previous polling showing Trump had higher support among voters intending to vote in person and on Election Day compared to Biden, who was ahead with mail-in voter support.
According to the Associated Press, more than 58 million people have already voted in this year's presidential election.
In regards to the impact those remaining undecideds leaning to Trump might have, Jackson said it would likely be state-dependent.
"In Florida and North Carolina, which are still very tight, these late deciders could swing things," he said.
"In the Midwest, where Biden has a larger lead, it probably would have a lesser effect unless we see things tighten over the next week."
Recent Ipsos/Reuters polling for North Carolina, conducted among 1,001 adults from October 14 to October 20, gave Biden a three point lead, with 49 percent of those asked backing him compared to 46 percent for Trump. This made up 95 percent of respondents, leaving five percent. Some of these may be supporting third party candidates though some might be persuadable to back either Trump or Biden.
In Florida, Ipsos/Reuters of polling of 1,000 adults October 7 to 14 put Biden up by two points, with 49 percent to 47 percent. This left four percent of respondents.
Each of the gaps also fell within the polls' credibility intervals of four percentage points, making them statistically even—an indication of how tight the situation is in each state.
Doug Schwartz, director of the Quinnipiac University Poll, also suggested polling showed around five percent left undecided.
However, he did not see a clear indication to what way they might lean.
"There have been about five percent undecided in our polls since Labor Day," he told Newsweek.
"No indication which way they may break as they tend to be independents. As far as I'm aware, in previous presidential elections, there is not a pattern for undecided breaking for the challenger or incumbent."
His percentage number would again indicate the voters might likely have more impact in close state races, with Biden ahead by 9.2 points on average in national polling according to FiveThirtyEight's tracker.
This would suggest breaking undecideds would not likely buck the predictions in terms of the popular vote, though they might in state polls where the gap is smaller.
Newsweek has contacted the Trump and Biden campaigns for comment on undecided voters and their potential impact come Election Day.
Voters making up their mind have now seen all the head-to-heads there will be between Trump and Biden, with the graphic below from Statista showing how useful voters have seen debates in the past in terms of making their decision.