'Under the Banner of Heaven' Creator "Inspired" By Brenda Wright Lafferty Diaries
Under the Banner of Heaven creator Dustin Lance Black was keen for the true crime drama led by Andrew Garfield to celebrate Brenda Wright Lafferty's life rather than focus on her tragic death at the hands of her brothers-in-law Ron and Dan Lafferty, he told Newsweek.
Wright Lafferty (played by Daisy Edgar-Jones) and her 15-month-old daughter Erica were murdered at their home in 1984. But for Black it was important that his depiction of the events in the FX show did not focus on their deaths, but everything that came before it.
"I wanted to get Brenda Wright Lafferty's death out of the way immediately, which I do. We understand that I'm not giving anything away, we understand that from the outset. So, then I can get on with the business of her living, and her courage and her curiosity," Lance said of the late broadcast journalism major, and how the show defines her by more than just her murder.
"So, I didn't want it [to focus on her death]. You know, yes, the people probably watching it are very concerned for her and wondering when it's going to happen. But we know, we've put that aside, I want to celebrate her courage because to be curious as a Mormon woman, particularly in that time, was courageous.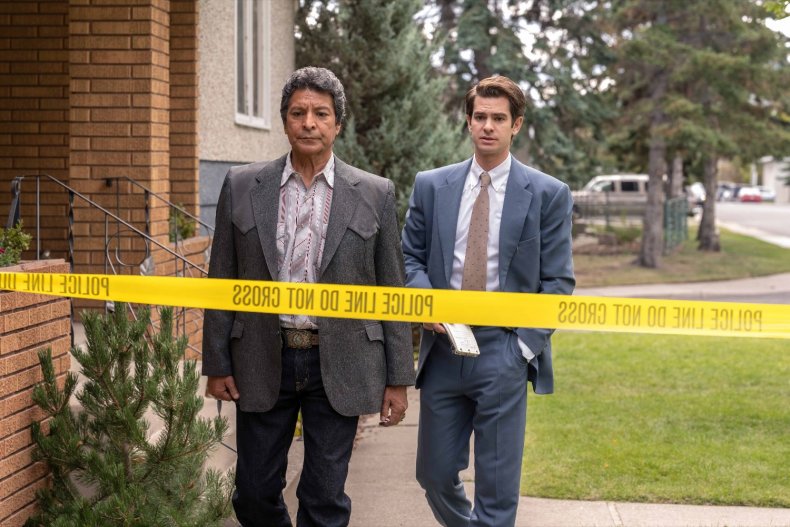 "Particularly once I got to know her family, and her family trusted me with her journals, entrusted me with the letters she wrote to her sister in this time. I felt very close to Brenda, very inspired by Brenda and so yeah, she is absolutely more than her death.
"I hope her message of standing up to authority when you know what they're saying is born of selfishness not God [comes across], that's a message we need to hear right now. Her message, her fight to save these boys from fundamentalism, from stepping down the path of constitutional fundamentalism and then religious fundamentalism, that she saw the danger in that, she saw how outdated those rules were.
"She didn't believe that going back to fundamentalist beliefs makes life more liveable for all, well that's what's going on in the world right now.
"We're having a tough time in the world and a lot of people are turning back to fundamentalist texts, thinking perhaps there's safety to be found there. Well, Brenda Wright Lafferty knew that those texts, yes there's good to be found in them, but there's also incredibly dangerous rules and outdated rules.
"We've learned a lot since these texts were written so it's time to discard the things that we know are not true and we know harm particularly women in the world, who in almost every religion are treated as less than full human beings.
"Brenda challenged that, I hope more people, men and women alike, start to challenge that notion that there is somehow [a] God who doesn't believe women are equally capable to men.
"Brenda didn't think that God was worth her prayers, and I agree with her, and I hope more do when they see the show."
Daisy Edgar-Jones Inspired by "Incredible" Brenda Wright Lafferty
Edgar-Jones portrays Wright Lafferty throughout the 8-episode limited series, and she told Newsweek that it was the fact her character wasn't defined only by her death that she felt compelled to play her.
"I'm so glad you picked up on it because that was a really important aspect of why I signed on," Edgar-Jones said. "Because when I read the first few episodes and I spoke with Lance about it, I was quite clear to him that that was something I really wanted to deal with Brenda, [to] really celebrate what an incredible person she was.
"And I think you really get that, like she's incredibly enigmatic, and also you really see as well how diligent she is [in] sort of trying to sort of give the other women in the series agency.
"I think that's also really important to see on the screen, is women looking out for each other and pulling each other up, and I really admire that quality in her."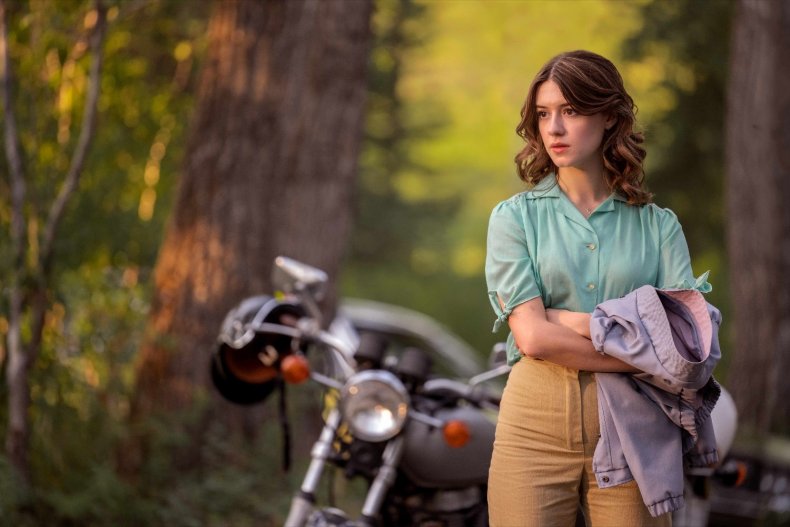 On Toxic Masculinity and the Mormon faith
The show itself also touches on toxic masculinity, particularly in relation to the Lafferty family and the patriarchal values of the Mormon faith, which is represented in both the present day storyline and the past depictions of founder Joseph Smith's relationship with his wife Emma Hale (Tyner Rushing).
For Rushing, portraying someone as forward-thinking as Emma, who held progressive views on how women should be treated even in the 1800s, was an inspiration for her.
"I was spoiled by playing Emma," Rushing told Newsweek. "I mean, she's an inspiring woman to me and yes, absolutely the decisions that she made, despite the kind of the grief that she must have been feeling, and same goes for other women in the show, [it] taught me a huge lesson.
"I feel like I learned something from my character, which is just a gift. No matter what we're feeling, we did the right thing and I think that we can learn a lot from Emma, a lot from Brenda, and Matilda too. [I was] totally spoiled."
Chloe Pirrie, who portrays Dan Lafferty's (Wyatt Russell) wife Mathilda, reflected on how toxic masculinity is touched on through the family her character married into, explaining how moving she found it to be.
"I think it's in that first episode that is Allen [Lafferty, portrayed by Billy Howle] has a line about how 'the problem with our faith is it's creating dangerous men,' and that's such a powerful [moment] so early on," Pirrie said.
"We kind of understand that. I think we see this very dysfunctional family, and the way that that manifests and the way that the children are kind of controlled and exposed to things, and not allowed to have feelings about them, and how that then affects how they treat people they love and it's a big thing in the story."
Edgar-Jones added: "And I think that the patriarchal structure of the Lafferty family and like this toxic way that Ammon [Lafferty, Christopher Heyerdahl] kind of pits the brothers against each other and how that then creates the sort of insecurity, I guess it sort of is the catalyst, largely for the journey then... goes on.
"So, I think also he has a speech about weeding out to refer to the women and that discourse around it, and about subduing both the men and the women... and I think it's a huge part of the story."
The first two episodes of Under the Banner of Heaven are available to watch on Hulu from Thursday, April 28, 2022, and it will continue to air weekly every Thursday.