Are Jeb Pyre and Bill Taba Real Detectives in 'Under the Banner of Heaven'?
Under the Banner of Heaven tells the true story of the 1984 murder of 24-year-old Brenda Wright Lafferty and her 15-month-old daughter Erica.
While the FX true crime drama is based on, and re-enacts, real events, not everything in it is fact.
The show, which premiered with its first two episodes on Thursday, April 28, follows the police investigation into Brenda and Erica's murder by detectives Jeb Pyre (Andrew Garfield) and Bill Taba (Gil Birmingham).
Here's everything you need to know about the characters and if they are real.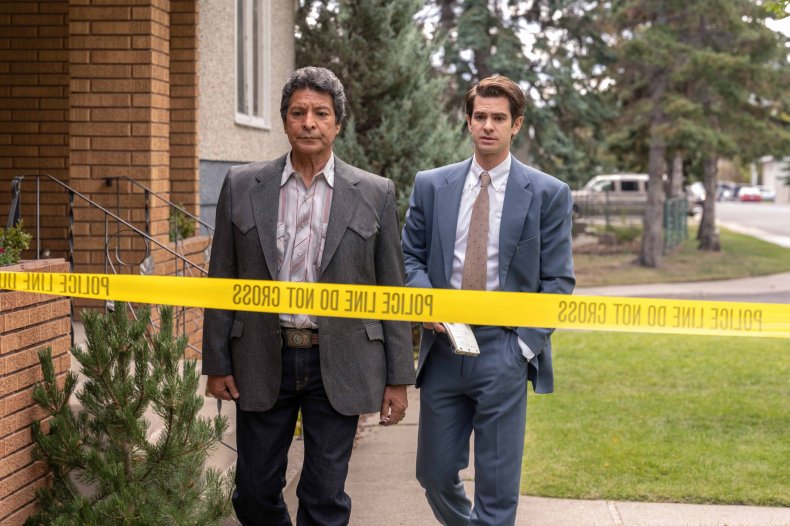 Are Jeb Pyre and Bill Taba Real Detectives in 'Under the Banner of Heaven'?
Detective Pyre is a member of The Church of Jesus Christ of Latter-day Saints (LDS), and he starts to question his Mormon beliefs the more he investigates the horrific killing of Brenda and Erica.
It is through his eyes that the audience are able to learn and understand how the LDS faith began through founder Joseph Smith, and what the difference is between it and fundamentalist views practised by the Lafferty family.
However, despite the central role the character plays in the show Detective Pyre is actually not a real person.
His partner, Detective Taba, is also one of the characters in the FX series not to be based on a real-life police officer.
Show creator Dustin Lance Black told Newsweek that he created Pyre and Taba because the officer he spoke to that had been involved in the case did not want to relive the traumatic experience by being portrayed onscreen.
"Jebediah Pyre and Bill Taba are a fictionalisation," Black explained. "That started as a notion when I was having conversations with an actual investigator who worked on the case, who was very helpful but asked to not be depicted as himself, he didn't want to have to live through that again, and I understood that.
"So it gave me an opportunity as a writer to say, 'Okay, what lenses would help an audience experience this in the way that readers experience the book?'
"I said, Well, that's an investigator. That's where Jon Krakauer puts the reader when they're reading the book, so I said, 'well, I'd love to put the viewer there so let's create an investigator, and in fact let's create two investigators so that we have one who comes from within, and one who comes from the outside."
Black went on: "Jebediah Pyre, who's a mainstream Mormon, doesn't believe or even knows about fundamentalist Mormonism, not really. He may have heard whispers, he's unquestioned in his faith, which is what most Mormons are, he's focused on his family and his community, and the warmth he draws from that.
"Now with him, and in his mind, we are going to start to dive into the history of the church and the difficult questions in the church. We're gonna watch how that shakes his faith. So I'm hoping the audience can relate to him enough at the outset that they can take that journey with him.
"And for those who need someone even further outside, you have Bill Taba, who is an indigenous person from this area, his family lived in Utah well before there were Mormons there, yet, he's now an outsider to this community and in this land.
"He's not white, which means that just a few years earlier he would have been banned from even participating in the priesthood in the Mormon church.
"So I hoped that these two, these are the two primary fictionalisation of this series, and I stand behind them as my windows in and I hope that the audience accepts these two fictionalisations and finds them authentic.
"I know that the actors worked very hard to get these roles right and that they have that very active experience.
"That's what makes true crime thrillers thrilling, is the audience feels like they're with someone who's in some sort of jeopardy, and they want to look around the next corner before that detective does. You know, that's what we want, that's the design."
Under the Banner of Heaven airs Thursdays on FX on Hulu.