'Under the Banner of Heaven': Who Killed Brenda Wright Lafferty?
Under the Banner of Heaven is a look into the real-life murder of 24-year-old Brenda Wright Lafferty and her 15-month-old daughter Erica in 1984.
The shocking murders, which took place in Utah, and their aftermath are the focus of FX's true-crime drama, which stars Andrew Garfield as Jeb Pyre, the detective trying to find Wright Lafferty's killers, and Daisy Edgar-Jones as Wright Lafferty herself.
While the show's first two episodes premiered on FX on Hulu on Thursday, April 28, they did not reveal exactly who the culprit was.
Here is everything you need to know about the real case, as well as who killed Wright Lafferty and her infant daughter.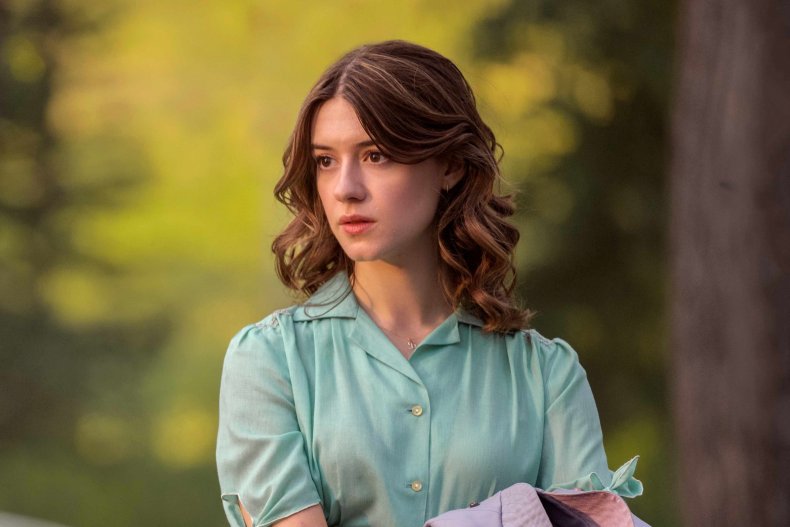 Who Killed Brenda Wright Lafferty?
Wright Lafferty was married to Allen Lafferty, the youngest of six brothers, whom she met at a student congregation for members of the Church of Jesus Christ of Latter-day Saints (LDS) at Brigham Young University (BYU).
Her mother LaRae Wright told Jon Krakauer in his nonfiction book Under the Banner of Heaven, which the show is based on, that Lafferty and Wright Lafferty had "hit it off" immediately.
The couple were married on April 22, 1982 in the LDS temple at Salt Lake City, when Wright Lafferty was 21.
After graduating, Wright Lafferty was keen to pursue a career in journalism and become a newscaster. However, after getting pregnant she became a housewife upon Lafferty's suggestion.
During their marriage Lafferty's started to show signs of his family's fundamentalist Mormon views, with Wright Lafferty's sister Betty telling Krakauer that on one occasion he refused to let them eat at a restaurant as it was open on Sundays.
Wright Lafferty was keen to advocate for the other women married into the Lafferty family, including Dianna who was married to Lafferty's eldest brother Ron. When he became abusive it was Wright Lafferty who persuaded Dianna to get a divorce, which she did in 1983.
She also stood her ground when Lafferty's brother Dan tried to make his siblings adopt his fundamentalist beliefs cited in his writing The Peace Maker which argued, among other things, that polygamy was biblically rational.
Dan persuaded his brothers of this and their wives submitted to the humiliating claims, all except for Brenda who "refused to go along with Allen's demands," per Krakauer.
Her refusal and desire to stop Allen from seeing his siblings made the Lafferty brothers blame her for keeping Allen, and thus the family as a whole, apart.
In April 1984, Allen's brother Ron claimed to have had a revelation from God that commanded him to enact a ritual murder of several people, including Brenda and Erica.
Per Krakauer, Dan went to Lafferty to tell him of Ron's so-called revelation and said that he and Ron intended to carry out the execution, Lafferty said he couldn't accept it as a revelation from God and claimed he'd defend his wife and child with his life.
Despite knowing of Ron and Dan's intention, Lafferty did not tell Wright Lafferty of what he had been told and this, her sister Betty told Krakauer, is something she'll never be able to reconcile because she believed that had he warned her Wright Lafferty would "still be alive today."
On July 24, 1984 Ron and Dan went through with the "removal revelation," and they killed Wright Lafferty and her baby Erica at their home in American Fork, Utah.
On August 7, 1984 police arrested Ron and Dan while they were in line for a buffet at the Circus Circus casino in Reno, Nevada.
Before their trial, the two brothers professed their innocence and claimed they were not guilty, and on December 29, five days before their trial, Ron attempted to kill himself but survived.
In 1985, Dan was sentenced to two life terms in prison which he is still serving, and Ron was convicted of first-degree murder for which he was given the death penalty.
Ron chose to be executed by firing squad, but he died of natural causes in prison on November 11, 2019 at the age of 78.
Under the Banner of Heaven airs weekly on FX on Hulu on Thursdays.