Under New NBA Behavior Policy, Making A 'Your Mother' Joke Could Get You Ejected From A Game
Fans attending NBA games this season will have to be careful about heckling players as the league is implementing a stricter policy for fan behavior.
First reported by the Associated Press, the NBA will implement a zero-tolerance policy for fans acting in an abusive or malicious manner toward players.
Fans who the league says violate the policy will be removed from their seats and could potentially be ejected or even banned from future games.
"We've added any sexist language or LGBTQ language, any denigrating language in that way, anything that is non-basketball related," the NBA's executive vice president and chief security officer, Jerome Pickett said told the AP of the new policy. "So 'you mother' comments, talking about your family, talking about test scores, anything non-basketball related, we've added that in as well as being something that we will go in and pull a fan out of the seat and investigate what happened."
According to NBA.com, the previous fan code of conduct policy states that the league seeks to provide an experience where "players and fans respect each other, guests who engage in fighting, throwing objects, or attempting to enter the court will be immediately ejected from the area." The policy also included "obscene or indecent messages on signs or clothing will not be permitted," but it did not include anything pertaining to abusive speech or actions made by fans.
In the past, the fan code of conduct policy was limited to people located close to the court, but the new policy will include deeper rows of seats as well as areas "where teams and referees enter and exit the court."
According to the AP, nearly a dozen NBA players participated in a conference call with league officials this summer and highlighted fan behavior as a significant problem in the NBA. Although not all incidents between fans and players are racially charged, a few notable NBA stars experienced them last season.
One instance led the Utah Jazz to place a lifetime ban on a fan for using "degrading and offensive conduct" towards former Oklahoma City Thunder star Russell Westbrook.
According to Westbrook, a couple told him to "get down on my knees like I used to." The incident happened during Game 4 of the NBA playoffs between the Thunder and the Jazz and prompted Westbrook to go on a tirade towards the couple, telling them, "I promise you. You think I'm playing. I swear to God, I swear to God, I'll f*** you up. You and your wife, I'll f*** you up."
Although the fan was banned from the arena, the NBA still fined Westbrook $25,000 for "excessive and derogatory verbal abuse."
On January 26, a Boston Celtics fan was banned from the TD Garden for calling Golden State Warriors center DeMarcus Cousins the n-word.
"On January 26, we were alerted by DeMarcus Cousins that a fan had used racially offensive language towards him. Immediately upon receiving the complaint, the fan, who was a minor, was ejected," the Celtics said in a statement. "Based on our investigation, the fan was issued a two-year ban from all Celtics games, and is also subject to lifetime probation pursuant to our policy."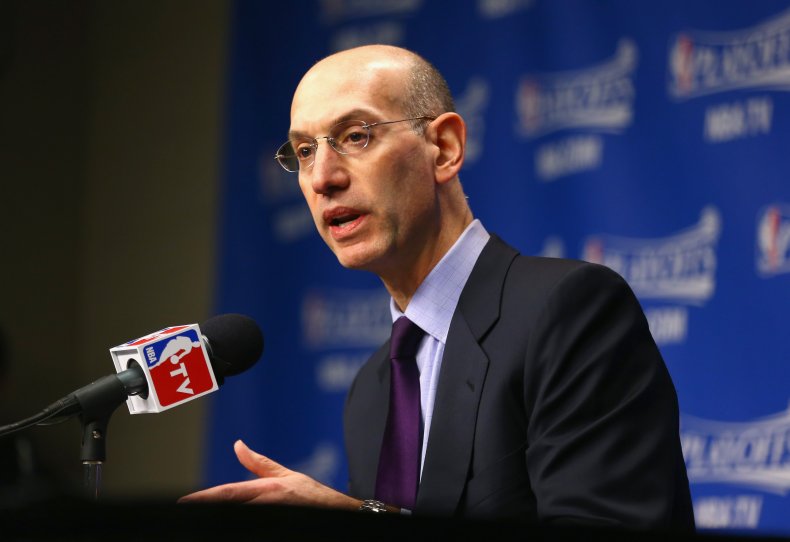 "Oh, I've been called n----r. And it's crazy because this has happened to me on a few occasions. I reported it to the league, an, you know, I may have said whatever I said back and I was still punished for it," Cousins said on Haynes Posted Up podcast. "But obviously it became a bigger issue when it was Russ [Westbrook], and he was still fined for it, I don't really understand it. We're the product. We push this league, so I don't understand. When does our safety, when does it become important?"
During Game 3 of the 2018 NBA finals, Golden State Warriors' minority owner Mark Stevens was banned one season and fined $500,000 for pushing and cursing at Toronto Raptors guard Kyle Lowry. In an attempt to save a loose ball, Lowry dove into a row of court side seats, when Stevens pushed Lowry and told him to "go f*** yourself" multiple times.