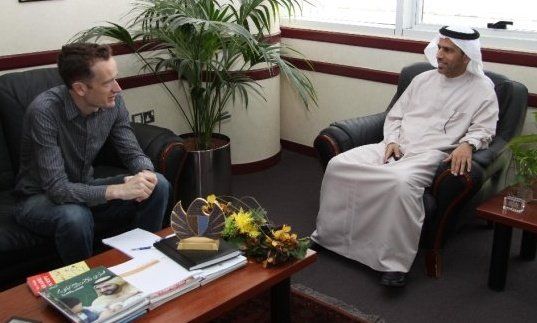 Sean O'Driscoll, who co-wrote a damning investigation into human rights violations and brutal labor practices endured by migrant workers building New York University's campus in Abu Dhabi published by The New York Times, was officially deported from the United Arab Emirates last October. Before that happened, he says he was tailed for months by pursuit cars, bribed, propositioned to spy on other foreign journalists and possibly traced by way of his cell phone. Here's the story of what allegedly happens when a journalist tries to report on unflattering activity in the UAE.
O'Driscoll had been working in Abu Dhabi as a journalist for nearly two years when the trouble started. In December 2013, the Guardian published an article he co-wrote under a pseudonym (Glenn Carrick) examining the labor conditions involved in erecting the Guggenheim, the Louvre, and a New York University campus on Saadiyat Island in Abu Dhabi. O'Driscoll, who is Irish and tall, used the pseudonym for his safety, but when a video circulated with the Guardian story showed a tall guy—face obscured and voice deepened, but with a distinct Irish accent—asking questions, O'Driscoll figured he'd had his cover blown.
"How many tall Irish reporters are there working in Abu Dhabi asking questions about labor rights? It's kind of a narrow field," he says.
That's when he says the pursuit cars started showing up in his rearview mirror.
Toward the end of his field reporting for the Guardian story, he decided to check out the labor situation at the construction site for New York University's new campus on the island. He hadn't gone earlier, he says, because he figured NYU, being a liberal institution of higher education, probably had a decent labor rights-monitoring system in place. As he reached the construction site, a bus was leaving to take the night shift workers back to their dormitories. O'Driscoll made a U-turn and followed the bus to the dorm camp. The place wasn't what he expected.
"I was stunned by the conditions of those guys. I had never seen anything like it in any labor camp," he says. The workers were from one of the many subcontracting companies assigned to build NYU. "It was just the worst accomodation I've ever seen. Overcrowded. They were the also the most depressed workers I had ever seen," he says. Many of the workers, all Bangladeshi migrants, owed huge debts to job-placement recruiters, he discovered, and many had to pay for their own work boots and hard hats.
O'Driscoll decided to look into the conditions at camps for the other subcontracting companies hired by the UAE to build NYU Abu Dhabi. He would drive to the NYU worksite at 5:30 every morning, and then follow buses carrying night shift workers back to their several dorm camps. One morning, he followed the bus carrying workers for another subcontractor, BK Gulf. With some 3,000 workers, it was the largest contracting company on the NYU project.
O'Driscoll sat down with two workers at the BK Gulf camp as they had their breakfast. He learned that in October 2013, after a two-day worker strike, the leadership at BK Gulf had agreed to a mediation session with workers. But O'Driscoll says the men told him it was a trap; every worker who showed up to the meeting was photographed. The next day, riot police showed up in the workers' dorm.
"The police had those [photographs] in their possession the next day when they came in," he says. "They were dressed in Balaclavas and they had an armored car with a prison bus behind them." The police kicked in doors, dragged people out and beat them with batons, the men said, according to O'Driscoll, shouting: "Who are the strike leaders? Who are the strike leaders?" over and over.
In total, 40 men were arrested and sent to prison, and 300 were deported back to Bangladesh and Pakistan, according to O'Driscoll. But the strike never showed up in NYU's labor-monitoring reports, which were written by a consulting firm, Mott MacDonald Limited.
Mott MacDonald declined to discuss its report with the Times, and NYU spokesperson John Beckman at the time wrote to the paper that university officials were not aware of the strike and were "working with our partners to have it investigated," the Times wrote.
Email messages seeking comment from the United Arab Emirates consulate in the U.K. and the Abu Dhabi government were not answered.
"It's not like they could be missed…of those 3,000, 300 of them never came back. So it's just beyond belief that none of this appeared in those reports. Because, how could you miss something like that?" O'Driscoll says. "I just knew something was terribly wrong at NYU because none of this was showing up in their monitoring reports."
Ariel Kaminer, a higher education reporter from The New York Times's Metro desk, said she heard about O'Driscoll's reporting and requested to pursue the story as well. Together, the two interviewed dozens of workers and wrote an extensive piece about the conditions at the NYU Abu Dhabi work site and in the labor camps that the Times published in May 2014. The BK Gulf company told the Times at the time that it was "obliged by confidentiality clauses to make no comment whatsoever without the express permission of our client." Mubadala, the government company that oversaw the NYU campus construction, declined to comment to the Times.
The university told the paper it was committed to fair labor practices. It also said that it could not vouch for the treatment of individual construction workers, since they are not university employees.
Meanwhile, O'Driscoll says he had spent five months being followed.
"I noticed the first surveillance car by accident, actually, in late January of 2014," he says. "I was out on Saadiyat because one of the workers told me a worker had been killed. I went out there, and I took a wrong turn on a desert road. And the car behind me took the [same] wrong turn. And then I kind of swung around. And he swung around. It was just too much of a coincidence."
He went to interview some construction workers, and back in his car afterward he noticed the same car tailing him again. He slowed his car to 40 kilometers an hour, and the car behind him slowed too. Then he dropped down to 20 kilometers an hour, and the car still stayed behind him. Eventually, O'Driscoll pulled into a parking space, and the car passed him slowly. "So I started chasing him. It got kind of ridiculous. I wanted to see where he was going. But he took off really quickly."
From that day on, cars kept showing up, he says: "It just kept recurring. They were waiting outside my apartment in the morning. They would follow me out to work, and it ended up just being me going from one roundabout to another trying to shake them off. When I was out at Saadiyat Island looking at NYU or Cranleigh boarding school I would just keep going around those projects.... It was so obvious. I would just go around 10 times and the police just kept following me in circles."
On March 19, 2014, Andrew Ross, an NYU professor who is a vocal critic of labor conditions in the UAE, drove with O'Driscoll from Dubai to Abu Dhabi. Ross was in the UAE from New York to interview migrant workers on Saadiyat Island. O'Driscoll hoped to introduce him to workers assigned to paint the outside walls of the new NYU campus.
O'Driscoll and Ross both say a car tailed them the entire length of their route from Dubai to Abu Dhabi.
"This was on a deserted highway at 3 in the morning. It was pretty obvious that the car was was on our tail, because there was nothing else on the road. We tried to shake him off. At that point we were concerned for our safety," Ross says.
More cars arrived when they got to a shopping mall area where they had planned to meet the workers. "We parked and went into the supermarket. It was pretty clear that the guys got out of the car and were following us," Ross says.
He and O'Driscoll decided to abandon the trip to meet the workers, and left the supermarket. Ross went back to his hotel, and O'Driscoll went to his apartment. O'Driscoll says a surveillance car was parked outside his apartment the next morning.
AsNewsweek previously reported, and The New York Times on Friday confirmed, Ross was the target of a private investigation of unknown origin last month. Shortly after learning about the investigation from a colleague, who was called by a private investigator asking questions about the professor, Ross was denied entry to the UAE, where he was planning to interview more workers. No reason was given by the UAE for barring Ross from the country.
Eventually, O'Driscoll came to the assumption that the government had put a tracking device on his car. He went to a mechanic's garage to try to pay someone to remove it. A manager at the garage told him that rather than having a device implanted on his car, someone trying to track him would probably just hack into his phone. O'Driscoll remembers the manager explaining that it would be easier to hack a cellphone, because "you supply the energy source when you charge your phone, whereas they'd have to replace the battery on a car [device]." O'Driscoll started leaving his phone at home, and the tailing abruptly stopped. Whenever he brought his phone along to be able to stay in touch with sources, the cars showed up again, he says.
O'Driscoll never got a new phone because he says that in the UAE foreigners are required to register and provide copies of their passports, so the new phone would likely have been tracked too.
"In retrospect, one of the workers on the labor camp offered to get me an unregistered SIM, which there's kind of a black market for. Which absolutely I should have done, but didn't, which I regret," he says.
In May, shortly after the Times published O'Driscoll's and Kaminer's investigation, O'Driscoll was given trouble at the local daily newspaper where he was employed as a staff reporter. The government had threatened the paper: Either publish an apology for the Times piece that includes O'Driscoll repenting and claiming the story was fabricated from lies, or the newspaper would be forced to close.
O'Driscoll was horrified, and made it clear that he would resign his post if the newspaper published any apology or untrue story under his name. Ultimately, the paper chose to run a story—under his byline—that was neither an apology nor a denouncement of the Times story, but instead reported the government's view of the conditions for the workers constructing the Guggenheim, the Louvre and other institutions on Saadiyat Island.
"The only thing these men lack is room service," one government official is quoted as saying in the newspaper article. The article also noted that within the official labor camp built by the government in the cultural district, workers on projects overseen by the government's Tourism Development & Investment Company (TDIC), such as the Louvre and the Guggenheim, had access to "English language lessons and four grass cricket grounds, with free rental of cricket equipment." (The NYU campus project was overseen by Mubadala, another government company. Workers on the project were housed elsewhere, in far bleaker scenarios, according to the reporting by O'Driscoll and Kaminer.)
O'Driscoll resigned from the paper the same day the article appeared.
A week later, he was called in by the Abu Dhabi police department. He was instructed to meet with the chief of Security Media, the branch of the police that handles media and messaging, according to O'Driscoll. "The police chief really lit into me about the article," he says. "He called it a 'chaos' and said that it didn't begin with the basic standards of journalism."
O'Driscoll was nervous, but the conversation took an unexpected turn: He was told he was to become a spy for the government, and in the process become very rich.
"They said that from now on I was to be put on the payroll for the police and that I would be spying on foreign journalists coming into the UAE," he says. "I'd write a monthly report for the police and pass it on. I was to take foreign journalists out for drinks and figure out what they were doing in the UAE, and report all this back to the police."
The police didn't discuss figures, he says, "but the spokesperson for Abu Dhabi police said it would be, the exact phrase was, 'Some fucking good money.'"
In addition to spying on journalists, O'Driscoll would be writing favorable articles about the UAE in the foreign press.
The police said O'Driscoll "was now in the 'inner circle' of journalists that they had on the payroll. And they said, 'We have friends at the National,' which is the big paper in the UAE that's government-owned. And they invited me to a press conference with the Interior Minister in two weeks' time," O'Driscoll says. "They said that in exchange I was to be paid a lot of money, and I would also get criminal immunity—not just for the article, but like if I punched somebody in a pub, they'd make that go away. Or, the other example was, if I had a drunk driving offense that didn't hurt anybody—one phone call and that would go away. They also said they could call my employer and get me more holiday time."
"I thought maybe I'd go in [to the police station] and not ever come out again. So it was going better than where I thought it would be going," O'Driscoll says, laughing.
But O'Driscoll ultimately refused. He left the country, and when he tried to return in October 2014 for a new job at Arabian Business magazine in Dubai, he was stopped in the Dubai airport. After several hours of confusion, he was shown his deportation papers. The reason listed on the document, in Arabic, was "security."
A request for comment from Abu Dhabi regarding O'Driscoll's interaction with Security Media was not answered.
Last week, after the Times published a story about Andrew Ross being barred from entering the UAE that included a quote from O'Driscoll in which he says he never took the bribes to write favorably about the government, the NYU spokesman Beckman emailed two Times editors a copy of the newspaper article from May under O'Driscoll's byline—the one that included quotes about sunny worker's conditions on Saadiyat, with its "four grass cricket grounds."
"This article has been brought to our attention, and so we bring it to your attention. It came not long after the May 2014 article about workers in Abu Dhabi; however, it seems to take a very different view," Beckman wrote.
Beckman explained to Newsweek that the article seemed like relevant information for journalists reporting on the issue.
"The article—which came from a widely available publication in the UAE—was shared with me by a colleague from Abu Dhabi" he says. "It seemed at odds with O'Driscoll's previous reporting and public statements, and I privately passed it along to the editors at the Times last week for their information and left it to them to determine whether or not it was germane. That's the sum and substance of it, and I haven't pursued the matter since."
O'Driscoll, however, sees it as an attempt by NYU to discredit him. The article was never published online, so it would have taken anyone a bit of effort to find a PDF of the print edition, he says.
"I was furious at that, because he's trying to suggest that I was under the government's thumb and that I'd taken a very different tone in my own newspaper when in fact I had resigned to try to stop it," he says.
O'Driscoll says he was wholly unsurprised by the recent news that Ross, the NYU professor, was being investigated by a private firm for an unknown client.
"It didn't surprise me that the surveillance would continue into the States," he says. "It's just like that. The security apparatus over there is just absolutely massive. It's become increasingly part of life post-Arab Spring. Trying to discredit people, and that sort of thing."