Trump Administration Stopped Mostly Legal Residents With Travel Ban
Under President Donald Trump's first travel ban, immigration officials stopped almost 2,000 people in nine days in airports, at border crossings and even on boats across the country. The majority of the people stopped were documented United States residents.
To be precise: Of the 1,903 men and women U.S. Customs and Border Protections agents stopped for secondary inspections between January 27, 2017, and February 4, 2017, 1,457 of them, or roughly 77 percent, were legal, permanent residents in the country, according to a new report from the agency. As for the remaining 446 people, at least 134 withdrew their request for entry into the United States, a move BuzzFeed News explained would require them to exit the country immediately.
Trump's first travel ban went into effect just one week into his presidency, when he signed an executive order blocking refugees as well as visa and green card holders from seven majority-Muslim countries from entering the U.S. The ban incited mass protests across the country, particularly in airports in major cities, where authorities detained dozens of legal U.S. residents in an attempt to implement an executive action they had no idea how to enforce in practice.
From there, Trump's ban entered a complicated legal battle, which came to involve the Supreme Court in December 2017. At the time, the court ruled that a new, third version of the president's ban could take effect. The revision targeted Chad, Iran, Libya, North Korea, Syria, Somalia, Venezuela and Yemen.
"The Constitution and acts of Congress confer on the President broad authority to prevent aliens abroad from entering this country when he deems it in the nation's interest," solicitor general Noel Francisco wrote in his argument in favor of the ban, which he said was necessary to "protect national security."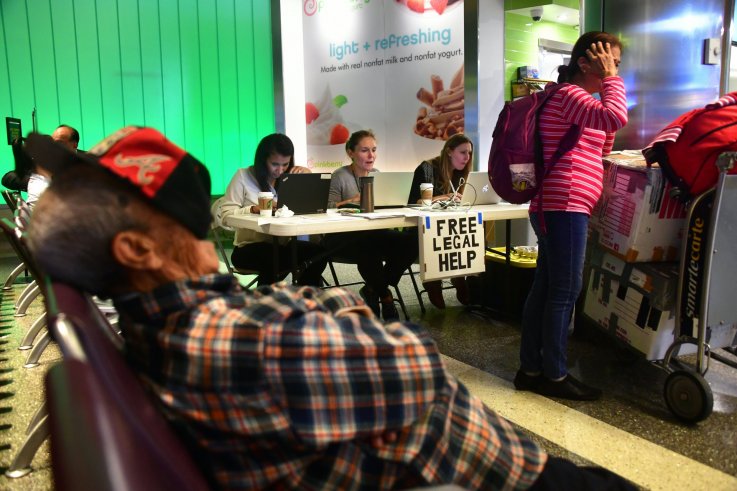 That doesn't mean the fight against Trump's ban is over. In February, the 4th Circuit Court of Appeals decided in a 9-4 vote that this latest iteration of Trump's original executive order also violated the Constitution, arguing that it's "tainted with animus toward Islam."
"On a fundamental level, the Proclamation second-guesses our nation's dedication to religious freedom and tolerance," Chief Justice Roger Gregory wrote in his majority opinion.
Trump's travel ban was among the president's earliest and most-promised campaign pledges. In December 2015, about six months after announcing his candidacy, Trump called for a "total and complete shutdown" of Muslims entering the U.S.
Trump Administration Stopped Mostly Legal Residents With Travel Ban | U.S.