Republicans in Undercard Debate Split on Muslims in America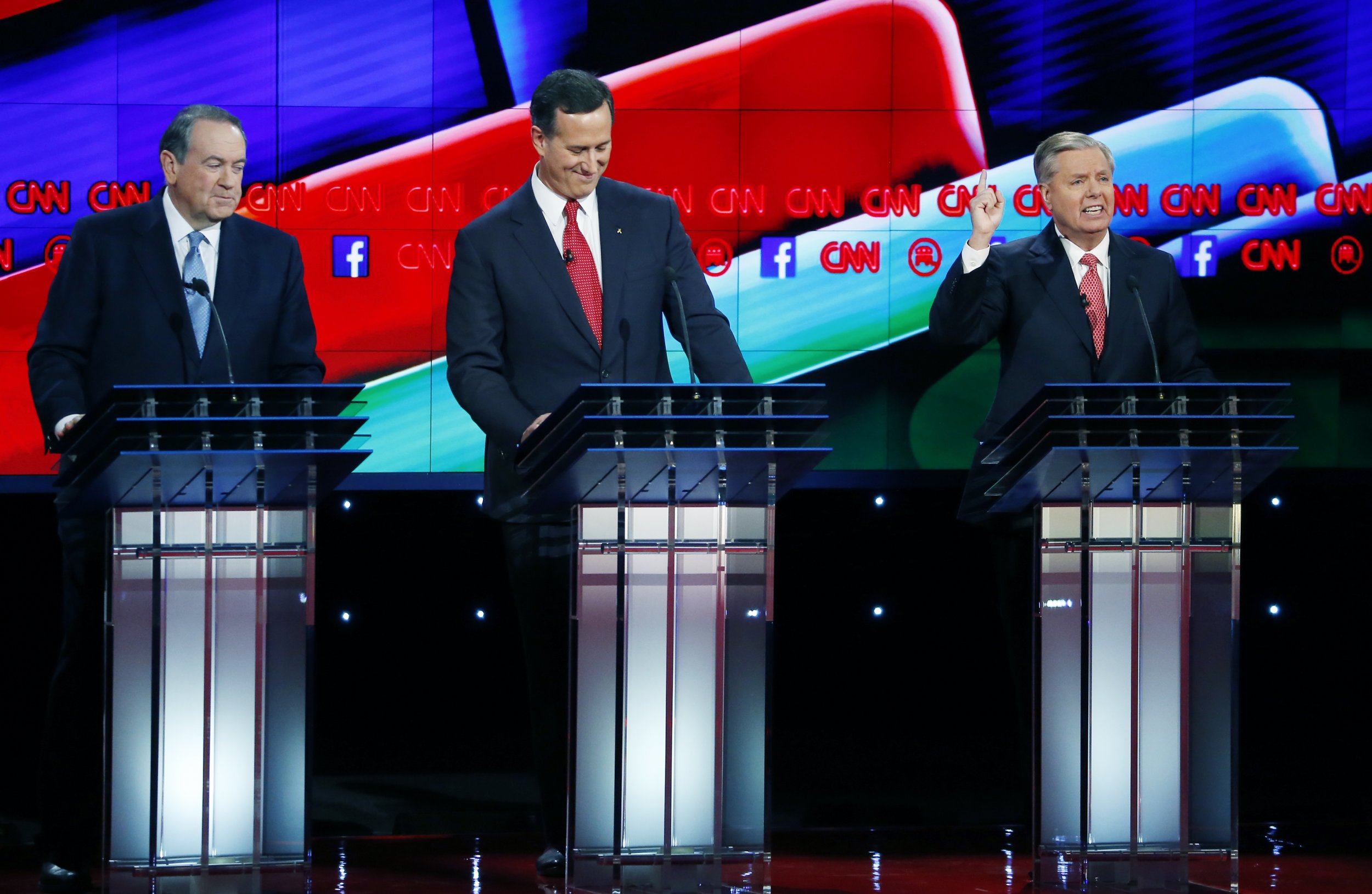 The four Republican presidential contenders at the "happy hour" debate took on the party's presidential frontrunner, Donald Trump, and his proposed ban on Muslims coming to America on Tuesday night in Las Vegas. But they also offered their own controversial assessments of Islam and its place in American society, yet another sign of the way the polarizing real estate tycoon is shaping the GOP presidential race even when he's not on the stage.
In a preview of the primetime debate, the 6:30 p.m. ET forum was heavy on national security amid a spike in public concern about terrorism. South Carolina Senator Lindsey Graham, former Pennsylvania Rick Santorum, former New York Governor George Pataki and former Arkansas Governor Mike Huckabee—the lowest polling candidates in the race (not including former Virginia Governor Jim Gilmore, who did not qualify)—jostled to explain why their defense and security proposals are the best way to keep America safe from ISIS-inspired attackers like those who massacred citizens in Paris and San Bernadino last month.
That included how to approach Muslims in America and around the world, an issue pushed into the headlines by Trump, and it prompted some sharp words between Graham and his fellow Republicans onstage. Santorum said he disagreed with the proposal itself, but insisted that what Trump "was saying was nothing against Muslims," and that it raised "a legitimate issue."
"The fact of the matter is Islam is different," Santorum said. In addition to being a religion, "it is also sharia law, it is also a form of government." He later suggested Muslims in the United States felt compelled to adhere to the ISIS caliphate.
Though Pataki dubbed Trump "the Know-Nothing candidate of the 21st century," he defended the idea of monitoring American mosques. So did Huckabee. "If Islam is as wonderful and peaceful as its adherents say...shouldn't they be begging us to come?" Huckabee asked incredulously.
Only Graham disagreed. "Donald Trump has done the one single thing you cannot do: declare war on Islam, itself." ISIS, he said, "would be dancing in the streets, they just don't believe in dancing."
"Please understand the only way we're going to win the war against radical Islam is for the world to unite," Graham told Santorum at another point.
Trump's anti-Muslim comments have brought a hail of condemnation from civil rights groups, Democrats, establishment Republicans and the media. But the party's rank-and-file have embraced them. That's opened the door for discussion about Islam and profiling that had mostly stayed underground or on the far right fringes since September 11, 2001. It's also presented a tricky balancing act for the rest of the GOP field, particularly as fears of terrorism have risen to heights not seen since the Twin Towers fell.
In light of that, there was virtually no discussion of domestic issues or the economy at Tuesday's undercard debate. Instead, the four dark horse candidates tangled over whether American intelligence officials should be able to gather telephone metadata, which they are now barred from doing, how big a ground force the United States should have in Iraq and Syria and whether women in the military should be allowed in combat.
The fireworks, however, were limited, with most of the criticism directed at men and women who were not in the room: Trump, President Obama and Democratic presidential frontrunner Hillary Clinton.
Graham, always quick on his feet, was ready as usual with some memorable zingers. Criticizing Texas Senator Ted Cruz, a fellow 2016 candidate, he warned, "Getting in bed with Iran and Russia to save [Syrian dictator Bashar] Assad is inconceivable. Princess Buttercup would not like this," a reference to Cruz's favorite movie, The Princess Bride. But his defense of Islam may not go over well with many in his party's base. Midway through the debate, Graham urged his counterparts on stage to "Leave the faith alone, go after the radicals that kill us all." The admonition earned just smattered applause.