What is Behind the Rise of ISIS in Libya?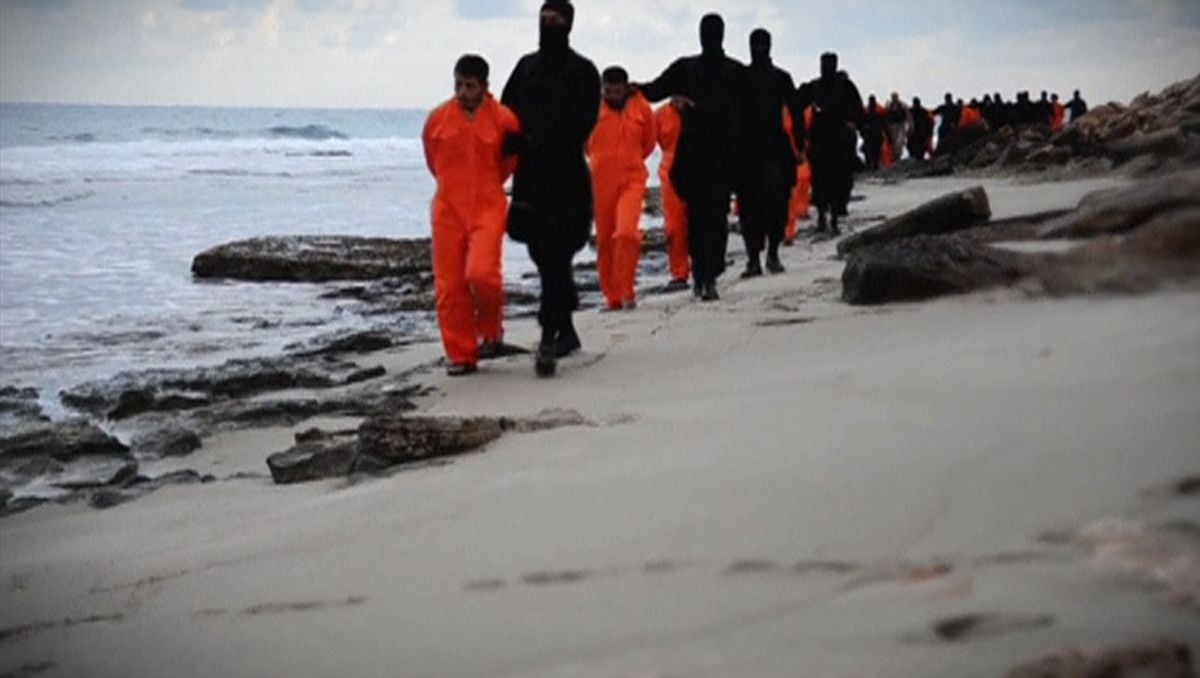 Libya's Islamic State militant group (ISIS) is by now perceived widely as a major threat in North Africa and the southern Mediterranean. Yet, the specifics of how this high concentration of ISIS fighters in Libya became possible still haven't been fully explored. Key to understanding ISIS's Libyan branch is recognizing it as a combination of an increasing shift of allegiance to ISIS in Muammar el-Qaddafi's former strongholds and a strong flow of jihadis from neighboring Tunisia. In fact, Libya's ISIS is essentially a new structure, different from the old Libyan pro-Al-Qaeda jihadi network.
Qaddafi's former strongholds transforming into ISIS bases
Throughout the former Libyan leader's rule, some regions and cities were known to be historically anti-Qaddafi. The eastern city of Derna was one of them. Since the 1980s, it has become the ideological birthplace of most of Libya's pro-Al-Qaeda jihadis.
The city remains a hotbed of Al-Qaeda support and was very involved in sending jihadis to Iraq after 2003. The Battar Brigade of ISIS-affiliated fighters who have been operating in Syria since 2012 was, in the beginning, made up of fighters coming mainly from Derna.
After the fall of Qaddafi, Derna was under the control of supporters of the pro-Al-Qaeda Ansar al-Sharia in Libya (ASL). In October 2014, however, some of the group decided to give allegiance for the first time in Libya to ISIS. This was a matter of contention and a number of ASL supporters, acting under the name of the Shura Council of Derna's Mujahidin, refused to go along. Slowly the tension grew and by July 2015 the latter was able to expel the ISIS followers from the city. Derna, the traditional jihadi hotbed in Libya, had rejected ISIS.
But ISIS supporters will always quickly find another space of influence. They moved to Qaddafi's former strongholds, most notably Sirte, his hometown, but others as well.
Local security was not entrusted to the town's residents but instead was provided by outside militias, especially from Misrata. This was, in fact, how followers of jihadi groups entered the city for the first time in 2012. A new generation of Sirtan families who were traditionally strong pro-Qaddafi supporters were entrusted with key positions, including in the security forces.
This process of jihadi empowerment is not unprecedented. In many ways it recalls the cases of Iraqi Baathists and former officers of Saddam Hussein's army and intelligence who increasingly radicalized after their institutions were dissolved following the U.S. invasion of Iraq in 2003.
We can see the same pattern being reproduced in other former Qaddafi strongholds, such as Bani Walid, located between Sirte and Tripoli. Several sources suggest the city is being used by ISIS leadership from Sirte as a major hub for hiding and transporting fighters in the western parts of Libya. Since the summer of 2015, the number of signs and slogans supporting ISIS has been increasing. Local sources reported at the end of February that an air strike targeted an "ISIS convoy of 15 pickup trucks" as they were leaving Bani Walid for Sirte.
The same pattern goes for another former Qaddafi stronghold, the city of Tarhouna, which is located on the road connecting Bani Walid to Tripoli.
Tunisian jihadis in Libya
A major external factor also plays a role in establishing ISIS's solid organization within Libya. The number of foreign fighters, or muhajirun, is high, due not only to the weak Libyan security along the borders but also to the continuing willingness of many Tunisian jihadis to join ISIS, especially from the southern cities along the Tunisian-Libyan frontiers.
When the U.S. air force struck Sabratha on February 19, the Pentagon declared that the main target was a Tunisian national, Noureddine Chouchane. The high number of Tunisians killed and wounded by the U.S. air strike and later in the attack led by the security forces of Sabratha's City Council suggest that they were the essential force on the ground. But even though this can be explained by the use of Sabratha as a base to coordinate attacks inside Tunisia, it is also shows that Sabratha was a corridor for fighters joining the larger ISIS's Libyan network.
It is already known that Tunisia is one of the main sources of foreign fighters in Iraq and Syria. The recent leaks published by Syrian opposition news outlet Zaman Alwsl suggest that Tunisian fighters are second, after Saudis, in a list of 1,736 foreign fighters. Verifying the numbers remains problematic, but following the lists of suicide bombers in recent years it is clear that the Tunisians' presence is overwhelming. This seems also the pattern when it comes to Libya not only because of the proximity of their borders but also because some of the Tunisian southern cities, such as the city of Ben Guerdane, located right on the Tunisian-Libyan frontiers, are especially known to be the source of foreign fighters as suggested in a recent report by The Soufan Group.
The role of Tunisian fighters in ISIS operations in Libya has been growing rapidly in the last two years. Many have taken part in suicide bombings. And Tunisians are also playing leadership roles. Among the militants killed in a coordinated attack in Ben Guerdane on March 7 was Hassan Bousbi, aka Abu Mu'adh, who according to the Libyan prosecutor general, the Deterrence Special Force, was very active in Libya and was even the highest religious authority in Sirte, known as the shar'i, or spiritual leader , of the city.
The political chaos in Libya certainly has provided the opportunity for ISIS to flourish. But that was not possible without two major factors: The increasing willingness of Libyan regions that lost power in the post-revolutionary era to support ISIS and the availability of a steady stream of jihadis from neighboring Tunisia.
Attacking and dissolving the threat of ISIS in Libya, and North Africa in general, requires targeting these two elements. This can happen with a policy of inclusion, implementing national reconciliation in Libya, and applying a strategic anti-terrorist approach in Tunisia, rather than simply focusing on security-based tactics.
Targeting the economic and social inequalities that can fuel radicalization is key, especially in impoverished and frontier regions. Part of this means authorities have to stop equating illegal trade with terrorism. Smugglers who rely on this informal economy are at the moment more inclined to reject terrorism, which for them only creates financial instability. But if a crackdown on illegal trading were to lead to their total economic annihilation, they would have nothing to lose by joining the terrorists.
To loosen the grip of ISIS in Libya, it is essential to prevent economic hardship and other social incubators of terrorism.
Tarek Kahlaoui is a former adviser to Tunisia's first Arab Spring leader Moncef Marzouki and the former director of the Tunisian Institute of Strategic Studies. He is currently an Assistant Professor of Islamic History and Art at Rutgers University in New Jersey.