The Undertaker Hints at Retirement in Final 'The Last Ride' Episode
The Undertaker has captivated wrestling fans for 30 years, but it seems that his time in the ring is over.
In the final episode of WWE's documentary series, Undertaker: The Last Ride, Mark Calaway--the man behind the character--gave his feelings about The Boneyard Match against AJ Styles at this year's WrestleMania 36.
He praised the match and everyone involved, but Calaway says that while it wasn't the match he hoped or envisioned when he agreed to it, he was happy with it and is now about to enjoy his life with his wife and children.
"I'm at the point that this time the cowboy really rides away. There's nothing left for me to conquer, to accomplish," Calaway said in the closing minutes of the documentary. "The game has changed. It's time for new guys to come up and the time seems right. The documentary has helped me discover that. Open up my eyes to the bigger picture and not judge myself too harshly on the last few years and to see things on a broader scale."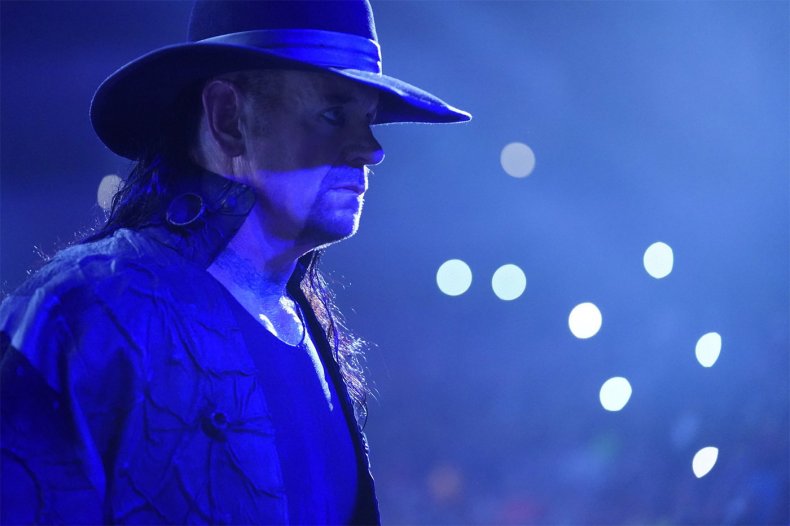 Calaway added that he has "no desire" to get back in the ring and that he can do more for the business outside the ring than in it.
Although Calaway doesn't specifically say he's retired or that his career is finished, his words give a sense of finality that many fans were expecting by the end of the docu-series. But as fans have learned over the years, and The Last Ride documentary shows, when WWE Chairman Vince McMahon calls for The Undertaker to return, it's hard for Calaway to say no. Calaway acknowledges this in the final episode, and even goes as far as saying "never say never," but for now it seems that the 55-year-old is content with life outside the ring.
When Calaway spoke to Newsweek regarding the documentary, he told us that he wants fans to understand how much they meant to him and his career.
"I want [the fans] to understand my love and passion for this business, and to go out and perform for them. I want them to realize that overall, this business is difficult and I know most of our fanbase does, but to have an appreciation for what it takes," Calaway said. "These guys do what they do year after year after year and for me specifically, I just want them to understand how I appreciate their support for all these years. And it's that support on a lot of nights that got me through."
Following the release of the final episode of The Last Ride, the hashtag #ThankYouTaker began to trend as fans and wrestlers showed their support and appreciation for the career of The Undertaker.
Fans can watch the entire Undertaker: The Last Ride documentary anytime on demand on the WWE Network.