Undertaker Farewell With Paul Bearer Hologram on WWE Survivor Series 2020 Leaves Fans Emotional
WWE fans were left emotional last night when The Undertaker brought back his late manager Paul Bearer as a hologram.
Paul Bearer, aka William Alvin Moody, passed away in 2013 and is beloved in World Wrestling Entertainment canon.
He returned to the ring as The Undertaker closed off his highly decorated 30-year career at WWE's Survivor Series Sunday night.
"For 30 long years I've made that slow walk to this ring and have laid people to rest time and time again. And now my time has come. My time has come to let The Undertaker rest in peace," the seven-time world champion said at the ThunderDome.
The reveal, unsurprisingly made fans emotional, with many taking to Twitter to share their feelings about seeing Bearer back on screens.
The Undertaker shocked fans when he announced his retirement back in June.
"I believe I'm at a place now, post-Boneyard, which was a hellacious battle against one of the best in the business," he said at the time. "Here you are, climbing on your motorcycle and taking off.
"There was a lot of thought and a lot of emotion, one of those being 'are you happy enough with that?'
"It was a powerful moment. You don't necessarily always get those. If there was ever a perfect ending to a career, that right there was it."
He later declared he was ready to "ride away" having accomplished all of his goals.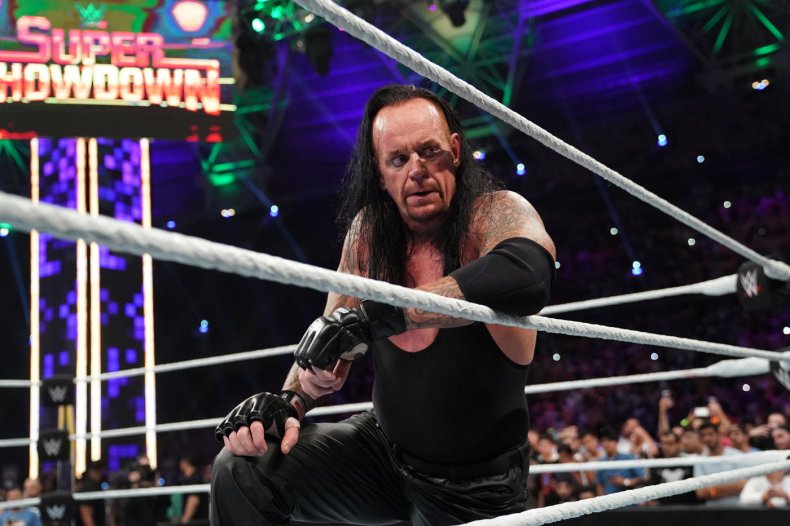 "I'm at a point, it's time this cowboy really rides away," he said. There's nothing left for me to conquer or accomplish. The game has changed. It's time for new guys to come up. The time just seems right. This documentary has helped me discover that and opened my eyes to the bigger picture and not judge myself as harshly these last few years."
He added: "I can do more good outside the ring than I can inside. I'm finally at a place where I can accept that."
Bearer is another celebrity who has been somewhat revived via hologram for a special occasion.
In October, Kanye West gifted his wife Kim Kardashian the most extravagantly bizarre gift for her 40th birthday—a hologram of her late father Robert Kardashian speaking to her as if he were still alive.
"For my birthday, Kanye got me the most thoughtful gift of a lifetime. A special surprise from heaven," Kardashian tweeted. "A hologram of my dad. It is so lifelike! We watched it over and over, filled with emotion."