Underwater Archaeologists Discover Huge Shipwreck Dating Back Hundreds of Years and Destroyed WWII Bridge
Underwater archaeologists have discovered a huge, centuries-old shipwreck and a destroyed World War II bridge in a river in Poland.
The sunken vessel, which measures around 20 feet wide and 120 feet long, was discovered north of the Polish capital Warsaw at the bottom of the Vistula River, the largest in the country, reports Science in Poland (SIP), a website run by the country's Ministry of Science and Higher Education and Polish Press Agency (PAP).
"This is most likely a large transport vessel that was used from the 14th to the 18th century," Artur Brzóska, head of the research project from the University of Warsaw, told SIP.
Based on the discovery of a 550-pound wooden frame, the team estimate that the vessel may have been capable of carrying up to 100 tonnes of cargo—although it is unclear what exactly was loaded on to the boat because they were unable to identify any objects associated with it.
This can partially be explained by the fact the river currents being particularly fast, the researchers said. Furthermore, they had to deal with very poor visibility—which extended to a maximum distance of between four and eight inches in some places, Wirtualna Polska reported.
Nevertheless, Brzóska speculates that the vessel was used to carry food products to Gdańsk, a port city on Poland's Baltic coast. "Such goods could not be preserved," Brzóska told SIP.
"The wreck is relatively well preserved and seems complete, which is very rare, because so far only one almost complete wreck of this type of unit was known in Poland—the so-called 'Szkuta from Czersk,' excavated in 2018 and currently undergoing conservation by the State Archaeological Museum in Warsaw," Brzóska told Newsweek.
In addition to the 120-foot-long cargo vessel, the underwater archaeologists also uncovered debris from a destroyed World War II bridge in a stretch of the river near the village of Łomianki Dolne, around 11 miles north of Warsaw.
"Our analyses and historical information show that the bridge was built by German sappers," Brzóska said. Sappers are combat engineers which are used by militaries to construct and repair infrastructure, such as bridges and fortifications.
Among the debris, the team found a steel structure, as well as the pile structures used to support the bridge.
The researchers identified the sunken vessel and the bridge using sonar technology fitted onto a motorboat, which they used to a survey an 8-mile-long stretch of the river.
"During this project, we sailed a total of over 400 kilometers [around 250 miles]," Brzóska told Newsweek. "It should be added that it was a pioneering scientific project in our country. Nobody has ever studied such a large stretch of the river so thoroughly."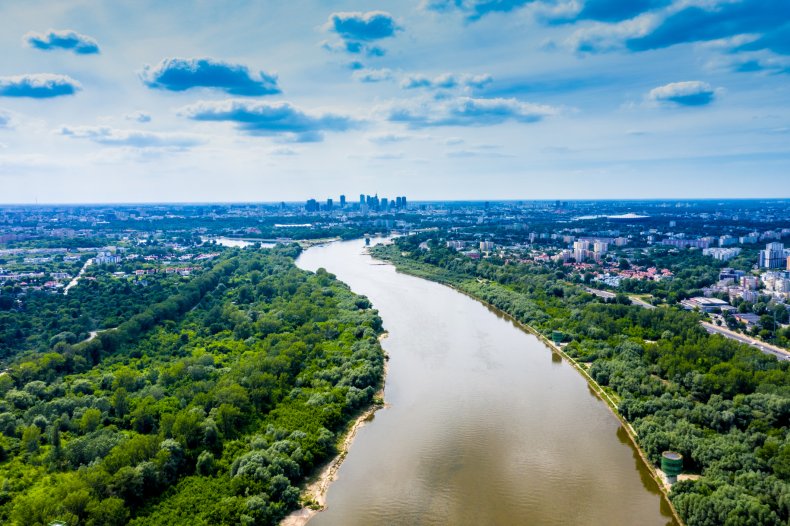 This technique, which is based on the use of sound waves, plays a key role in underwater archaeology, enabling researchers to detect sunken vessels. Sonar instruments send out sound waves which bounce off objects. Some of these are reflected back to the sonar device, providing a picture of what's beneath the water.
In recent months, researchers have announced the discovery of other centuries-old shipwrecks across Europe, including an ancient Roman vessel which is one of the largest ever found in the Mediterranean Sea.
The vessel, which has five pyramid-shaped anchors, was found near the Greek island of Kefalonia and is thought to be between 2,100 and 1,900 years old.
This article was updated to include additional comments from Artur Brzóska.