Shark Feeding-frenzy Wins Underwater Photographer of the Year 2019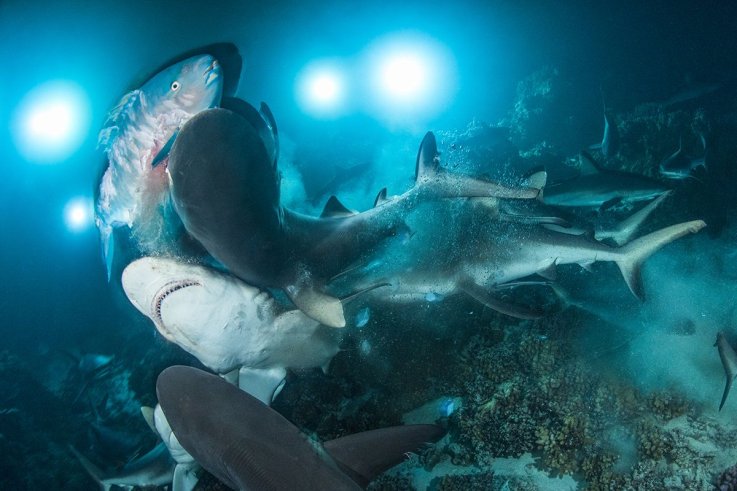 Richard Barnden has been named Underwater Photographer of the Year 2019 for his thrilling image of a pack of gray reef sharks catching and devouring a parrotfish. His photograph beat more than 5,000 underwater pictures entered by photographers from 65 different countries.
The Gauntlet was taken underwater, late at night on the reefs of French Polynesia in the middle of the Pacific Ocean. Barnden explains: "As I descended, hundreds of sharks covered the bottom. This unlucky parrotfish flinched, and that tiny movement alerted the swarm of sharks. The mayhem hurtled straight towards me and I instinctively pressed the shutter, moments later all that remained was a rain of parrotfish scales in the darkness, and this photo on my camera."
Barnden, aged 40, is originally from Brighton in the U.K., but now lives on the small island of Palau, in Micronesia.
Chairperson of the judges Dr Alexander Mustard commented: "Photography is about preserving moments and what an unforgettable instant this is. Using a wide-angle lens, the photographer takes us into the full drama of the hunt, as a melee of gray reef sharks rise like a breaking wave to tear apart their prey, truly revealing the ocean's wilder side."
Spanish photographer Eduardo Acevedo was named Marine Conservation Photographer of the Year 2019 for his photo of a loggerhead turtle entangled in a discarded plastic fishing net. Acevedo says "the turtles come to the Canary Islands by crossing the Atlantic Ocean from the Caribbean and have to avoid many manmade dangers, like plastics, ropes and fishing nets. This individual was one of the lucky ones because we were able to free it and recover the net."
Mustard added: "Plastic pollution and ghost fishing are ever increasing serious issues threatening the ocean. This sad image highlights both issues".
Newsweek presents the winners and some of the recognized images in categories such as Wrecks, Behavior and Underwater Portraits. You can see more at the Underwater Photographer of the Year website.