Researchers have used an underwater robot and a 360-degree camera to capture underwater images of a lava delta forming as a result of the La Palma volcanic eruption.
In the video, which has been uploaded to the Twitter account Radio Televisión Canaria, fish can be seen approaching the structure, which was formed by lava spewing from the Cumbre Vieja volcano located on the Spanish Canary Island of La Palma.
La Vanguardia reported that the lava delta, or fajana, has now stopped growing, having reached a size of 320,000 square meters (3.45 million square feet).
The video was captured by researchers from the Institute of Oceanography and Global Change of the University of Las Palmas, who filmed the new rocky delta at a depth of 20 meters (65 feet).
The Spanish daily newspaper adds that the researchers have made the video available to experts Special Plan for Protection against Volcanic Risk of the Canary Islands (Pevolca), who will use it to improve our knowledge of how lava deltas form.
Lava deltas are formed when lava reaches the ocean or another large body of water. Contact between the lava and water causes the former to cool while simultaneously boiling the water and causing steam.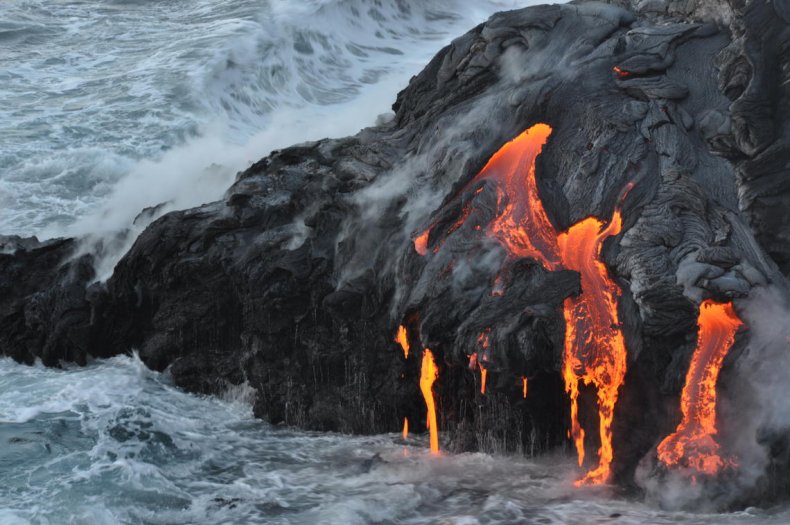 If the lava flow is maintained, this ultimately causes the formation of a lava bench. The most famous and striking example of land formed this way are the Hawai'ian islands.
In fact, Hawai'i's Big Island is still expanding because of this phenomenon. Here the Kilauea Volcano releases lava encounter flows into the Pacific Ocean, forming an unstable lava bench. When this stabilizes, it becomes land added to the island.
The Cumbre Vieja volcano began erupting on September 19, with a new fissure opening on Friday, September 24.
Since eruptions began around 3 weeks ago around 6,700 people have been evacuated. The lava flow has destroyed an estimated 1,000 buildings as well as devastating villages and farmland.
Lava hit the waters of Atlantic Ocean traveling at an estimated 0.5mph on October 7. This created plumes of acidic smoke, which experts warned could cause respiratory problems and skin issues for residents of La Palma.
In addition to the steam created when lava meets water, the interaction can also give rise to lava haze, or just "laze," which is highly acidic and can contain chlorine.
"This mixture has the stinging and corrosive properties of dilute battery acid, and should be avoided," the USGS said in findings previously reported by Newsweek. "Because laze can be blown downwind, its corrosive effects can extend far beyond the actual ocean entry area."