Undocumented Immigrants and Advocates Welcome Obama's Executive Action at Viewing Party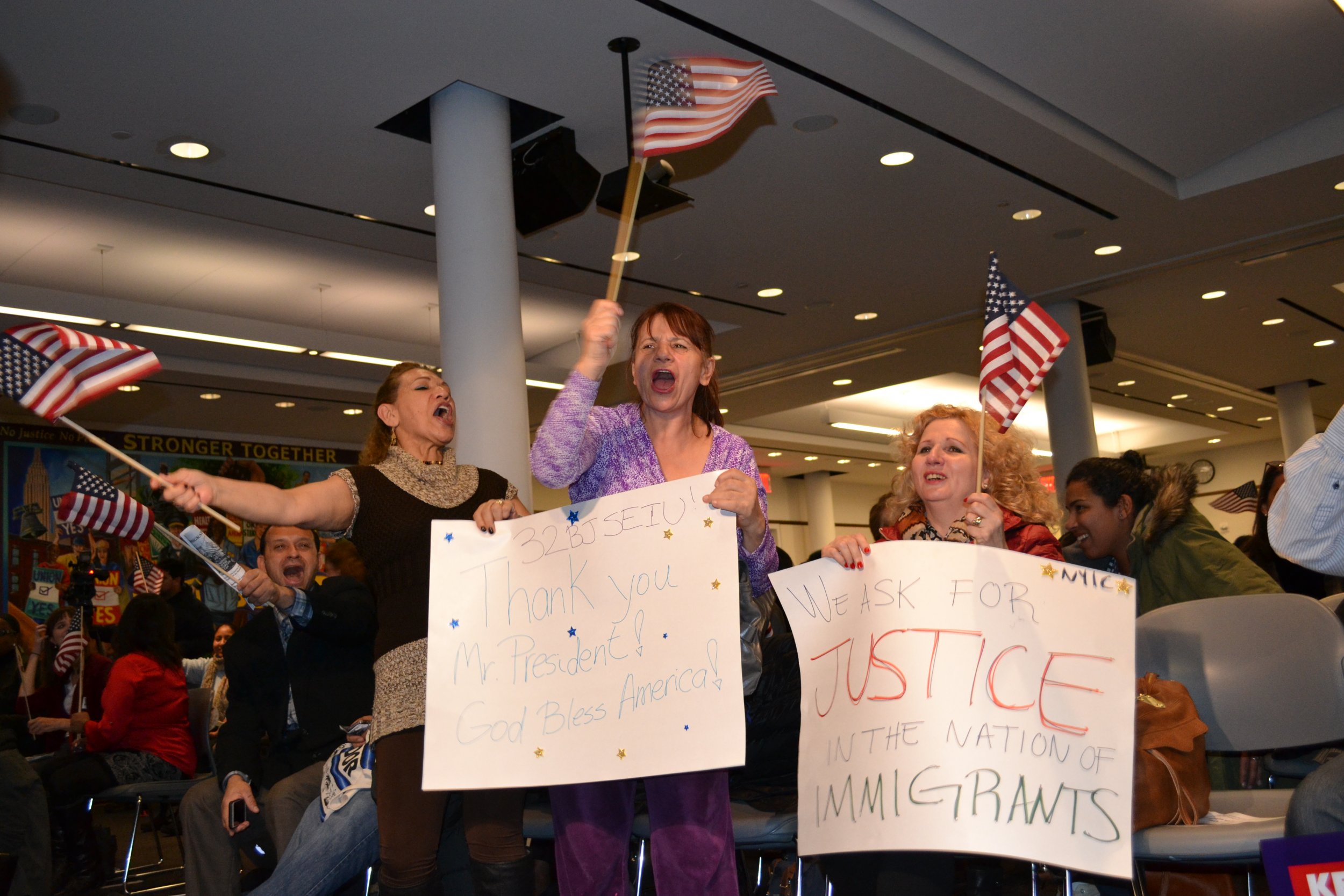 Stacked boxes of pizza, handmade signs and American flags gave a viewing party for President Barack Obama's immigration speech held by New Yorkers for Real Immigration Reform the distinct vibe of election night, albeit with greater urgency and importance.
Around 200 people gathered in the auditorium of the SEIU 32BJ building to watch President Obama deliver his primetime address to the nation on his long-awaited immigration action. New Yorkers for Real Immigration Reform, a campaign coordinated by the New York Immigration Coalition, held viewing parties for the speech in Manhattan, Westchester and Long Island.
The President's executive action, which allows around five million undocumented immigrants to come out of the shadows and defer deportation for three years, was focused around three major points: granting more time in the U.S. for the parents of U.S. citizens or legal permanent residents who have been in the country for five years, as long as they pay taxes and pass a background check; strengthening border security and cracking down on illegal immigration at the border; and focusing on keeping families together and deporting more felons.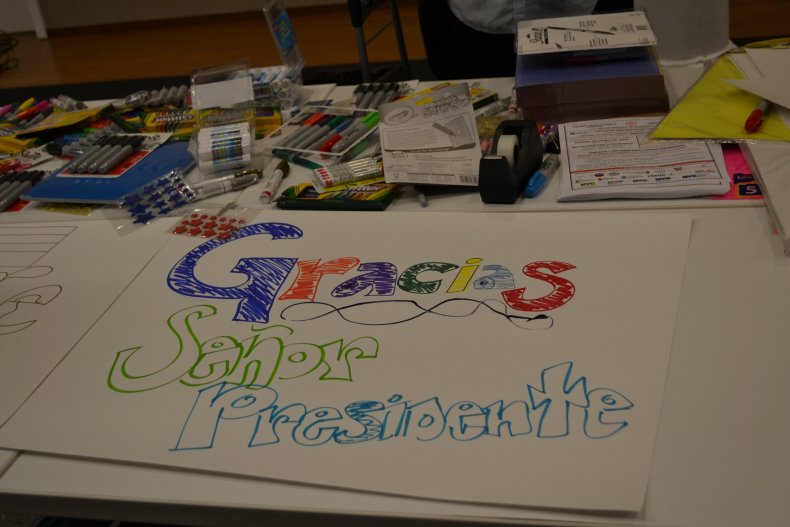 Monica Sibri was brought to the U.S. from Ecuador three months after her 16th birthday. She is an undocumented immigrant, but does not qualify to be a DREAMer. Both her parents, who are also undocumented, live in the U.S.
"The president's decision to come out and give an executive action means that there's hope. I'm positive that if Congress sees him working and doing what he's supposed to do, they will also pass a comprehensive immigration reform where I will qualify," Sibri told Newsweek.
"The fact that [Obama] has been able to say, 'I know you guys are out there and I'm trying to work for you', it's just a motivation for us to continue advocacy work," she said.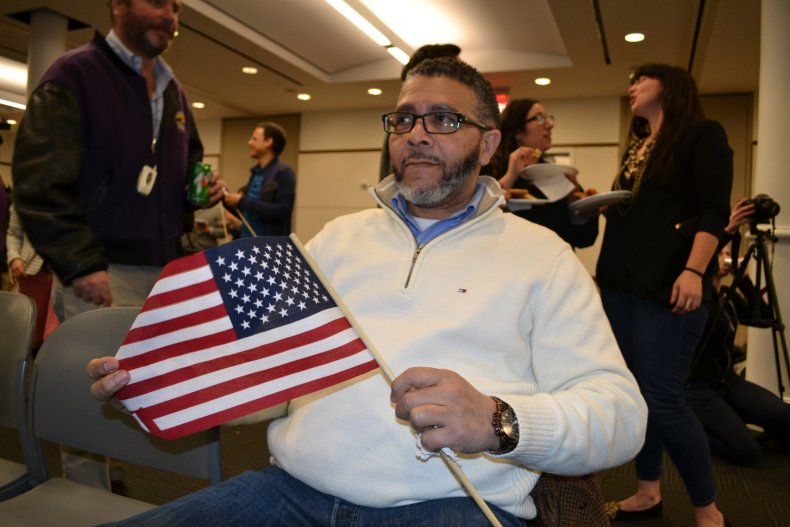 As the time for Obama's speech neared and MSNBC counted down in the background, children added the final touches of glitter glue and gold stars to their signs, which thanked the president in Spanish. Advocates and union members took seats and unfurled the tightly wound Star Spangled Banners in a pile on a table by the door.
"Are you ready to celebrate a historic victory?" Steven Choi, executive director of New York Immigration Coalition, asked the crowd. They shouted they were ready.
A group of women in prime, front row seats waved their flags and signs at photographers with the enthusiasm of long-stationed fans on the red carpet of a movie premiere. Once the president started speaking, one of them, a blonde woman in a puffy red jacket, solemnly nodded along to Obama's remarks and wiped away tears as he spoke about the broken immigration system's legacy of fractured families.
When the president finished, after telling the American people that they "were strangers once, too", cries of "God Bless America" rippled through the room amid frantic flag waving.
Gisele, a woman originally from Brazil who declined to give her last name, told Newsweek she was very happy with Obama's decision. She has been in the U.S. illegally for 20 years.
"I have hope," she said. "It's a dream come true."
Joe O'Brien, who works as a concierge in Manhattan, said he also welcomed Obama's plan, but that something should have been done before now.
"That's part of the problem, we've got to pull [undocumented immigrants] into the workforce. In some cases they work harder than the homegrown people that are here now," said O'Brien. "It's kind of embarrassing sometimes."
Obama vowed to use his executive authority after the House of Representatives stalled in enacting any bipartisan legislation on the issue. Obama announced his speech on a Facebook post on Wednesday.
Republicans accused Obama of overstepping his authority, but the White House maintains the president remains within his lawful boundaries. The GOP released a video hours before the speech on Thursday featuring quotes from Obama saying he would not use executive authority.
Representatives from New Yorkers for Immigration Control and Enforcement (NYICE) were stationed outside the SEIU 32BJ building, holding signs that said "Hispanics Against Illegal Aliens" and "Secure Our Borders Now". Needless to say, their reception of the speech had been largely negative. The group accused Obama of acting like a "tyrant" over immigration and said he hadn't done enough to secure the borders.
When told that one of the key points of Obama's exectuive action was ramping up border security, NYICE's Joanna Marzullo said: "When Obama's lips are moving I presume he's lying because previously he said he'd never do this [take executive action on immigration] and he went ahead and did it."