How Do Undocumented Students Enroll in Higher Education?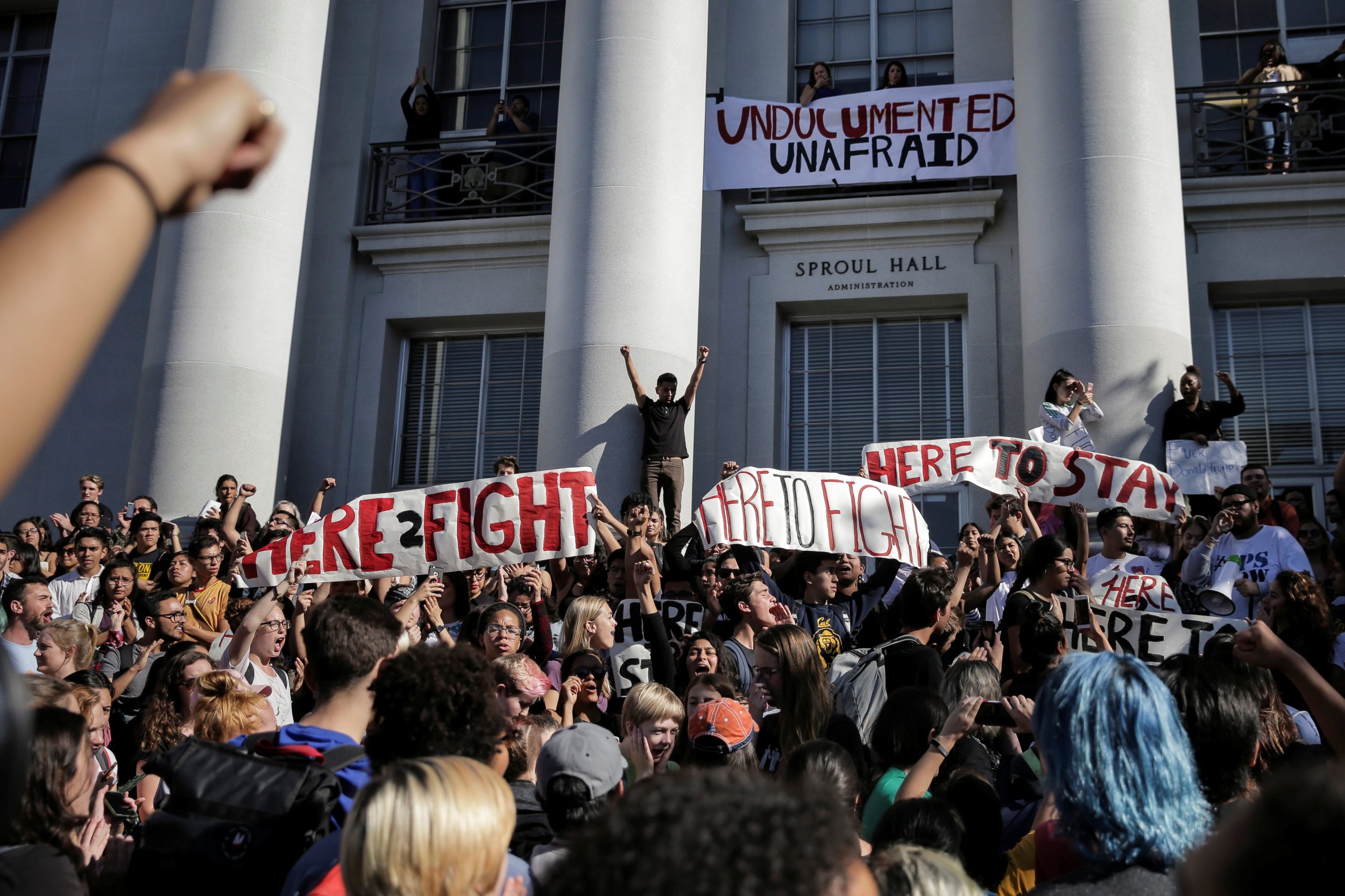 This article originally appeared on The Conversation.
President-elect Donald Trump has vowed to deport millions of undocumented people, beginning on his first day in office. In response, students and faculty from 100 campuses around the United States have launched a campaign to demand that their universities become "sanctuaries" for undocumented students.
About 30,000 undocumented students enroll in higher education each year. Of these, fewer than 2,000 will graduate. Many of these students face financial difficulties. In addition, they lack mentoring and support.
We are sociologists at the University of California, Merced, and are currently working on a research project on undocumented students' access to higher education. Our students and faculty too are demanding to be a "sanctuary campus."
Many at this time also want to know how undocumented students are able to attend university if they do not have legal status.
There is a complex web of federal and state laws that both prevent and facilitate undocumented students' access to higher education. In most states, students do not have to disclose their immigration status or provide a Social Security number when applying for university.
Policies vary by state
Immigration policy is under the purview of the federal government. States, however, can pass laws that make them more or less friendly to undocumented immigrants.
In 1975, the Texas Legislature passed a law that permitted school districts to deny undocumented children access to education. A group of students from Mexico challenged the case, and in 1982, the case reached the Supreme Court.
In a landmark judgment, Plyler v. Doe, the Supreme Court decided that the Equal Protections Clause requires local school districts to ensure that all children in the United States have access to K-12 education. Plyler v. Doe, however, does not apply to higher education.
In fact, when it comes to higher education, three states explicitly bar undocumented students from enrolling in universities: Alabama, Georgia and South Carolina. Alabama and South Carolina bar undocumented students from all public institutions of higher education. Georgia bars undocumented students from enrolling in the five most selective public institutions.
Most states, however, have no policies with regard to access to higher education for undocumented students. This is made possible as there is no federal law that requires students to prove they are lawfully present to be admitted into a post-secondary institution in the U.S. Undocumented students do not have to disclose their status and they do not have to provide a Social Security number when applying.
In those states that have no official policies, undocumented students often must pay out-of-state or even steep international rates for public education. This makes access to higher education difficult.
Providing financial support
In contrast, there are 20 states that not only allow undocumented students to attend institutions of higher education, but also permit those students to pay in-state tuition.
The 20 states, subject to change, that have this policy are California, Colorado, Connecticut, Florida, Hawaii, Illinois, Kansas, Maryland, Michigan, Minnesota, Nebraska, New Jersey, New Mexico, New York, Oklahoma, Oregon, Rhode Island, Texas, Utah and Washington.
In these 20 states, undocumented youth who graduate from high school within the state and meet other residency requirements—such as having graduated from high school within the state are eligible to pay in-state tuition in the state's public universities. The availability of in-state tuition facilitates access for undocumented college students by making it more affordable.
However, even though most undocumented students come from low-income families, they are not eligible for federally funded programs such as loans and Pell Grants. A Pell Grant is a federally subsidized grant for low-income students that does not have to be repaid. The lack of federal grants and loans presents an important barrier to access to higher education for undocumented youth.
Currently, only five states offer financial aid to undocumented students: California, New Mexico, Texas, Minnesota and Washington. In the remaining states, undocumented youth have to fund their education themselves, or rely on a very limited supply of private scholarships. TheDream.US, a national scholarship fund, for example, provides highly competitive scholarships to undocumented students to attend university.
Private universities make their own decisions
There are no laws that prevent undocumented students from attending private universities. These universities, however, tend to be even more costly than public universities, and are unaffordable for most undocumented youth.
Some private universities offer a small number of scholarships to undocumented students that enable them to access higher education, but the demand far outpaces supply.
The most selective universities in the country, such as Harvard, Princeton and Duke, offer need-based scholarships to all admitted students, including those who are undocumented. Here, the main obstacle is admission. The acceptance rate at Harvard, for example, is 6 percent. At Duke, it is 12 percent. Although there are no estimates of undocumented students in private universities, it is estimated that 200,000 to 225,000 are enrolled in colleges nationally.
Other, less selective colleges do not offer full financial aid to all admitted students. For example, Bard College, which accepts one-third of all applicants, offers much more limited financial aid packages for undocumented students. At Bard College, similar to many other colleges, undocumented students must apply as international students.
Most private universities consider undocumented students to be international students, which often means they have to pay higher tuition than domestic students. A few, however, have changed their policies and now consider undocumented students to be domestic students, both in their admission criteria and financial aid policies.
The case of California
The state with the largest number of undocumented immigrants in the country is California. Nearly two and half million of the estimated 11 million undocumented migrants in the United States live in California. The Golden State also has some of the most favorable policies toward them.
A series of immigration policy reforms in California known as the California Dream Act provides access to higher education for undocumented students. Governor Gray Davis signed AB 540 in 2001, a bill that granted undocumented students in-state tuition eligibility.
One decade later, Governor Jerry Brown signed Assembly Bills, AB 130 and AB 131, which granted scholarships from nonstate or private funds and allowed eligible undocumented students to apply for state financial aid.
Without financial aid, and especially without access to in-state tuition, college attendance remains out of reach for most undocumented students.
Our research group recently interviewed 35 undocumented students at the University of California in Merced and found that the annual household income was less than $25,000 for 22 of the 35 students.
In-state tuition at UC Merced is over $13,000. In addition to tuition, students must also cover their living expenses, supplies and books. The total cost of attendance at UC Merced for a student who lives at home is estimated at $25,825, more than what most of these families earn in a year.
It is clear their parents would not be able to afford to pay tuition, much less to pay room, board, books and other costs associated with college attendance. Even with state financial aid, students struggle to get by.
What can change under Trump
On June 15, 2012, President Obama created a new policy for children of immigrant parents, known as the Deferred Action for Childhood Arrivals (DACA). This policy temporarily protects undocumented youth from deportation, and provides them with a Social Security number and a work permit.
To qualify, undocumented immigrants must have been under the age of 31 on or before June 15, 2012; have arrived in the United States before the age of sixteen; and be currently enrolled either in school or in the armed forces or already have completed high school. DACA does not provide any additional benefits when applying to college.
DACA does allow many undocumented college students to supplement their parents' meager income by getting part-time employment.
President-elect Donald Trump has threatened to rescind all of President Obama's executive orders. If this happens, youths who currently have DACA would eventually lose their work permits as well as access to employment in the formal economy. DACA has had a noticeably positive impact on its beneficiaries. It has opened up better economic opportunities and allowed recipients to obtain driver's licenses, and even open their first bank accounts.
A repeal of DACA would also negatively affect undocumented youths' access to university as it would affect their ability to work and thus afford university.
However, as president, Trump would not be able to directly change state laws governing access to higher education. Those laws were passed by state legislatures and could only be overturned by the state legislatures themselves or by the Supreme Court, if they were determined to be unconstitutional.
In Kansas, for example, the in-state tuition law has come under attack nearly every year since the law passed in 2004. However, these attacks have been unsuccessful at repealing the law.
As president, Trump could threaten to take away federal aid from states or even from universities that allow undocumented students. However, as the sanctuary movement builds, and as more and more campuses sign on, there would be, we believe, strong resistance to any efforts to restrict access to higher education for undocumented youth.
Tanya Golash-Boza is a professor at the University of California, Merced; Benigno Merlin is a Ph.D. student at the University of California, Merced.