Undocumented workers and immigration advocates are calling on the government to include "all working families" in its next coronavirus relief package after undocumented families were effectively cut out of the government's recent $2 trillion relief bill.
Speaking in a press conference call organized by the National Domestic Workers Alliance on Thursday, two undocumented women working as housekeepers shared how the coronavirus outbreak has left them unable to pay rent and support their families, with little relief in sight.
Ingrid, an undocumented housekeeper working in Washington, D.C. for the past 20 years, tearfully described how she is unsure whether she will be able to pay her rent or support her family after the majority of her jobs were cancelled amid the coronavirus outbreak.
With families staying at home and practicing social distancing amid the pandemic, Ingrid is among many housekeeper and domestic workers who have lost their primary source of income throughout the crisis.
"The last three weeks have been horrendous. I have suffered a lot because this has been a really difficult time," Ingrid, whose last name has been withheld, said. "I have been having issues with getting jobs. We've had a lot of cancellations of jobs...and that's made it really difficult in terms of us being able to get rent."
The situation, Ingrid said, "has made me very sad and depressed and very fearful because I don't know if I can pay my rent."
"People need to understand that we are also part of this community," she said. "We also have families and children."
Rosana, who has worked as a housekeeper in Miami for 18 years, said that she has always been a dedicated and hard worker, but now finds herself unable to find jobs.
"A lot of this process has made it really difficult for me to actually see how to pay rent or my utilities," she said.
Rosana, whose surname has also been withheld, also said that she was concerned for her health and safety as an undocumented person.
"There's a lot of fear for me, especially because I am somebody that doesn't have health insurance as an undocumented person and I could not get help from the federal government," she said.
Like Ingrid and Rosana, National Domestic Workers Alliance (NDWA) Executive Director Ai-jen Poo said there are countless undocumented workers across the country who are "uniquely vulnerable" to the impacts of the coronavirus outbreak.
While some workers, like the two housekeepers, are struggling to find work, others have told the NDWA that they feel forced to put their health at risk by going to work in order to support their families.
Speaking during the conference call, Poo said the government must include undocumented workers in its relief efforts to support workers impacted by the crisis.
While the government's recent $2 trillion relief package includes a number of measures aimed at supporting workers hard-hit by the coronavirus pandemic, including a one-time $1,200 cash payments for workers earning less than $75,000, with an additional $500 per child in a family, workers without a social security number will not be able receive those benefits, including undocumented workers.
"Picture the nannies who are still working," Poo said, "holding up our emergency response teams often away from their own families."
"Picture the house cleaner who has in the span of two weeks lots the majority of her income," she continued. "Picture the homecare worker who takes the bus to provide essential services..."
The government's next relief package, she said, "must include all working families."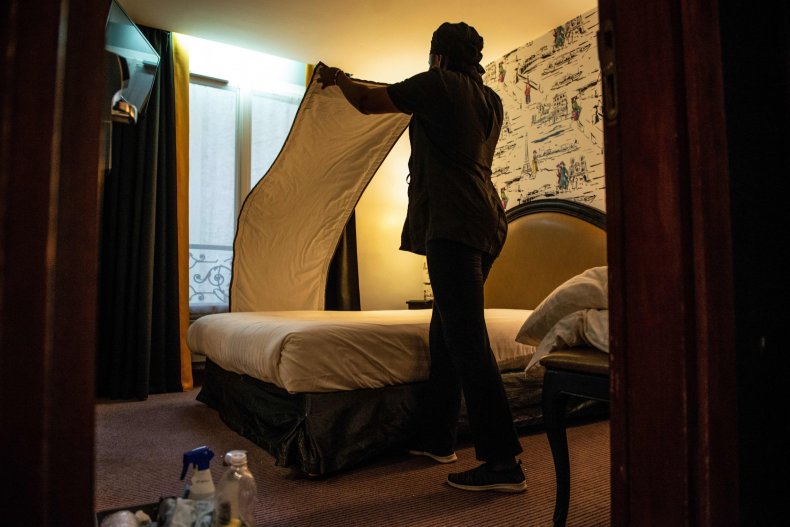 In a written statement shared with Newsweek, Poo said: "Millions of undocumented working people are deliberately left out of the social safety net, making them uniquely vulnerable to crises."
"Most do not have the option to socially distance by staying home, because they have to work to support their families. Many will put their lives on the line knowing that they will be left out of any policy solutions or relief efforts put into place by this administration," she continued.
"This needs to change immediately. All working people, regardless of immigration status, need to be included in relief efforts. Undocumented families should not have to navigate this crisis alone," she said. "Our own health depends on the health of the person next to us, and the person next to them. We call on all levels of government to provide temporary and permanent solutions to undocumented domestic workers during this pandemic."
In the meantime, in mid-March, the NDWA launched a Coronavirus Care Fund, an emergency relief fund to support domestic workers facing financial difficulties due to the coronavirus pandemic.
The fund provides $400 in emergency assistance to qualifying homecare workers and house cleaners who are facing financial difficulties as a result of the coronavirus epidemic. As part of the organization's policies, domestic workers seeking support from the fund will not be asked about their immigration status.