In a cast like HBO's The Undoing, it's hard to steal the scene from Nicole Kidman, Hugh Grant or Edgar Ramirez. Unless, of course, you're the legendary Donald Sutherland. Sutherland plays Grace's (Kidman) father, Franklin, and he was the standout performer of Sunday evening's episode.
In the fourth episode, titled "See No Evil," Franklin bails Jonathan (Grant) out of prison for a cool $2 million dollars. (It's also important to note that he's out $500K after lending Jonathan that after losing his position as an oncologist). Perhaps it's to give his daughter a sense of normalcy amid the high-profile murder case. He threatens to kill his son-in law if he runs after being let out of jail. Which, fair.
"I'm not here for your understanding. I'm here to look at you," Franklin says, as his blue eyes appear icier than usual. "I'm here to make sure that you understand me."
He continues: "I think you're guilty. I believe you killed that woman. Grace makes room for the possibility that you did not. And perhaps because she so rarely asks for my help, I find myself ill-equipped to refuse it. But should you run, should you do anything to further harm my daughter, my grandson, I will track you down. And I will kill you myself."
Before Jonathan can further thank Franklin, he declares he's done speaking with the disgraced doctor and leaves.
Perhaps the most notable moment of the episode, however, is when Franklin speaks to Reardon Principal Connaver (Jeremy Shamos), who wants Frankin's grandson, Henry (Noah Jupe), homeschooled while there is ongoing investigation into Elena Alvez's (Matilda De Angelis) murder. "With the trial approaching, the distraction serves no one," Connaver says.
Franklin calls himself an "old-fashioned c***sucker," and the short but sharp monologue is equal parts chilling and entertaining.
"I've given a lot of money to this school, Mr. Connaver, and I've always considered it a privilege to be able to do so. But make no mistake. I am a c***sucker. And I don't mean that in the sense of gay belittlement, as it's currently come to be intepreted. No. I'm an old fashioned c***sucker," he says. "The more traditional kind.
"The kind who f**ks over anyone who hurts me, or a loved one. You speak of ugliness Mr. Connaver. You have not yet met ugliness."
Naturally, Twitter was blown away by this scene. "When you have all caught up with tonight's episode of #TheUndoing, let me know when we can talk about Donald Sutherland saying 'I'm an old fashioned c***sucker' and how it is one of the most chilling things I've ever heard," one user wrote.
"Donald Sutherland is chillingly brilliant in The Undoing," one user wrote, quoting his speech to Principal Connaver. "You speak of ugliness, Mr. Connaver. You have not met ugliness."
Some users are already predicting Sutherland's shot at an Emmy from last night's episode alone. "This scene right here is going to get Donald Sutherland an Emmy nomination..." one person wrote.
Someone likened him to Liam Neeson in Taken. "Donald Sutherland doing his best Liam Neeson right now," they joked.
"I need some of that Donald Sutherland energy in may life right now," another chimed in.
Comedian Chris Martin said he had a new ringtone idea in mind. "After watching episode 4 of The Undoing, I want my new ringtone to be Donald Sutherland repeatedly saying the word c***sucker."
Predictions for who killed Elena also popped up this episode. "I think Donald Sutherland's eyebrows did it," one user joked.
Someone aptly summed up the vibe Sutherland's Franklin gave off during the c***sucker speech. "What do you think you aren't succeeding in this modern world?" they wrote with a screenshot of the line of the night (if not the whole series thus far): "I'm an old-fashioned c***sucker."
Give Donald Sutherland that Emmy, you cowards!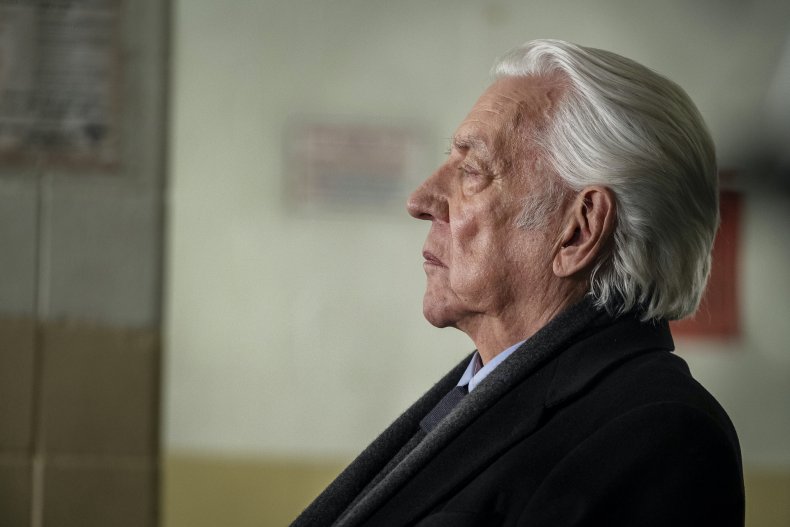 The Undoing airs on Sunday nights at 9 on HBO.