'The Undoing': Why Is Jonathan Fraser in the Series but Not the Book?
Hugh Grant's presence in The Undoing as Jonathan Fraserwas amplified in the show, thanks to director Susanne Bier and showrunner David E. Kelley's brilliance.
One major difference between the HBO drama series and its source material You Should Have Known, a novel by Jean Hanff Korelitz, involves the character Jonathan Fraser, played by Grant. The once-revered child's oncologist never appears. He features solely in Grace's (Nicole Kidman) memories, and serves more of a role like the titular character of Rebecca did, haunting those left behind.
In the novel, without Jonathan around, Grace and her son Henry (Noah Jupe) are left to deal with the aftermath of Jonathan's doings and start their life anew. Jonathan's minimal presence includes an attempt to communicate with Grace through a letter in You Should Have Known.
In The Undoing, however, he is introduced in the first episode as a respected doctor and (devoted enough) husband to Grace. After Elena (Matilda De Angelis) is murdered, he does go missing during the second episode, but reappears to frighten Grace, and then get ratted out to the police. Since he's been found, it's likely that we will get plenty of Grant moving forward.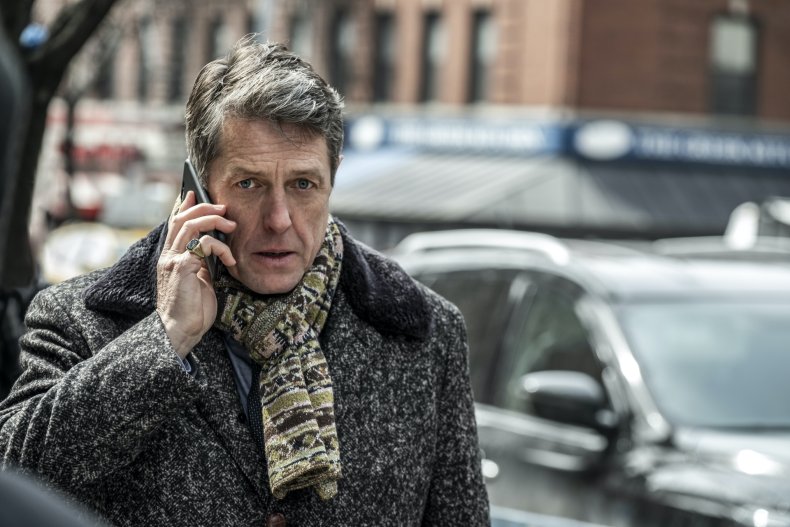 As much as I love Hugh Grant as the next gal, I did wonder why the HBO show decided to include Jonathan physically in the show, as opposed to Rebecca-ing him like in the book. Grant's quips and English charm (albeit as a suspect of a gruesome murder) make the show that much more enjoyable. However, his relationship with Grace has been plagued by lie after lie, which is difficult to look past.
Bier and Kelley (who was also responsible for HBO's adaptation of Big Little Lies) told Newsweek via email about the creative choice behind including Grant's Dr. Fraser throughout the show.
"I loved and devoured the book. But the jumping off point for me as a series..what if Jonathan came back?" Kelley noted. "Also, Hugh is very expensive. At those prices he needs to do more than haunt," he quipped.
Bier explained how including Jonathan gave them more opportunities to expand the emotions of the story.
"By Jonathan coming back, David was able to amp up the tension as it opened up all kinds of possibilities. The possibility of guilt, the possibility of contrition and forgiveness, and an ultimately different kind of future," Bier wrote.
New episode of The Undoing air on Sundays at 9 p.m. on HBO.