Alexis Herdez had been unemployed since April but received no help from the government through unemployment benefits, as of mid-July. The 23-year-old from Lexington, Kentucky, had tried to apply for months, but she had failed to get through the state's automated phone system and hadn't gotten any help at the state offices. In the meantime, she and her husband were struggling to make rent and keep up with their car payments.
Alexis represents just one of an estimated 72 million people not employed during the current economic crisis.
For many Americans who have lost jobs, unemployment insurance has been an actual lifesaver that has allowed them to pay rent, buy food and get the health care they need.
But in many cases, unemployment benefits aren't reaching people in need. Either, like Alexis, they're unable to get through to apply, or they manage to apply but are still waiting weeks later for a decision. Longtime Republican efforts in many states to weaken unemployment systems—rationing by friction—are having their intended consequence. Millions have stepped into caregiving roles in response to the crisis. And though applications for low-wage jobs have spiked, there are 14 million fewer jobs open than people looking.
For many struggling to make ends meet, the $1,200 direct payments issued by the government in April have been a critical help. Direct payments are an essential complement to unemployment benefits—a low-barrier form of relief reaching a broader population, like recent graduates locked out of the job market or those who are severely underemployed. In addition to extending unemployment benefits in the next relief package, Congress must pass regular direct payments lasting until the current crisis is over.
Of the 72 million Americans out of work, only about half had completed unemployment applications in late June, and an estimated 22 million were actually receiving regular unemployment benefits. About 11 million were receiving temporary pandemic benefits (PUA). For Black workers, the numbers are bleaker: Only 13 percent of unemployed Black workers were receiving unemployment benefits—half the rate of white workers, due in part to intentionally bureaucratic systems in states with high Black populations, and employers contesting their applications.
The truth is that even with these weekly payments, too many families still can't make ends meet. Each month that goes by leaves more families struggling to pay their rent and mortgage, and some unable to buy food. The problem will only get worse now that Congress has allowed the boosted unemployment benefits to expire. For those awaiting their unemployment benefits, getting behind on bills costs late fees, interest and lowered credit scores.
Direct payments are an essential complement to unemployment benefits. The first round of payments issued by the government were distributed quickly—roughly 160 million payments were sent in just two months. The next round of payments, which could be designed to target just the lower-income families struggling the most, are critical to ensuring families can keep their heads above water as this crisis wears on.
Research on the CARES Act payments showed that low-income families spent nearly half their stimulus checks in 10 days. And while the well-off saved their payments, those who were struggling spent them on food, housing and other basic necessities—an essential boost when most unemployment insurance applicants wait longer than five weeks for a decision.
Recent research has found that while extending unemployment benefits would keep more than 3.5 million people out of poverty this year, a second round of direct payments would do so for more than 8 million. When combined with food benefits (SNAP), the number for all three programs combined is more than 12 million people kept out of poverty. Adding a third direct payment this year would increase the number kept out of poverty to 18 million. These programs are essential complements—none can do the job alone.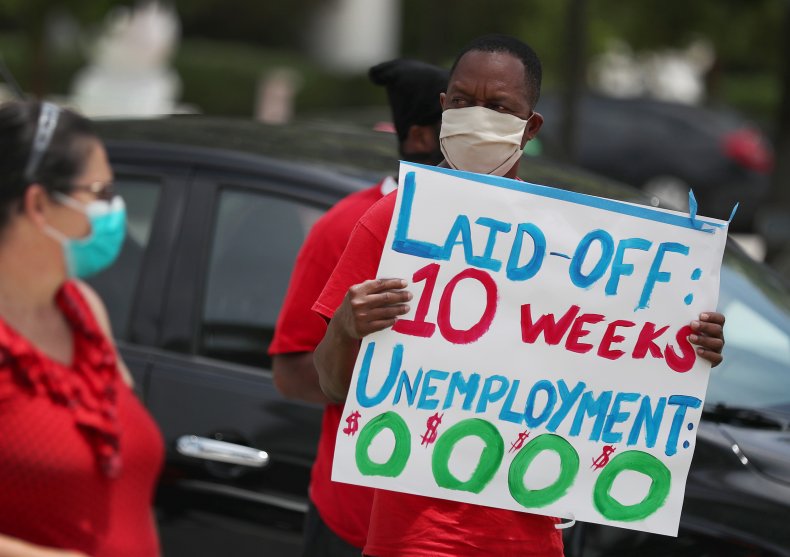 But one more stimulus check is not enough. The crisis we're in is likely to last well into next year, if not longer. For those who have lost jobs, unemployment insurance is critical. But the millions who don't get unemployment benefits, and even many who do and still struggle with part-time or low-wage employment, need regular direct payments—every month—to make ends meet for as long as it takes for the economy to recover.
As Republicans and Democrats in Congress work on the next relief package, in addition to extending the expanded unemployment benefits, regular direct payments must be included. This is not the time for timid solutions—our communities need a lifeline to keep from falling deeper into poverty.
William E. Spriggs is a professor in the Department of Economics at Howard University and chief economist to the AFL-CIO. Spriggs was assistant secretary for the Office of Policy at the Department of Labor under President Obama.
Dorian T. Warren is the president of Community Change and co-chair of the Economic Security Project.
The views expressed in this article are the authors' own.