Trump Order's Funding for Unemployment Boost Will Run Out in Five Weeks: CRFB
Funds allocated for enhanced unemployment benefits in President Donald Trump's executive order would only cover five weeks of the boosted payments, the Committee for a Responsible Federal Budget (CRFB) estimates.
In one of several orders outlined Saturday, the president directed up to $44 billion from the Disaster Relief Fund to cover $300 weekly of a $400 boost—with states urged to cover the other $100.
They have been urged to do this with money already allocated in the Coronavirus Relief Fund or other state funding.
The order states the supplemental unemployment will be available through to the week ending December 6 or until the Disaster Relief Fund falls to $25 billion, whichever occurs first. CRFB estimates the funds falling to that level could occur within around five weeks.
"We estimate that the program would have sufficient funding for five weeks of benefits (through August 29)," the committee said, in a statement looking at the cost of Trump's orders.
Other reports have similarly suggested that given the current numbers of people unemployed across the United States, the funds would be depleted to the $25 billion level in around five weeks.
Newsweek has contacted the White House for comment.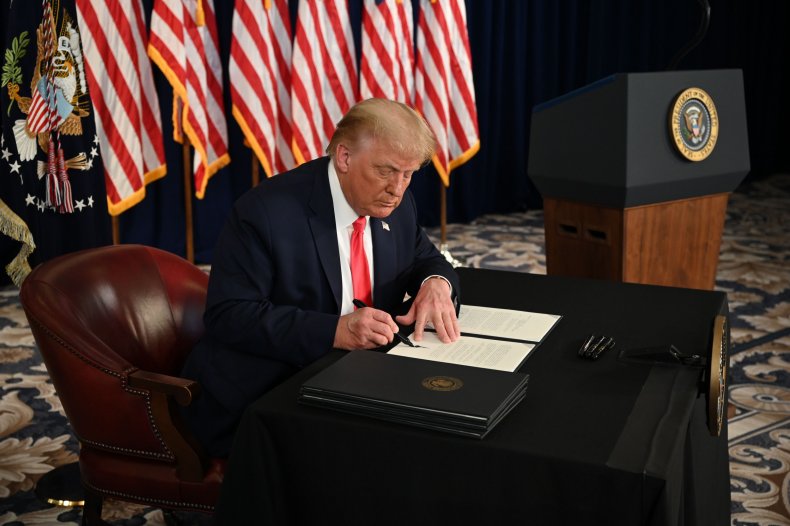 In regards to the question of states funding $100 per week with the Coronavirus Relief Fund money they had been allocated, CRFB suggested around 25 percent of the funds already allocated had been spent though portions of the remainder may have been put aside for future costs.
When asked at a briefing on Saturday about states covering the amount and whether governors had were on board, Trump said: "Well, if they don't, they don't. That's up to them. But if they don't, they don't. That's going to be their problem. I don't think their people will be too happy. They have the money. So I don't think their people will be too happy. But if they don't, they don't."
The move by Trump came after talks with Democrats for a bipartisan agreement on a further relief package faltered, with the president blaming "additional things" the Dems wanted for holding up relief.
"So we're all set up. It's $400 per week," he said. "And we're doing that without the Democrats. We should have been able to do it very easily with them, but they want all of these additional things that have nothing to do with helping people."
Democrats have swiftly criticized the president's actions, branding his plans as "not even workable."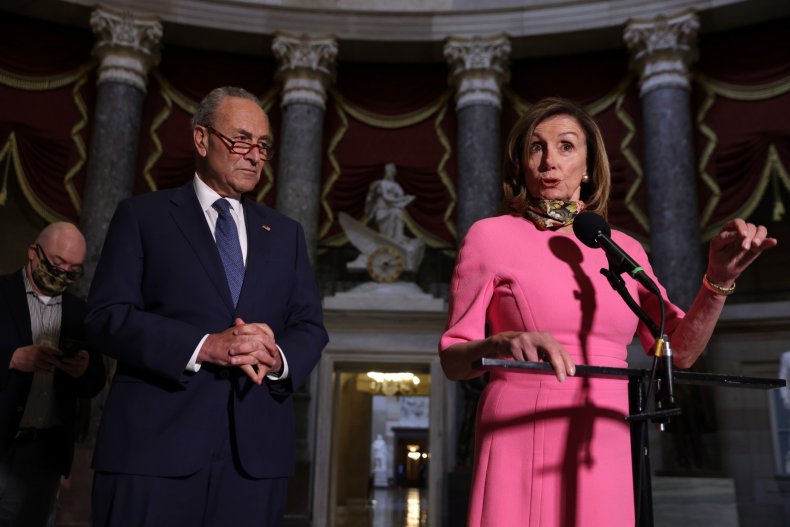 A joint statement from Senate Minority Leader Chuck Schumer (D-NY) and House Speaker Nancy Pelosi (D-CA) said the "meager announcements by the President show President Trump still does not comprehend the seriousness or the urgency of the health and economic crises facing working families."
The coronavirus is moving through our country like a runaway freight train and the economy is quickly running out of steam. The only solution to crush the virus and protect working families is to pass a comprehensive bill that is equal to the historic health and economic catastrophe facing our country," they said.
"Democrats repeat our call to Republicans to return to the table, meet us halfway and work together to deliver immediate relief to the American people. Lives are being lost, and time is of the essence."
Unemployment benefits had been a major sticking point in negotiations, with Dems pushing for the $600 enhancement enacted by the CARES Act to continue.
Senate GOP leadership on the other hand put forward a plan for this boost to drop to $200, before switching to a plan to cover up to 70 percent of a recipient's former wages.
Newsweek has contacted Pelosi and Schumer for comment on the estimate the funds for enhanced unemployment would last five weeks.