'I'm Working 12 Hour Days Processing Pandemic Unemployment Claims in New York'
In a normal week, prior to COVID-19, I would be involved with the adjudication of unemployment cases once they'd been filed, determining whether people are eligible for benefits. Since COVID-19, that's all changed.
Now every able body has just been put to the phones. I've been working in the New York State Labor Department for 28 years, and the first eight years of my career were clerical like this, working on the intake of all the claims and processing them.
Right now, I'm on the phones from the moment I get in at 8am, to the time I get off at 7.30pm. Weekdays everyone works their shifts and overtime, and on Saturday and Sunday the hours are now 7.30am to 8pm. Weekends are voluntary and overtime is voluntary. But everybody is working all available hours, because we're getting so many calls.
Once everybody in New York State was told to stay at home, the panic set in, and people wondered where they were going to get their money from. I've been watching the numbers of calls and I don't remember it ever being as busy as this, even after 9/11, or any other crisis.
And that's because those other crises were concentrated in particular areas, but this is New York State and six surrounding states with people who work in New York. Because we had an antiquated system that's getting modernized little by little, it crashed because of the number of people trying to file claims. Since then, the state has added additional servers and upgraded the online filing system to help alleviate the problem.
I know people may have been sitting on hold for hours, so when a call comes in I just listen for a minute. If they're talking, I'll say, "hi, it's a human on the other end" or I'll say something to cheer them up, like "can you hold on for one second? Yes, it is a person, you're not on hold any longer!"—just to crack the ice so that they're laughing and it's a peaceful transition.
At the moment I'm taking between 25 and 50 calls a day and completing claims that haven't been entirely processed. I don't push people off the call, I listen to them and talk to them—because there are multiple emotions once they get through and start telling you their story.
You deal with tears, frustration, the 'what ifs?', and you have to listen. You have to be sympathetic, it's only human, and it's just the way that I was taught to do it, especially after having seen the impact of 9/11.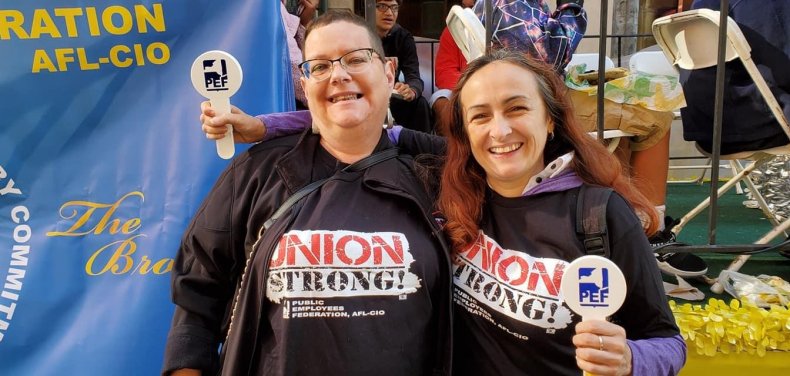 I had one story recently that left me in tears. I was talking to a woman who said her daughter was a nurse in New York City, working in a nursing home. And the daughter, a young girl who is only 21 or 22, was tired of seeing people dying from this pandemic and not being able to see much of her own child. She also has to be careful around her child, because right now we know that nursing homes are hotbeds for COVID-19.
I've also never seen so many Uber drivers, yellow cab drivers, Lyft drivers and self-employed people calling—it seems to be every other call. Drivers in particular are not normally affected by things, because there's always a car and a person to pick up. Now, the streets of New York are ghost streets.
Before people were confined because of COVID-19, we'd get some people who could be somewhat hostile. But we're not getting that right now—we're getting some frustration and the emotional ups and downs, but we're also getting gratitude.
When this first started, I worked for the first 14 days straight, but it took a toll on me. It's hard physically, but more mentally because you're trying to explain things to people so they understand what the process is. I'm 59-years-old, so I have to take time for myself, even though it's frustrating because I want to be on the phones helping people.
Most employees are working remotely, but there's a skeleton crew who remain in the office. I continue to go into work because I'm a union representative—I want to be on the floor with the members so at least they have somebody they can reach out to if there's an issue or a problem. We all talk with each other, we joke around and we take a break together.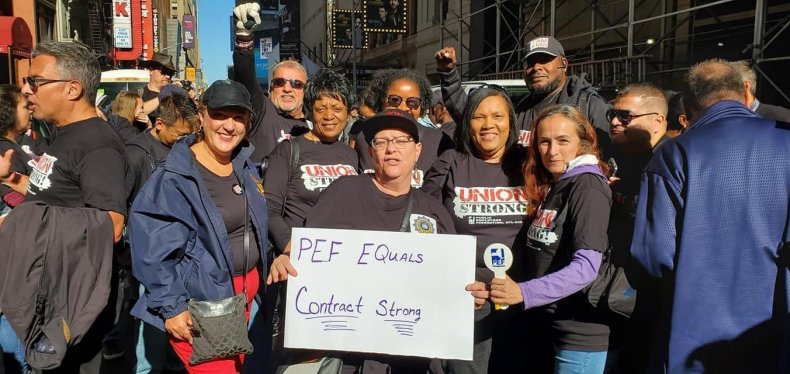 But downtime doesn't exist. Stores are all closed by the time we're out of work—there's maybe one that stays open. So you go in, and pray that they at least have enough of what you're looking for. And for the first three weeks I didn't see my grandchildren at all. That is our life right now —we really don't have one.
On my off days I just rest. I try to stay off Facebook, or any social media if I can. Because I don't want to see some of the negative remarks that are made at times about the department.
I'd like people to know that we are here for New Yorkers and we understand the frustrations. We are on the frontlines even though people might not realise, because we're in the background.
And we're doing our best with the resources we have. We would just love to have more support financially, to upgrade and improve the systems. This pandemic is a huge crisis, and a sign—that we need to be up to par and we need help. If New Yorkers demanded this now, a better system could be there if anything similar were ever to happen again.
We are giving up our personal lives so that we can make sure people are financially secure. Maybe not perfectly, but at least somewhat, so New Yorkers can know there will be food on the table. I'd love to help everybody, but I can't, so I have to pocket my emotions.
I can't imagine being a health care worker out there—I've talked to my friends and I asked them how they do it, and they've explained to me how to compartmentalize. So when I'm at home I put everything aside, it's just me and my family. I have two Pit Bull dogs and a few cats, they are the best therapy in the world.
When this is all over I'm looking forward to spending more time with my grandson, hopefully the weather will be warm and we can go outside.
When my son was growing up, I was a second mama to a lot of his friends, those kids were always in my house. And lots of those friends have kids now too, so I would just like to be with them all, and enjoy life once again.
Helen Esposito is an adjudicator at the New York State Department of Labor. She has worked there for more than 30 years and is a union representative for the SEIU and an executive board member for the New York State Public Employees Federation.
The views expressed in this article are the writer's own.
As told to Jenny Haward