Unemployment Claims Over Twice as High as Worst Week of Great Recession for 16th Week in a Row
Although new unemployment claims have continued to fall, they remain historically high and are still over twice as high as the Great Recession's peak level for the 16th week in a row.
For the week ending July 4, the U.S. saw more than 1.3 million new jobless claims, which was a decrease of 99,000 from the previous week, according to the Labor Department's unemployment insurance weekly report, released Thursday. However, when based on a seasonal adjustment, the number rises to 1.4 million new claims.
That's more than double the highest week of the Great Recession, when 665,000 jobless claims were filed in a single week during March 2009. The seasonally adjusted number of new claims is also more than twice as high as the previous record—prior to the coronavirus pandemic—of 695,000 weekly new claims, which was set in October 1982.
New jobless claims have been counted in the millions for 16 straight weeks since lockdown measures began to be implemented in municipalities and states across the country in March to curb the virus's spread. As all 50 states have begun reopening since May, many furloughed workers have returned to their jobs, while others previously relying on unemployment have found new work.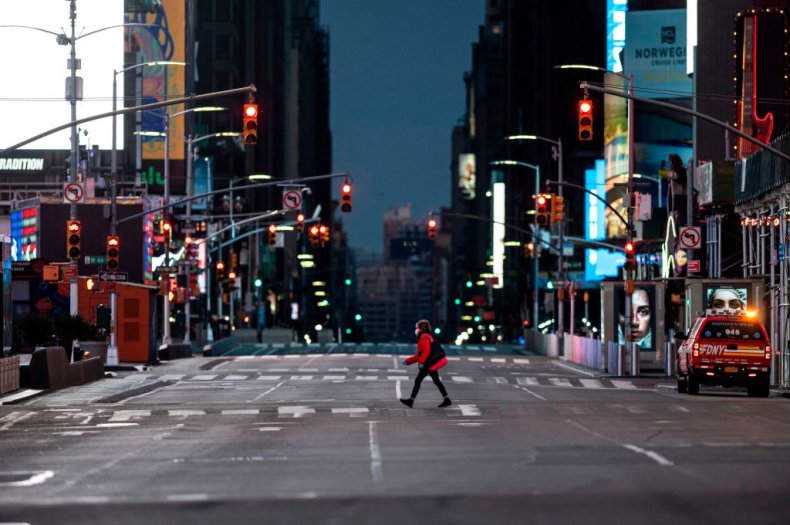 But as the pandemic has spiked in multiple states, with record-breaking increases in new infections, some governors and local leaders have slowed, or even reversed, their reopening plans. Meanwhile, analysts noted that the Thursday unemployment report showed that the decrease in new claims has slowed.
"The four-week average continues to slide as well, although the pace of decline has begun to slow," Peter Essele, head of portfolio management for Commonwealth Financial Network in Massachusetts, told Newsweek. "It's a concerning outlook for the 18 million who are claiming insured unemployment, particularly as a second wave in cases appears to be forming in some of the states that were previously sheltered from the pandemic."
Jamie Cox, managing partner for the Harris Financial Group in Virginia, had a similar assessment.
"The rate of decline in weekly jobless claims is slowing from its peak in March. We are reaching the levels of unemployment which are likely to persist until a more true reopening can occur, either with a vaccine, novel treatment or time," Cox said.
Essele additionally pointed out that "searches for 'unemployment insurance' have increased in Google" for the first time in a few months. He suggested this was "a potential foreshadowing of what's to come on the claims front in the weeks ahead," as some governors have halted reopening.
Meanwhile, the $600 extra unemployment benefits provided weekly by the federal government are scheduled to end at the end of July. The extra funds were approved by Congress as a part of the $2 trillion Coronavirus Aid, Relief and Economic Security (CARES) Act, which provided a range of economic relief for those out of work as well as businesses struggling during the pandemic and the resulting shutdowns. Congress could choose to extend the extra unemployment payments, but it's unclear whether that will happen.
"Letting the extra $600 expire would be a disaster for UI recipients, who would have to drastically cut their spending, and for the economy, which is being held afloat by this spending," Heidi Shierholz, senior economist and director of policy at the Economic Policy Institute, wrote in a Thursday blog post.