Unemployment Application Explained: How to File a Benefit Claim
A record 3.3 million people filed for unemployment in the U.S. in the week ending March 21. Many more are expected to face precarious employment in the coming months as the coronavirus pandemic continues to wreak havoc on the economy.
Federal and state governments have asked businesses to close and workers are being told to stay at home, all adding to concerns that people may need to turn to state benefits to make ends meet.
The $2 trillion Coronavirus Aid Relief and Economic Security Act (CARES) contains provisions to prevent massive layoffs after this time, including helping companies furlough workers and offering increased unemployment benefits.
This allows workers to stay on companies' books with the federal government picking up the tab for their salaries for up to four months. However, for those who do lose their jobs, there are some important points to note in applying for unemployment benefits.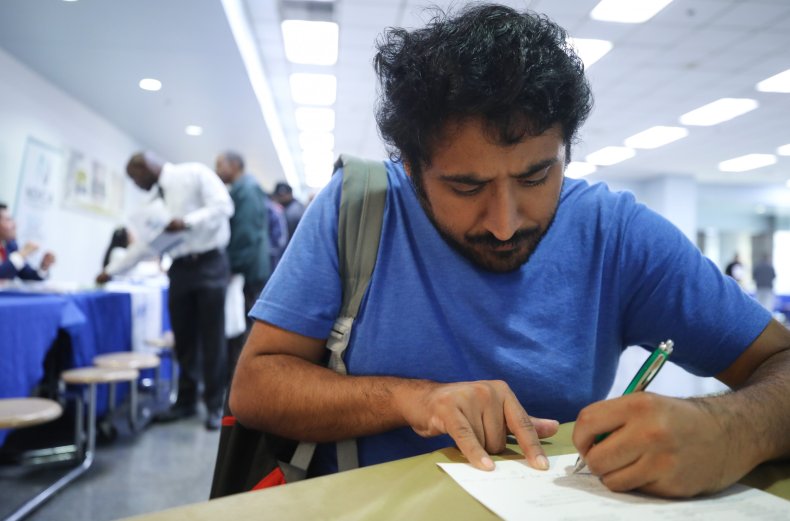 First, find out if you are eligible
People will need to consult the Department of Labor to see if they meet the criteria required to get state assistance.
Among the key factors is the unemployment has to be through no fault of the applicant, which usually means that the job was lost due to a lack of available work.
An applicant has to meet state requirements for wages earned for a minimum period before the job loss. The Department of Labor says that in most states this is the first four of the last five completed calendar quarters. There are also other requirements that may vary from state to state.
How have unemployment benefits changed since the coronavirus outbreak?
Federal law has given states options that take into account the unprecedented circumstances caused by COVID-19. Benefits can now be paid to those who work for an employer that has temporarily stopped operating because of the pandemic, forcing workers to stay at home.
Someone who has been quarantined but is expected to go back to work after isolation is also entitled to benefits. There is also leeway for someone who has to leave their job because they are at risk of exposure or infection, or to take care of a family member.
A significant change in federal law is that states can give benefits to those who were not previously covered by unemployment insurance. This includes the self-employed and workers in the gig economy, as well as those who may not have a long work history.
The new law will also boost weekly benefits for the unemployed by $600 a week, for up to six months. It also adds 13 weeks of benefits onto the number of weeks a state currently pays benefits.
While weekly payouts vary by state, some could see their unemployment benefits more than double. For instance, California residents get $450 per week, which if it includes the extra $600, would put their weekly benefits at more than $1,000—more than the latest median weekly earnings of $936, according to the U.S. Bureau of Labor Statistics.
When applying, be patient
An applicant has to file a claim for unemployment insurance benefits through its state program. States differ in how they offer this process and depending on where you live, it may have to be done by phone, in person or online.
Applicants must provide their full name and Social Security Number, as well as contact information, such as your phone number and your resident and mailing addresses. They also need to prove identity and citizenship, either with your valid driver's license, passport or state ID card, or an Alien Registration number.
Information will also be required about the jobs held over the last two years including the dates of employment, reasons for no longer working there, and contact and registration details of any employers.
Those who were federal employees need to provide copies of their SF8 and SF50 forms. Service and ex-service staff claiming benefits on military service, need to provide the separation form DD214.
Given that the ink has barely dried on the new legislation designed to help those out of work, some states are playing catch up in trying to implement the new rules. As a result, their websites are likely to be experiencing high demand.
It normally takes up to three weeks to get the first benefit check after a claim has been filed. "Many states are experiencing extensive traffic and ask filers to be patient and persistent," government advice states.
As director of financial planning at Life Planning Partners, Carolyn McClanahan, told Newsweek: "It is hard to be patient at this time, but the system is overwhelmed. Just keep trying and make sure you have all the documents you need together before you apply."
The infographic below courtesy of Statista shows the number of confirmed coronavirus cases in the U.S. as of April 1.