Unemployment by Industry Shows the Long Road Ahead | Opinion
The national unemployment rate in the U.S. has skyrocketed over the past three months to heights not seen since the Great Depression. While unemployment surprisingly went down from 14.7 percent in April to 13.3 percent in May, many workers in businesses and industries across the country are still out of work and awaiting a rehiring spree from their former employer that may not come.
The leisure and hospitality industry has unarguably been hit the hardest by COVID-19 restrictions in the U.S. The unemployment rate stayed above 35 percent in May, despite a huge boost of 1.2 million new jobs created for the month. Hotels and cruise lines, which have been forced to cut millions of jobs since March, are quickly creating reopening plans in line with city, state and federal plans. Last month, Carnival Cruise Line announced some ships will return to business by August 1 but has since pushed back its start date into September. Many hotels are just beginning to reopen along the East Coast, while many are open or have remained open across the Midwest and Southern U.S.
Retail may see a huge resurgence as the country enters July. Stores are reopening their doors in most states, and consumers may be less reluctant to socially distance in a store rather than sit in a movie theater or restaurant. Retailers on the ropes who have permanently closed stores or filed for bankruptcy, like Macy's and J.C. Penney, are holding their breath for consumers to show confidence and begin semi-regular purchasing patterns. New data from the University of Michigan suggests consumer confidence is ticking upward as states begin reopening businesses.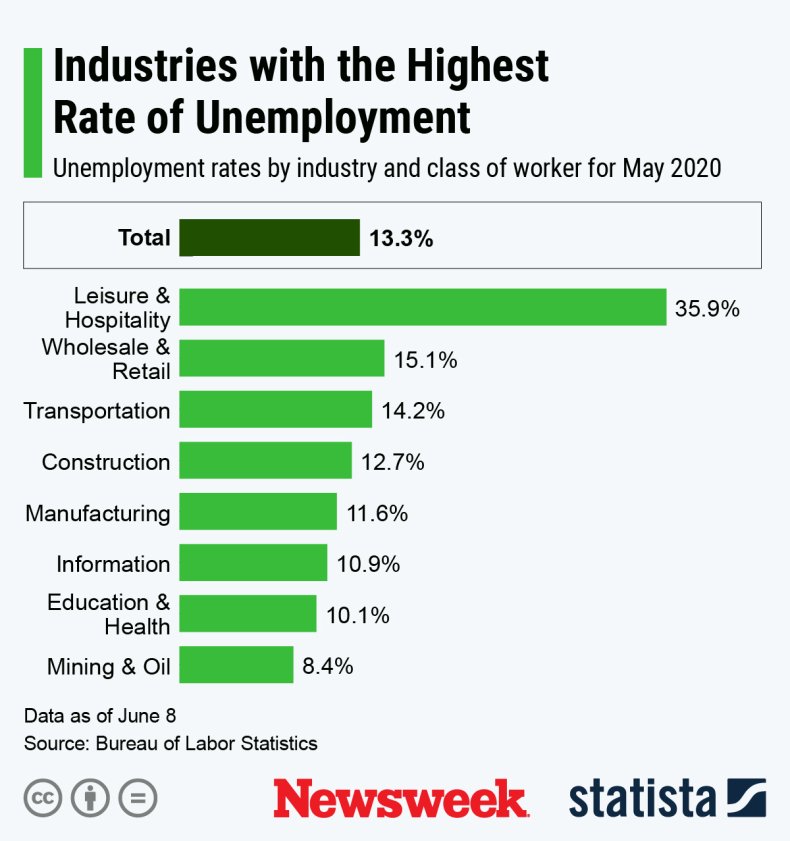 What remains to be seen is whether consumer demand will rise as fast as companies and industries can reopen. Will tourism return to normal as companies reopen, or will people remain cautious and stay closer to home? The restaurant industry may be the biggest question mark going forward, which has had one of the largest rates of unemployment in the country. Many bars and restaurants can't afford to operate at less than full capacity but may be forced to if there's no vaccine available in the imminent future.
Total unemployment claims have trended downward over the past few weeks but are amounting to a staggering figure. With a peak of roughly 25 million people receiving jobless benefits at a given time back in May, that number has since fallen to just over 20 million as of June 18. Layoffs have subsided in the country, but an additional 1.5 million applied for unemployment the other week—signaling we may be stuck around this number for some time.
Manuel Moerbach is president and CEO of Statista Inc.
The views expressed in this article are the writer's own.