Trump Economic Adviser: Full Employment Might Not Be Back This Fall Prior to 2020 Election
A senior White House economic adviser has said that full employment might not be back until this fall, prior to the November presidential elections.
Kevin Hassett told CNN's State of the Union that he expects the unemployment rate to rise to "north of 20 percent in May," adding that it may not fall to below single digits by fall.
"Unemployment will be something that moves back slower," he said. "I think it could be better than that, but you're going to be starting at a number in the twenties and working your way down and so, of course, you could not be back to full employment by September or October. If there were a vaccine in July, then I would be way more optimistic about it."
Earlier this month, the U.S. Bureau of Labor Statistics reported that the national unemployment rate had risen to 14.7 percent—levels last seen during the depths of the Great Depression—compared to 3.5 percent in February before COVID-19 brought the country to a standstill.
However, due to the particular ways that the Labor Department counts the jobless rate, as well as data collection and classification issues, the true figure may be as high as 23.6 percent, according to one calculation, the Associated Press reported.
Federal data released by the BLS on Friday revealed that unemployment rates reached record-highs in 43 states last month, with the figure in Hawaii, Michigan and Nevada exceeding 20 percent.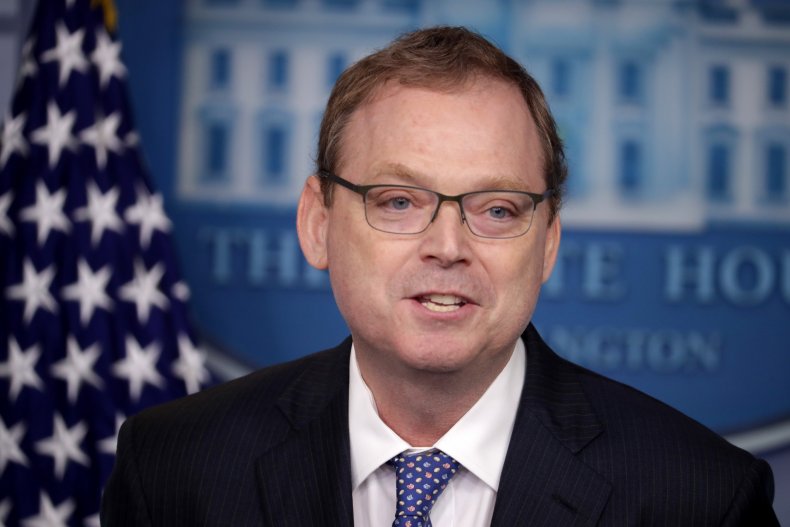 Despite the bleak unemployment figures, Hassett said that he expected the signs of economic recovery to be "raging everywhere" by November.
"The only thing we're really going to be debating as economists is, 'Are we going to get back to where we were [and] is it going to be a long haul to get there?'" he said. "I have two very close friends—both conservatives, both Harvard professor—and one of them thinks it's going to take many many years, and the other one thinks it's going to happen virtually overnight."
"That other friend, Robert Barro, has said that he thinks it looks a little bit like the end of World War II: the countries that didn't have their capital stocks destroyed by the war, when [it] ended, they pretty much got their economies going at a rate of 40 or 50 percent a year. Our capital stock hasn't been destroyed, our human capital stock is ready to get back to work, and so there are lots of reasons to believe that we can get going way faster than we have in previous crises," Hassett said.