Unemployment Returning to Pre-COVID Levels Won't Come Before 2022 Despite 'Positive' Trend, Economist Warns
July's job numbers show the country is still heading in the right direction, but recovering from the new coronavirus outbreak will be a slow process and returning to pre-pandemic unemployment levels could be more than a year away.
Unemployment fell to 10.2 percent in July, according to the Bureau of Labor Statistics (BLSA), with 16.3 million people still out of work. A level of jobless Americans that's still higher than the Great Recession, it's the third consecutive monthly decrease.
"Anything on the positive side of the leger for employment is good news," Robard Williams, Moody's Investors Service's senior vice president, told Newsweek. "You're seeing the gains coming back in some of the hardest-hit sectors, which is really great."
Among the largest employment increases were jobs in the leisure and hospitality industry. Representing about one-third of the 1.8 million jobs gained, employment rose by 592,000 in July. Employment in food services and drinking rose by 502,000, and retail trade added 258,000 jobs. However, employment in these sectors continues to be well below the level it was in February, before businesses were ordered to close.
While the downward trend in unemployment is positive, Williams noted that we're still in a "relatively large hole" and it's likely to be months before levels drop to what they were before the crisis. The average unemployment rate in 2019 was 3.6 percent, according to the BLS, and about 3.9 percent in 2018.
"I don't believe we're going to see 4 percent in 2021," Williams said. "Today's jobs numbers show we consistently moved in the right direction but it's going to be a long flog and the effectiveness of our mitigation efforts are going to be key here."
It's possible unemployment won't drop to 4 percent until after 2022, Williams said, but it's a "very fluid situation" that depends on how well the United States controls the virus.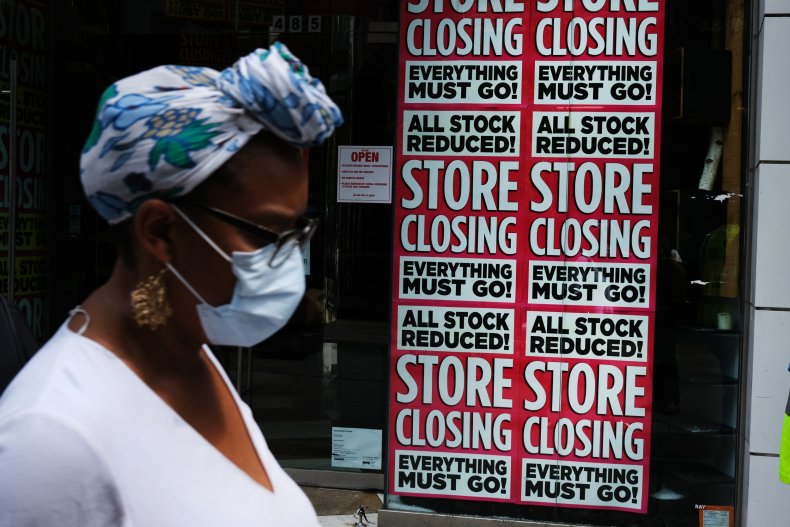 With many factors at play—including the development of a vaccine and therapeutics, government intervention, the possibility of more closures and changes in consumer behavior—David Blanchflower, a forrmer Bank of Englad policymaker and professor at Dartmouth College, wasn't willing to offer any sort of prediction. Taking the data as it comes each month, he noted that even if unemployment reaches a very low level, people may remain underemployed, meaning they had their hours or wages involuntarily reduced.
"We're seeing employment recovering, are we going to see wages recovering? That will have very big effects on consumption," Blanchflower said. "How many hours are people going to get? If you used to have a 40-hour work week, are you now getting 30 hours? 20 hours?"
In July, the number of "involuntary part-time workers," or people who were employed part-time for economic reasons, declined by 619,000 to 8.4 million—a 4.1 million increase from February. This represents people who would have preferred full-time employment, but had to work part-time because their hours were reduced or they were unable to find full-time work.
With unemployment numbers still extraordinarily high, lawmakers on Capitol Hill are working to find a solution to unemployment benefits.
To provide relief for millions of Americans who were out of work due to the pandemic, the CARES expanded unemployment benefits by $600 per week. Although the stimulus package unanimously passed both chambers, Republicans later criticized the measure for inadvertently overcompensating some people.
Expanded benefits expired on July 31 and Republicans are pushing for decreasing payments to $400 per week while Democrats want benefits to remain as they were under the CARES Act for another year. Senate Majority Leader Mitch McConnell would support maintaining $600-per-week payments if President Donald Trump backed the measure, but after days of negotiations between the White House and Democratic leadership, an agreement has yet to be made.
Cutting benefits by $200 means that's $200 less people have to spend so there will be an impact to consumption, both experts said. Whereas people in higher income brackets may save the money, Blanchflower said people in low-income households on unemployment will likely use it to purchase basic necessities such as food, so the money will be injected into the economy.
Extending benefits for another 12 months would "provide stability and certainty," Williams said, and both experts agreed longer is better. Blanchflower advocated for setting it up to be in place for a year, but condition the provision on the state of the economy. So if the economy starts booming again, legislators have the option to stop the program.
A successful vaccine or therapeutic would likely help improve employment rates. But if people still have safety concerns about visiting nail salons, malls, restaurants and other businesses, some people won't have jobs to return to.
"We're going to be living in a world of elevated unemployment," Williams said. "But, the precise point has yet to be seen."