Unemployment Will Start Getting Better in June, White House Economic Adviser Says
Unemployment numbers will start getting better in June, according to comments made by a White House economic adviser Friday.
"We'll see a very bad [unemployment] number for May and then I think that in June it will start to head in the right direction given the number of businesses open. We have real-time data on hours for small businesses...all that stuff is headed in the right direction now," Kevin Hassett, a senior White House economic adviser, said in an appearance on CNN's Newsroom. Hassett indicated that the country could see unemployment hit "22 or 23" percent for May.
The United States Department of Labor released a report Thursday that stated an additional 2.4 million people filed unemployment claims for the week ending May 16, which brought the total unemployment numbers since the start of the novel coronavirus pandemic to 38.6 million. Hassett said that recent data on small businesses, however, indicate that America is getting "back to normal."
"I actually think that the economic data are clarifying. That you can really see the percentages of businesses opening up as closing in on 70 percent. So we are getting back to normal but for sure if you saw the initial claims there is still a lot of pain out there – about 40 million unemployed folks," Hassett said.
When asked about a recent analysis by economists from the University of Chicago and Stanford University that stated an estimated 42 percent of jobs that were lost will not come back, the White House economic adviser responded that "we are in uncharted territory."
"Those [economists] are friends of mine...so I respect their work greatly, but I think that the problem is that we've had the biggest negative shock ever and then the biggest policy response ever. So we are kind of in uncharted territory and the thing that I'm optimistic about is we are seeing the data turn on way faster than I expected," Hassett said, adding that some states have "80, 90 percent of businesses back to being open."
President Donald Trump said Thursday during a visit to a Ford factory in Michigan that he believes there will be another stimulus bill to help struggling Americans, even as some businesses begin to reopen across the country. Hassett echoed those sentiments Friday, stating that a new stimulus bill is "pretty likely."
"We had a big economic team meeting with the president last week. We went over options and I think that as we move forward it's pretty likely that there will be a fourth phase of stimulus. There are a number of technical things that need to be fixed about stuff we did in the past. I think that pretty much folks think now there will be another bill," Hassett said, adding that it will come "sooner rather than later."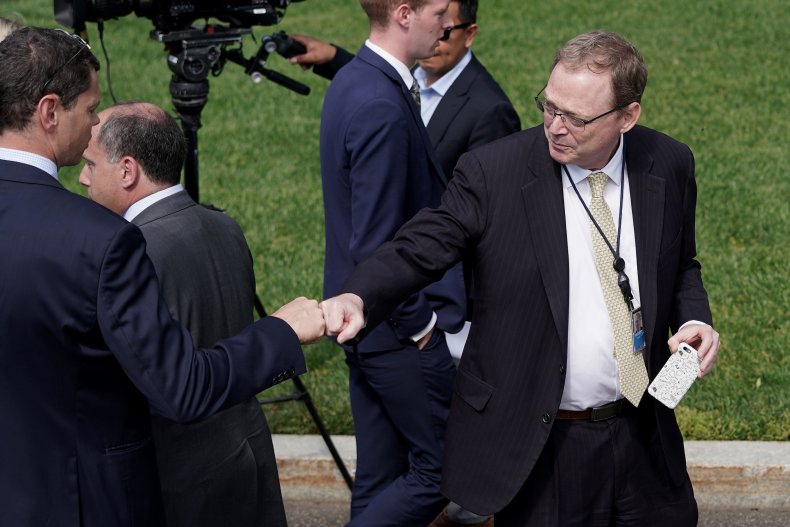 Unemployment Will Start Getting Better in June, White House Economic Adviser Says | U.S.