Unfortunate Golfer's Rogue Ball Lands on Alligator's Back
On Monday, a game of golf was interrupted when the ball landed in what might be the least likely place imaginable: on top of a nearby alligator.
According to KABB Fox 29, David Ksieniewicz was playing a round of golf at Okatie's Spring Island Club in South Carolina when an errant golf ball landed perfectly atop the alligator's back
Fortunately, Ksieniewicz was not obliged to retrieve the ball from the 7-foot gator in order to continue with his game.
As reported by KABB, the US Golf Association has rules in place for these types of bizarre instances, which they call "abnormal course conditions." Alligators are considered "dangerous animals" in the Association's rulebook, and as such, encountering one can qualify golfers for "relief." This "relief" can include moving the ball or, in this case, safely dropping a new ball nearby without penalty.
While the incident may sound like a once-in-a-lifetime coincidence, it's actually been reported by others in the past. And, in the swampy regions of the Southeast United States, it only seems natural that gators would try to find a way to infiltrate the luscious, green pastures of the area's golf resorts.
Just last year, for example, a Florida man was filmed attempting to retrieve a golf ball that had somehow landed on an alligator's tail. As the man sneaks up behind the gator, a voice warns him: "He's gonna whip you with that tail, dude."
The dangerous maneuver was thankfully executed without any injuries, but getting close to alligators is never recommended—they are known to be volatile and unpredictable creatures.
Unlike the man in Florida, Ksieniewicz simply abandoned the golf ball and continued his game with a new one. Not only could interfering with the creature cause serious harm but in South Carolina, it is illegal to harass alligators.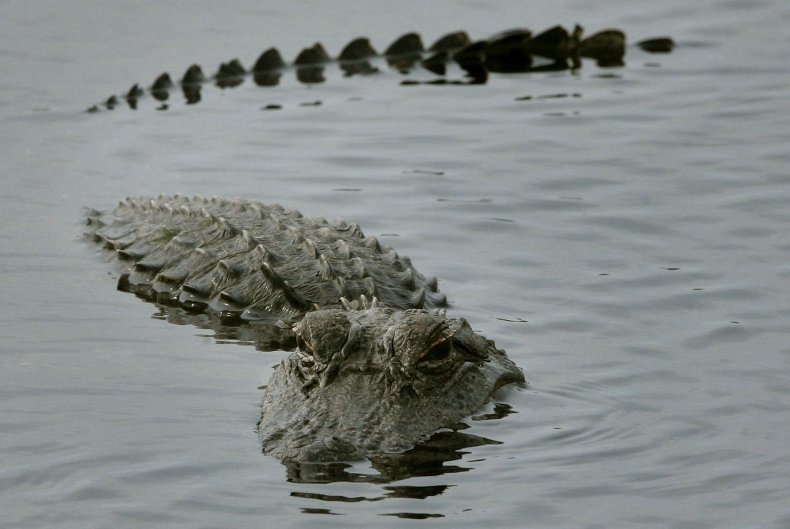 However, not everyone in the area shares Ksieniewicz's cautious attitude. Despite the enormous risk involved, reports of individuals getting up close and personal with alligators are relatively common.
Just last week, a photo taken at a South Carolina resort sparked outrage and concern. The picture showed a man appearing to drag an alligator by its tail, a clear violation of the region's laws. The South Carolina Department of Natural Resources has since investigated the photo, and the man has been charged with 'molesting' an alligator.